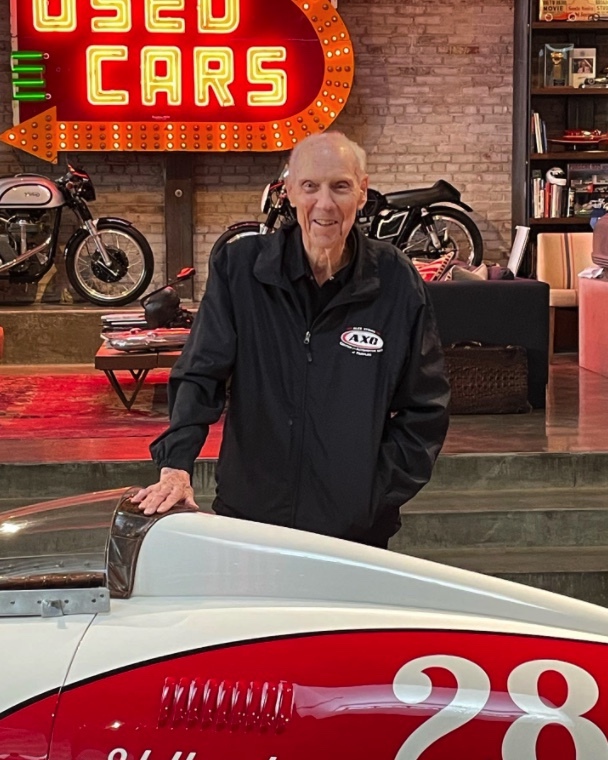 Although​ ​it​ ​is​ ​true​ ​that​ ​we​ ​have​ ​already​ ​featured​ ​this​ ​supporting​ ​member​ ​of​ ​the​ ​AHRF​ ​as​ ​our​ ​Member​ ​of​ ​the​ ​Month​ ​once​ ​before,​ ​it​ ​would​ ​be​ ​impossible​ ​for​ ​us​ ​not​ ​to​ ​acknowledge​ ​our​ ​friend​ ​and​ ​hot​ ​rod​ ​pioneer,​ ​Alex​ ​Xydias,​ ​on​ ​his​ ​100th​ ​Birthday​ ​…​ ​​ ​and,​ ​after​ ​all,​ ​if​ ​we're​ ​going​ ​to​ ​nominate​ ​someone​ ​twice​ ​for​ ​this,​ ​why​ ​not​ ​have​ ​Alex​ ​be​ ​the​ ​person​ ​to​ ​break​ ​that​ ​barrier!​ ​
Yes,​ ​we​ ​couldn't​ ​be​ ​more​ ​proud​ ​or​ ​more​ ​pleased​ ​to​ ​be​ ​featuring​ ​Alex​ ​as​ ​our​ ​AHRF​ ​Member​ ​of​ ​the​ ​Month,​ ​and​ ​we​ ​continue​ ​to​ ​be​ ​over​ ​the​ ​moon​ ​to​ ​have​ ​been​ ​able​ ​to​ ​help​ ​celebrate​ ​his​ ​100-year​ ​milestone.​ ​It​ ​was​ ​not​ ​only​ ​an​ ​honor​ ​to​ ​be​ ​part​ ​of​ ​the​ ​proceedings​ ​on​ ​his​ ​actual​ ​birthdate​ ​(​March​ ​22​​)​ ​but​ ​also​ ​to​ ​be​ ​a​ ​part​ ​of​ ​what​ ​turned​ ​into​ ​a​ ​Birthday​ ​week!​ ​To​ ​kick​ ​things​ ​off,​ ​fellow​ ​AHRF​ ​supporting​ ​member​ ​and​ ​a great​ ​champion​ ​of​ ​all​ ​things​ ​hot​ ​rodding,​ ​Bruce​ ​Meyer,​ ​hosted​ ​a​ ​wonderful​ ​gathering​ ​on​ ​Alex's​ ​birthday​ ​that​ ​brought​ ​together​ ​friends​ ​and​ ​admirers​ ​of​ ​Alex's​ ​from​ ​near​ ​and​ ​far.​ ​Fellow​ ​hot​ ​rod​ ​pioneers​ ​Ed​ ​Iskenderian​​ (​​100​),​ ​Ed​ ​Pink​ ​(​90​),​ ​Don​ ​Prudhomme​ ​(80​)​,​ ​and​ ​"Gentleman​ ​Joe"​ ​Schubeck​ ​were​ ​in​ ​attendance​ ​and​ ​took​ ​to​ ​the​ ​dais​ ​to​ ​share​ ​their​ ​thoughts​ ​and​ ​memories,​ ​bringing​ ​hot​ ​rod​ ​history​ ​alive​ ​for​ ​all​ ​in​ ​attendance.​ ​Bruce​ ​Meyer​ ​not​ ​only​ ​acted​ ​as​ ​an emcee​ ​but​ ​shared​ ​some​ ​wonderful​ ​memories​ ​of​ ​his​ ​own​ ​regarding​ ​the​ ​restoration​ ​of​ ​Alex's​ ​So-Cal​ ​Speed​ ​Shop​ ​bellytank​ ​and​ ​the​ ​subsequent​ ​conversation​ ​that​ ​he​ ​inspired​ ​between​ ​Alex​ ​and​ ​the​ ​late​ ​Pete​ ​Chapouris​ ​that​ ​caused​ ​the​ ​So-Cal​ ​brand​ ​to​ ​be​ ​relaunched​ ​back​ ​in​ ​the​ ​1990s.​ ​A​ ​hugely​ ​important​ ​moment​ ​during​ ​the​ ​early​ ​days​ ​of​ ​the​ ​traditional​ ​hot​ ​rod​ ​revival​ ​and​ ​one​ ​that​ ​still​ ​brings​ ​a​ ​tear​ ​to​ ​Alex​ ​when​ ​he​ ​thinks​ ​back​ ​on​ ​what​ ​it​ ​was​ ​like​ ​to​ ​see​ ​his​ ​iconic​ ​brand​ ​relaunched​ ​to​ ​a​ ​whole​ ​new​ ​generation.​ ​All​ ​in​ ​all,​ ​it​ ​was​ ​a​ ​nice​ ​reminder​ ​of​ ​the​ ​decades-long​ ​(​and​ ​in​ ​one​ ​case,​ ​centuries-long!​​)​ ​friendships​ ​that​ ​Alex​ ​continues​ ​to​ ​enjoy​ ​and​ ​what​ ​it​ ​looks​ ​like​ ​to​ ​do​ ​life​ ​right.​ ​Yes,​ ​Alex​ ​might​ ​be​ ​one​ ​of​ ​our​ ​most​ ​celebrated​ ​hot​ ​rod​ ​pioneers,​ ​but​ ​he's​ ​also​ ​one​ ​of​ ​the​ ​finest​ ​human​ ​beings​ ​we​ ​can​ ​ever​ ​remember​ ​meeting.​ ​His​ ​generosity,​ ​thoughtfulness​ ​, and​ ​loyalty​ ​are​ ​to​ ​be​ ​admired​ ​every​ ​bit​ ​as​ ​much​ ​as​ ​his​ ​accomplishments​ ​on​ ​the​ ​dry​ ​lakes,​ ​Bonneville,​ ​early​ ​drag​ ​racing,​ ​filmmaking​ ​, and​ ​his​ ​impact​ ​on​ ​the​ ​publishing​ ​and​ ​aftermarket​ ​performance​ ​parts​ ​industries.​ ​It​ ​seems​ ​an​ ​understatement​ ​to​ ​say​ ​it's​ ​been​ ​a​ ​"life​ ​well-lived,"​ ​and​ ​getting​ ​to​ ​join​ ​in​ ​to​ ​salute​ ​our​ ​friend​ ​and​ ​hero​ ​was​ ​the​ ​least​ ​we​ ​could​ ​do.​ ​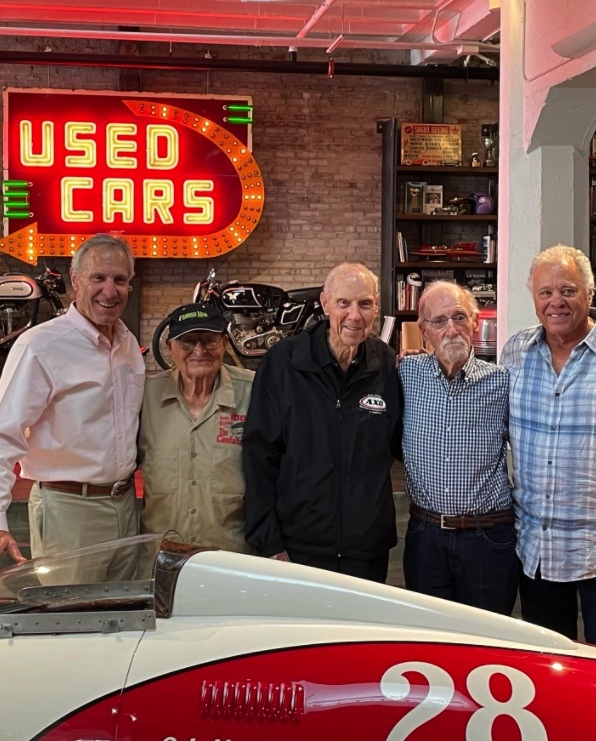 To​ ​close​ ​out​ ​Alex's​ ​big​ ​week,​ ​we​ ​decided​ ​that​ ​an​ ​appropriate​ ​salute​ ​might​ ​be​ ​to​ ​simply​ ​show​ ​Alex​ ​just​ ​how​ ​active​ ​and​ ​enthusiastic​ ​the​ ​traditional​ ​hot​ ​rod​ ​community​ ​is,​ ​first-hand.​ ​And​ ​what​ ​better​ ​way​ ​than​ ​to​ ​do​ ​a​ ​good​ ​old-fashioned​ ​neighborhood​ ​hot​ ​rod​ ​drive-by!​ ​
We​ ​invited​ ​a​ ​few​ ​friends​ ​to​ ​get​ ​their​ ​hot​ ​rods​ ​out​ ​for​ ​the​ ​day​ ​and​ ​surprise​ ​Alex​ ​by​ ​cruising​ ​over​ ​to​ ​his​ ​home​ ​in​ ​Burbank,​ ​and​ ​little​ ​did​ ​we​ ​know​ ​how​ ​this​ ​would​ ​take​ ​off.​ ​With​ ​some​ ​huge​ ​assistance​ ​from​ ​AHRF​ ​Member​ ​Lou​ ​Stands,​ ​a​ ​plan​ ​was​ ​put​ ​in​ ​place​ ​to​ ​meet​ ​in​ ​the​ ​morning​ ​at​ ​Hollywood​ ​Hot​ ​Rods,​ ​and​ ​it​ ​was​ ​then​ ​that​ ​we​ ​realized​ ​how​ ​many​ ​folks​ ​were​ ​as​ ​into​​this​ ​idea​ ​as​ ​we​ ​were. ​Lou​ ​designed​ ​and​ ​distributed​ ​a​ ​wonderful​ ​invitation​ ​to​ ​our​ ​community​ ​of​ ​hot​ ​rod​ ​friends​ ​that​ ​was​ ​a​ ​tasteful​ ​take​-off​ ​on​ ​a​ ​So-Cal​ ​Speed​ ​Shop​ ​Hot​ ​Rod​ ​Magazine​ ​cover,​ ​and​ ​Troy​ ​Ladd​ ​was​ ​kind​ ​enough​ ​to​ ​open​ ​up​ ​his​ ​shop​ ​for​ ​the​ ​morning​ ​hang​ ​while​ ​also​ ​providing​ ​parking​ ​for​ ​a​ ​few​ ​dozen​ ​hot​ ​rods.​ Thank​ ​you​ ​Lou​ ​and​ ​Troy​ ​for​ ​setting​ ​all​ ​of​ ​this​ ​off​ ​on​ ​such​ ​a​ ​great​ ​note!​
Many thanks to Tony Thacker, who created this compilation of our drive-by in honor of Alex Xydias' 100th Birthday!
​We​ ​headed​ ​over​ ​to​ ​Alex's​ ​in​ ​a​ ​big​ ​pack​ ​of​ ​snarling​ ​hot​ ​rods​ ​and​ ​are​ ​happy​ ​to​ ​say​ ​that​ ​he​ ​was​ ​surprised​ ​and​ ​touched​ ​by​ ​what​ ​he​ ​saw.​ ​We​ ​secured​ ​the​ ​use​ ​of​ ​a​ ​SoCal-red​ ​'65​ ​Mustang​ ​convertible​ ​and​ ​took​ ​Alex​ ​up​ ​the​ ​hill​ ​on​ ​his​ ​street​ ​so​ ​he​ ​could​ ​meet​ ​and​ ​greet​ ​with​ ​everyone.​ ​We're​ ​not​ ​sure​ ​who​ ​was​ ​more​ ​excited,​ ​we​ ​just​ ​know​ ​that​ ​it​ ​was​ ​miles​ ​of​ ​smiles​ ​all​ ​the​ ​way​ ​around.​ ​Alex​ ​had​ ​no​ ​problem​ ​hopping​ ​out​ ​of​ ​the​ ​car​ ​and​ ​spending​ ​time​ ​walking​ ​the​ ​rows​ ​of​ ​cars,​ ​inspecting​ ​each​ ​one​ ​, and​ ​talking​ ​with​ ​their​ ​owners.​ ​It​ ​was​ ​a​ ​truly​ ​special​ ​thing​ ​to​ ​witness.​ ​To​ ​hear​ ​him​ ​casually​ ​mention​ ​to​ ​one​ ​owner,​ ​"I​ ​like​ ​those​ ​tail​ ​lights​ ​you're​ ​running.​ ​I​ ​had​ ​the​ ​same​ ​ones​ ​on​ ​our​ ​shop​ ​truck​ ​when​ ​we​ ​first​ ​went​ ​to​ ​Bonneville​ ​in​ ​'49."​ ​Again,​ ​wonderful​ ​stuff​ ​to​ ​hear​ ​said​ ​from​ ​someone​ ​who​ ​lived​ ​it.​ ​
PHOTOS, COURTESY OF ED JUSTICE JR.:
It​ ​was​ ​a​ ​perfect​ ​finish​ ​to​ ​a​ ​fun-filled​ ​birthday​ ​week.​ ​We​ ​want​ ​to​ ​thank​ ​Bruce​ ​Meyer​ ​for​ ​hosting​ ​the​ ​definitive​ ​birthday​ ​party​ ​on​ ​Alex's​ ​actual​ ​Birthday (click here to check out Autoweek's feature & read all about it),​ ​for​ ​assembling​ ​such​ ​a​ ​great​ ​group​ ​of​ ​Alex's​ ​friends,​ ​for​ ​including​ ​us​ ​, and​ ​for​ ​his​ ​continued​ ​support​ ​and​ ​enthusiasm​ ​for​ ​keeping​ ​the​ ​hot​ ​rod​ ​flame​ ​burning.​ ​Oh,​ ​and​ ​for​ ​presenting​ ​Alex​ ​with​ ​the​ ​coolest​ ​birthday​ ​cake!​ ​
We​ ​also​ ​want​ ​to​ ​thank​ ​Lou​ ​Stands​ ​and​ ​Troy​ ​Ladd​ ​for​ ​all​ ​of​ ​their​ ​work​ ​and​ ​attention​ ​to​ ​detail​ ​in​ ​helping​ ​to​ ​make​ ​the​ ​cruise-by​ ​idea​ ​a​ ​reality.​ ​It​ ​made​ ​for​ ​a​ ​super​ ​fun​ ​day​ ​with​ ​great​ ​cars​ ​and​ ​great​ ​friends.​ ​
But,​ ​mostly,​ ​we​ ​want​ ​to​ ​thank​ ​Alex​ ​for​ ​being​ ​such​ ​a​ ​constant​ ​source​ ​of​ ​inspiration.​ ​It​ ​is​ ​his​ ​fever-pitch​ ​level​ ​of​ ​curiosity​ ​that​ ​we​ ​have​ ​to​ ​believe​ ​is​ ​somewhat​ ​responsible​ ​for​ ​making​ ​it​ ​to​ ​the​ ​100-year​ ​mark,​ ​and​ ​this​ ​is​ ​something​ ​that​ ​our​ ​work​ ​at​ ​the​ ​AHRF​ ​has​ ​introduced​ ​us​ ​to​ ​time​ ​and​ ​again​ ​with​ ​similarly​ ​aged​ ​hot​ ​rod​ ​pioneers.​ ​Yes,​ ​it​ ​is​ ​always​ ​a​ ​thrill​ ​for​ ​us​ ​to​ ​get​ ​to​ ​sit​ ​and​ ​capture​ ​the​ ​stories​ ​and​ ​experiences​ ​of​ ​anyone​ ​like​ ​Alex,​ ​but​ ​it​ ​is​ ​the​ ​life​ ​lessons​ ​that​ ​stick​ ​with​ ​us​ ​and​ ​are​ ​most​ ​valuable​ ​at​ ​the​ ​end​ ​of​ ​the​ ​day.​ ​Guys​ ​like​ ​Alex​ ​are​ ​certainly​ ​rare​ ​and​ ​very​ ​special,​ ​but​ ​that​ ​doesn't​ ​mean​ ​that​ ​the​ ​secrets​ ​they​ ​hold​ ​can't​ ​be​ ​shared​ ​and​ ​learned​ ​from.​ ​That​ ​should​ ​be​ ​as​ ​much​ ​the​ ​goal​ ​as​ ​learning​ ​about​ ​early​ ​hot​ ​rodding,​ ​and​ ​we're​ ​just​ ​glad​ ​that​ ​there​ ​is​ ​someone​ ​like​ ​Alex​ ​who​ ​is​ ​willing​ ​to​ ​share​ ​what​ ​he​ ​has​ ​learned​ ​about​ ​living​ ​such​ ​a​ ​good​ ​life.​ ​Call​ ​it​ ​a​ ​speed​ ​secret​ ​if​ ​you​ ​like,​ ​or​ ​call​ ​it​ ​our​ ​great​ ​luck​ ​for​ ​having​ ​had​ ​the​ ​opportunity​ ​to​ ​cross​ ​paths​ ​with​ ​him.​ ​Either​ ​way,​ ​we​ ​thank​ ​Alex​ ​for​ ​all​ ​he​ ​has​ ​done​ ​and​ ​continues​ ​to​ ​do,​ ​and​ ​we​ ​wish​ ​him​ ​the​ ​happiest​ ​and​ ​best​ ​of​ ​times​ ​during​ ​his​ ​100th​ ​year!