Preserving Hot Rod History Is Our Passion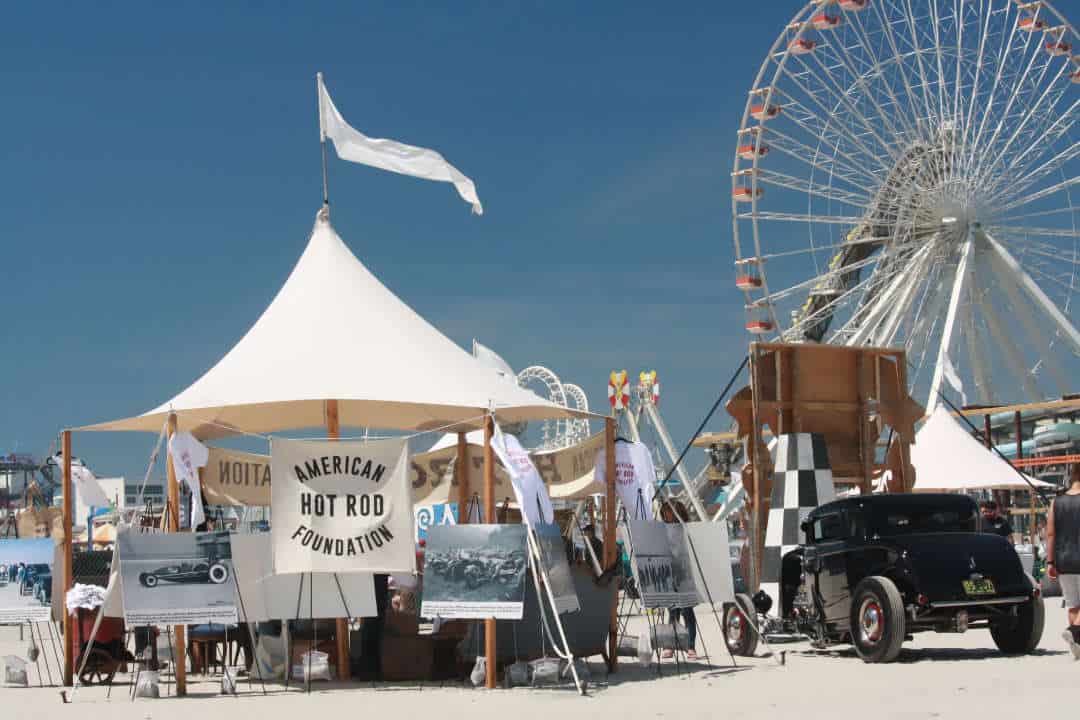 Our Story is a Living Thing!
The American Hot Rod Foundation is made up of hot rodders and land speed racers who want everyone to experience and enjoy real hot rodding as we do. Fortunately for all of us, there are more great events popping up every day celebrating traditional hot rodding. We will not only cover and discuss these events but will be involved in many of them as well. We feel it is important that this tradition be a living thing and that early hot rod technology be used and demonstrated in ways similar to what our original hot rod pioneers experienced. Check in with us often for our coverage of all things "living" in the world of old school hot rodding!
What to Learn
Through education and exposure to the unique circumstances, elements, and people that came together to produce this thing called hot rodding, we hope to spread the word that what was first thought to be a delinquent's form of rebellion has ultimately shaped our society much for the better. Such things as technology, music, and fashion, have all been affected by this movement, and the innovations made by these "kids" are things we all use every day in our lives and especially our daily transportation.
How to Learn It
Nearly 15 years ago we began our Hot Rod Pioneers film interview project and it is something we're particularly proud of. Every interview is special to us and we are honored that these legends of the past and present have been willing to sit down and share their time and stories. We hope you'll enjoy sampling some of these interviews and going back in time to hear how it really was from the very people who were there.
JMC_10058_Jaquin-The-Silver-Fox Joaquin the Silver Fox was always involved with the cars the Bandits ran. Here he tries out the rear-engined Chrysler powered T Roadster. ©AHRF/Jim Miller Collection

GBC_001_George-and-Sam-The-Dance-Team George on the Left and Sam Barris were a Dance Team at an early age. They took their Show-Biz acumen and applied it to the fledgling automobile custom car world quite successfully with the creation of the word "Kustom". ©AHRF/Barris Family Collection.

EDE_127_Vic-Edelbrock-Sr.-and-Jr. The mentor an heir to a racing dynasty. Two Vic's, senior and Junior. ©AHRF/Edelbrock Family Collection.

PSC_0492_The-Camfather Ed built his own cam grinding machines in the early days and made all of his masters the old fashioned way, by hand. Today he has used digital readouts and experience to perfect his cam lifts. ©AHRF/John Peschek Collection.

JMC_4438_Cover-Girl-Paula-65 Volume 65, Number 4 of Floyd Clymer's Auto Topics from April 1965. On the cover is Paula Murphy who drove Walt Arfons' Jet Dragster "Avenger" at Bonneville during USAC time trials held on November 12, 1964. Having never been in the car she did a first lap at 236 mph flat. On her return run, she ran a more conservative lap at 217.50 mph for an average of 226.37 mph for the mile. She also set a two-way record for the kilo on the same runs at 227.38 mph. Her fastest speed was recorded at 243.44 mph that made her the world's fastest woman driver. Andy Granatelli's STP/Studebaker tie-up made this ride possible. ©AHRF/Jim Miller Collection

JMC_10215_Shelby-on-Sports-Illustrated-57 Back in the days when Carroll Shelby was a real racing car driver. He was snapped in a Ferrari at Sebring before the 12-hour airport race in March 1957. Two years later he would win the Le Mans 24 hour race in an Aston Martin and a few years later create the Cobra. Quite a Dude. ©AHRF/Jim Miller Collection

from left, Wally Parks, Randy Shinn, Bill Burke and Doug Carruthers. J. Allen Hawkins photo.

HHC_062_Mr.-Sandman Mr. Hibler relaxing between runs in Fling Traylor's "The Sandman". He drove the 392" Hemi powered car for a couple of years in the early '70s. ©AHRF/Harry Hibler Collection

NEU_569_Bill-as-RC-Editor After coming to California Bill landed at Petersen Publishing Company as the Editor of Rod & Custom Magazine. We see him flying the magazine's colors with his roadster. ©AHRF/Bill Neuman Collection

NAV_059_Barney-Adjusts-Linkage-47 Glendale Stokers member Barney Navarro adjusting carb linkage on one his early blower setups used on the first of many Tom Beatty's go-fast cars. This El Mirage from '47 shows the "Rust Bucket" that ran 126.63 mph in September for a third in class. ©AHRF/Barney Navarro Collection

WPC_859_Wally-and-Some-Friends Wally, hiding amongst a few of his thousands of friends at Bruce Meyer's Pierson Coupe Party back in 1992. ©AHRFParks Family Collection

LSS_108_Louis-Senter-discussing-midget Louie Senter has a conversation with Vince Granatelli way back when. Lou was working on his Junior Dudes Bubble Bath sponsored V8-60 powered midget around '47. Lou really pushed the envelope in the sponsorship department on this one. Vince's Hurricane Hot Rod Association jacket touted the roadster races he and his brothers Andy were promoting at Soldier Field in Chicago. ©AHRF/Louis Senter Collection

TSC_159_Master-Mechanic-Tom-Sparks Master Vintage car Expert, Pebble Beach Judge, Restored expert, Movie Vehicle Supplier, and consummate hot rodder Tom Sparks is seen in his home garage. ©AHRF/Tom Sparks Collection

WOL_002_Air-Force-Base-50 John spent a little time working for his Uncle Sam in the early '50s and had the pleasure of playing with this banger powered drag machine while stationed at a West Texas Air Force base. We don't know how fast it was but John was a serious competitor. ©AHRF/John Wolf Collection