RAY BROWN (1928–2007)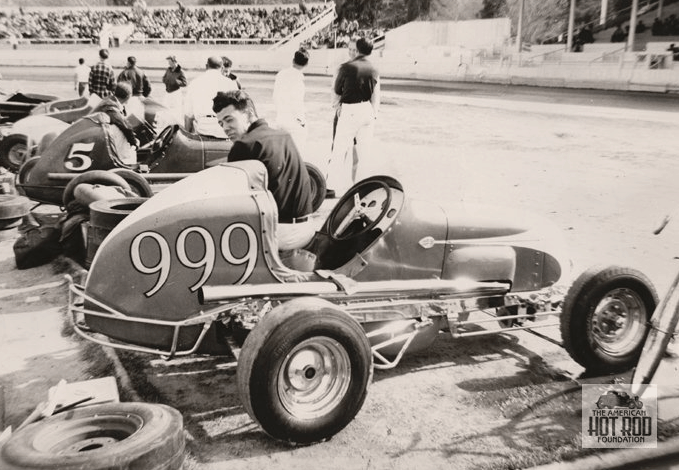 Born in 1928 in Sioux Falls, South Dakota, Ray Brown and his family relocated to sunny southern California while Ray was still a young boy. Fascinated by anything with wheels, he was bitten by the hot rod bug at a young age and began the construction of a '32 roadster at the age of 16.
While still in high school, Ray got a job at the famed Eddie Meyer Speed Equipment in West Hollywood where he learned the ins and outs of engine building, high performance tuning and machining. Little did he know that he and his mostly teenaged coworkers would go on to be some of the biggest names in the history of hot rodding. Names like Bud Meyer, Tommy Sparks, Fred Carrillo, Lou Senter and Phil Remington, to name a few. Attending this hot rod university equipped Ray with skills enough to develop his trusty old '32 roadster into a real contender at the SCTA meets out at El Mirage dry lake. In fact, Ray ultimately amassed 11 timing tags with this roaster known as 99C running in the 125-mph range – a very impressive showing for a street driven roadster built by a teenager.
At the age of 21, Ray started his first of many successful businesses with the opening of his own speed shop, Ray Brown Automotive. With his trusty and talented old friend, Tommy Sparks, by his side, Ray became one of the first believers in the Chrysler Hemi V8 as a potential performance engine. Using the performance concepts he'd learned while working at Eddie Meyer's, Ray quickly developed several versions of the new Chrysler wonder-engine for use in everything from early dragsters to sports cars to land speed racers and even race boats. In 1953, a sleek fiberglass sports car called the "Mabee Drilling Co. Special" set the Class D record with a fuel injected, Ray Brown-built 353-ci Chrysler at the Bonneville speed trials. At the same time, Ray had built another Hemi Chrysler for the famed Shadoff Special streamliner that also competed at Bonneville. Using a 331-ci version of the engine and destroking it to 302 ci, the Shadoff Special raced across the salt at an astounding 236.36 mph – good enough to set a new international record in its class. The following year, the Shadoff Special returned to Bonneville to get yet another record, upping its speed to 252.80 mph.
It was around this time that a business idea that had haunted Ray for years began its fruition. Back in 1947, Ray had seen too many of his friends be jostled around in (or thrown from) their hopped up hot rod roadsters, and this inspired him to install some surplus aircraft safety belts in his old '32. As difficult as it is to imagine now, the use of safety belts at that time was heavily frowned upon and thought to be very dangerous. Fire was the most feared element in auto racing, and most drivers preferred to be thrown from their cars instead of belted into them in the case of an accident. But Ray's belief in his safety belts ultimately won over enough of the racing community that demand for Ray Brown safety belts warranted the start of yet another new business. And so, Ray mortgaged his family's property, and the "Impact Auto Saf-Tee Belt" was born.
Within three years, Ray became one of the largest seat belt manufacturers in the world, employing more than 150 workers across two daily shifts. By 1962, Ray's company was the first contracted supplier of seat belts for the U.S. government. With the passing of 1964 legislation that made safety belts mandatory equipment in all cars produced in the U.S., Ray was enlisted as vice president of the newly formed American Seat Belt Council. He remained active in this national safety effort until the sale of his safety belt business in 1966 and his move to a position with Superior Industries, the world's largest manufacturer of cast aluminum wheels. Ray remained with Superior Industries for the rest of his career.
A SEMA Hall of Fame member[?], Ray Brown spent his retirement years in a way that will come as no surprise to anyone involved in hot rodding: he revisited his youth! Within months of retiring, Ray phoned his old pal and coworker, Tommy Sparks, and said, "Tommy, I'm calling because you're still the best flathead Ford engine builder I know, and I'm in need of your services." That's right, Ray Brown went right back to where it all started for him: a '32 Ford roadster (this time in Washington Blue) and with a Tom Sparks-built flathead V8.
Although Ray is no longer with us, it always made us happy to see him out in his roadster in his later years and even happier to be able to say that he was one of our original advisory board members here at The American Hot Rod Foundation.
STEVE COONAN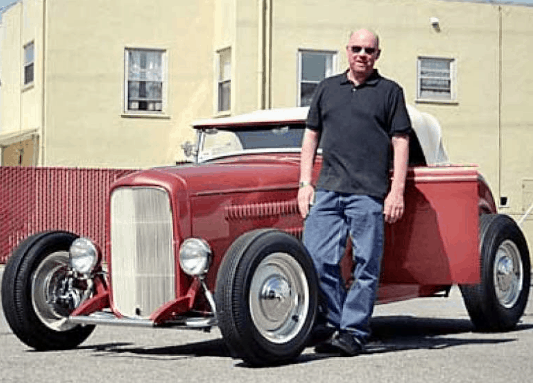 At a young age, Steve Coonan was taken by the idea of the California dream: owning a hot rod, living at the beach and listening to rock-n-roll music. So, at the age of 18, the Maryland native set out for the west coast and settled in the surfing community of Huntington Beach. Coonan had been captivated since childhood by the California hot rods that he saw in '50s and '60s car magazines and wanted nothing more than to find employment capturing images of similar machines. He soon found himself employed as a staff photographer by both Popular Hot Rodding and Street Rodder magazines . Three years later, at age 21, Coonan took the position of editor at Street Rodder but soon grew weary with the grind of running a monthly magazine. He left at the one-year mark to open his own freelance photography studio.
As much as he'd made his dream come true in sunny, hot rod-infested California, Steve had his own ideas of how a hot rod should be photographed. "I believe that the best a hot rod looks is when it's moving," he says. "I also, at the time, had the unusual desire to photograph in low light situations. Because this is now the industry standard, that doesn't sound like a big deal. But at the time, it was an off-beat idea that only I believed in." For the next 20 years, Coonan grew his freelance business, photographing hot rods his way and perfecting the techniques and style that would define his greatest creation: The Rodder's Journal.
Launched in 1994, Steve Coonan's realized dream of presenting traditional hot rods and custom cars in an artistic way has become the gold-standard of hot rod publications. Printed on heavy, glossy stock and presented in the form of a coffee-table-style book, The Rodder's Journal hovers around 30,000 copies sold per quarterly issue. Although there are competing publications that sell in larger numbers, that has never distracted Coonan. He remains proud of the loyalty shown by his readership and the fact that they seem to appreciate the lack of advertising (only 14 pages per 132-page issue) and the boutique level of quality. Even the owners of the cars featured inside are accepting of Coonan's demand that he have three full days with each subject inside his private photography studio – a level of overall dedication to quality that can be felt throughout the entire run of the now-collectible offering. As he once put it, "The last thing we can ever do is sacrifice quality, because quality is what we're selling."
In addition to this high standard has been a consistent focus on topics and aspects that for years suffered a lack of coverage in news-stand car magazines. Things such as cars under construction or restoration, in-depth historical research and profiles of our more senior hot rod pioneers and legends. For this, Steve Coonan can only be applauded for standing strong in his belief that the hot rod be presented as a work of art.
From all of us here at The American Hot Rod Foundation, we applaud Steve Coonan for consistently honoring our pioneers and legends and never forgetting who the people were who started it all… and we thank him for being a member of our advisory board.
KEN GROSS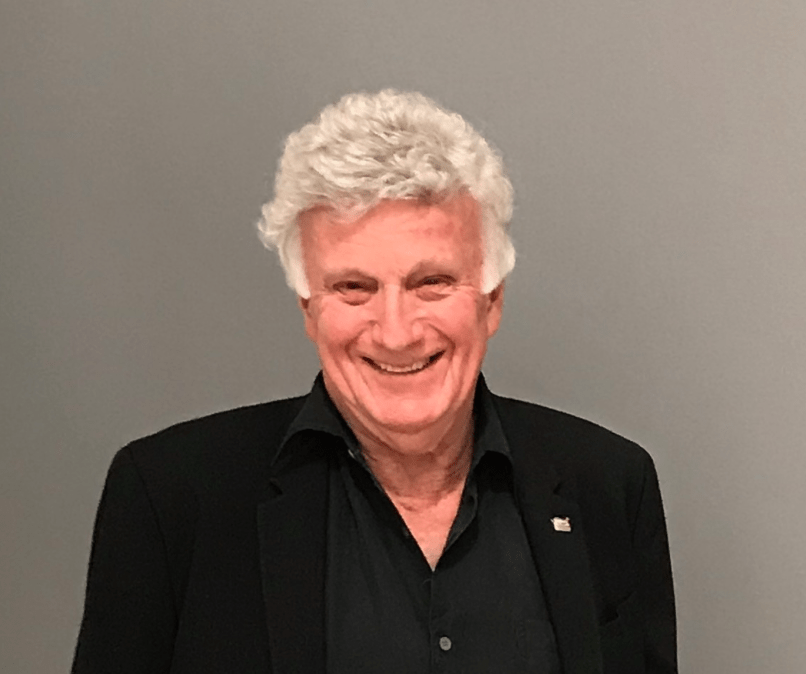 Former Director of the Petersen Automotive Museum in Los Angeles, Ken is a 30-year Pebble Beach Concours d'Elegance Chief Class Judge and serves on the Selection Committee. A member of ICJAG, the International Chief Judge Advisory Group, and chief judge for the Greenwich Concours d'Elegance, Ken judges at Amelia Island, Boca Raton, Hilton Head, St. Michaels and Hershey. His critically acclaimed exhibitions have appeared at many major Fine Art Museums including the High Museum of Art in Atlanta, the Frist Art Museum in Nashville, the Portland (OR) Art Museum, and The Museum of Fine Arts in Houston. The author of twenty-four automotive books and catalogs, Ken contributes to AutoWeek, American Car Collector, Hot Rod DeLuxe, The Rodder's Journal, Street Rodder Magazine and he authors a column called "Speaking of Hot Rods," for Old Cars Weekly. Ken has received the Automotive Hall of Fame Distinguished Service Citation, the International Motor Press Association's Ken W. Purdy award, the Motor Press Guild's Dean Bachelor Award and the Lee Iacocca award. A hot rodder since his teens, Ken owns a 1932 Ford roadster (one of the Top 75 '32's), a 1939 Ford convertible coupe (with a Chrysler Hemi V-8) and a 1940 Ford coupe (with a 4-71 blown flathead).
ED ISKENDERIAN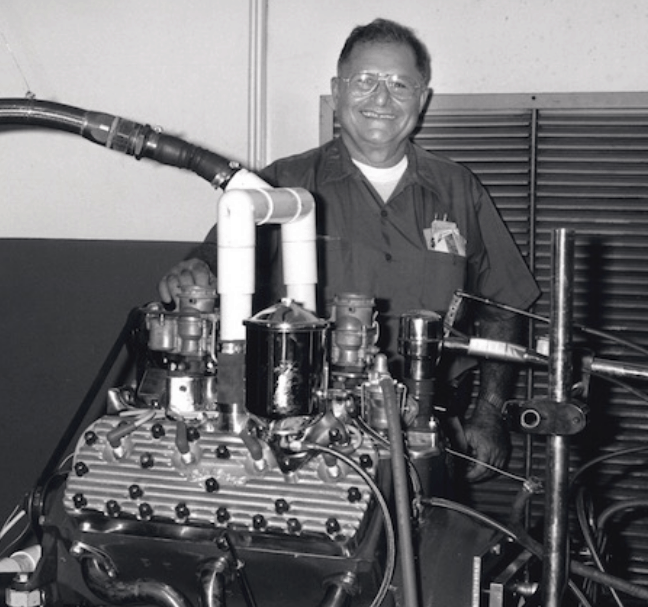 Born the son of an Armenian shoemaker in Tulare, California, in 1921, Ed "Isky" Iskenderian is one of our most coveted hot rod pioneers.
Armed with tremendous enthusiasm for all things mechanical from an early age, Ed enrolled in every technical and automotive course available to him at his Polytech High School in Los Angeles and gained hands-on experience with everything from drafting to machining to engine work. Ed's first big assignment at school was the conversion of a Model T Ford truck into a stripped down roadster, something that he excelled at and would set him on a lifelong path of pursuing speed and efficiency. While still in school, Ed and his best friend and fellow tinkerer, John Athan, experimented with everything from pattern making and casting their own speed equipment to engine building, chassis modification and camshaft re-profiling, with much of this experimentation occurring on Ed's now-famous '24 T roadster that he had purchased from Athan.
This hot rod, which Ed has kept for his entire life, was his only mode of transportation during his teens and early 20s and had him involved in street racing as well as land speed racing with his fellow hot rodders on the area dry lakes outside of Los Angeles. Showing that he was as much a hot rodder as he was a scientist, Ed shot across the lakebed in his Model T at 120 mph at a Western Timing Association meet in 1942 – a very impressive speed for the time and proof that Isky knew how to make a "gow-job" really go!
His fascination with camshaft technology led young Ed to become friendly with and learn from some of our earliest known aftermarket camshaft designers like Clay Smith and Ed Winfield. Although Isky famously credits Winfield as having the biggest influence on his life as a mentor, it was, in fact, Smith who pushed Iskenderian into the cam business after Ed's request for Smith to grind him a dual-pattern camshaft was met with a three-month estimated time of delivery from Smith. It was with this news that the young Ed Iskenderian realized there was room for another cam grinder in town, and soon a second-hand cylindrical grinding machine was purchased to which Ed designed and fitted a special rocker bar attachment of his own design. With this machine and Ed's one employee, Norris Baronian, Iskenderian Racing Cams was launched in the back corner of an existing machine shop (Mercury Tool and Die) in Culver City, California.
Through the years, Isky developed camshaft and valvetrain designs that helped propel some of the world's most famous racers to victory, not to mention a few whiskey runners in the south. He was also president of the Speed Equipment Manufacturers Association during its first two years. But it has always been Ed's curiosity that has kept him up with the times, whether it be the development of speed equipment for exotic multi-cam, multi-valve power plants or designs that focused on lower emissions and better fuel efficiency… Ed has always been there. Thanks to this unending enthusiasm, curiosity, knack for promotion and a lifelong love affair with hot rodding, Ed has now built Isky Cams into one of the most recognized and respected speed equipment manufacturers in the history of auto racing.
The fact that he has experienced the majority of the known history of what would come to be known as hot rodding makes Ed "Isky" Iskenderian's presence on the American Hot Rod Foundation advisory board invaluable. We thank him for his participation.
STEVE MOAL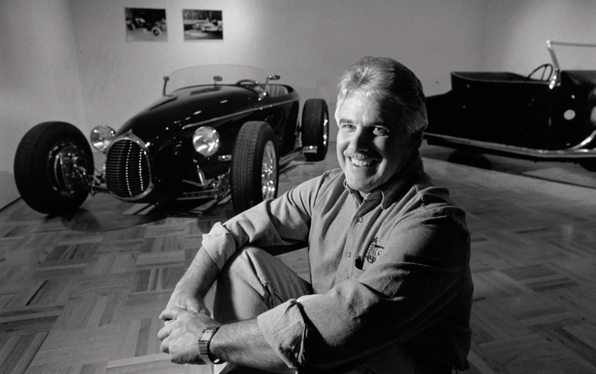 Steve Moal's grandfather William, a skilled wheelwright, emigrated from France just after the turn of the century and began outfitting horse-drawn wagons with hand-crafted bodies and wheels. By 1911, Moal's Auto Metal Works was an established business producing a wide spectrum of coachwork and performing repairs. Finally, in the 1920s, he began applying his skills to race cars and showcase speedsters. The tradition moved forward in the 1940s when George Moal, Steve's father, founded a body and fender shop on the current site of the Moal family business. George Moal was a skilled craftsman who fashioned bold instrument gauges, elegant wooden steering wheels, and sleek, aerodynamic, aluminum cowls and fins for high performance speedboats. It was during this time that Moal's shop became a regular gathering place for race car drivers, hot rodders, and painters like the legendary Tommy the Greek.
Today, Steve Moal has not only captured and perfected the classic European "carrozzeria" – or coachwork – techniques long associated with the houses of Zagato, Touring and Pinin Farina, but has taken the assembly and fabrication technique known as "superleggera" to new standards. In this method, which allows the car builder to take more control of distinctive vehicle form, aluminum body panels are shaped by English wheel, hammer and dolly, and then crimped about a light tubular subframe. Steve Moal's own personal journey has helped him formulate a motoring vision that borrows from the American hot rod, classical Midwest Champ or Indy front-engined roadsters, and those sleek, unmistakably classical, European marques of the '30s – Alfa Romeo, Ferrari, Bugatti, Maserati.
His breakthrough coachwork on motorcycles, most prominently the stunning Heritage Royale completed for Oakland Harley-Davidson dealer Bob Dron in the early '90s, has also helped shape that vision.
Steve Moal is a member of the Hot Rod Hall of Fame, was Builder of the Year at the 1997 Grand National Oakland Roadster Show, and has conducted a number of future automotive design seminars, including a 2003 engagement, "Doing Design to the Hilt," at Stanford University's Department of Engineering.
Today the Moal family, Steve and Theresa and sons Michael and David, carries the tradition forward with a totally new approach to the creation, design, engineering, fabrication, machining and assembly of custom coachcraft vehicles for discerning motoring enthusiasts.

We thank this third generation craftsman and car guy for making available to the American Hot Rod Foundation his knowledge, expertise, and unique vision of what vehicles of the future can be while never forgetting their wonderful past. Thank you, Steve Moal, for being a member of our advisory board.

DON MONTGOMERY (1930–2019)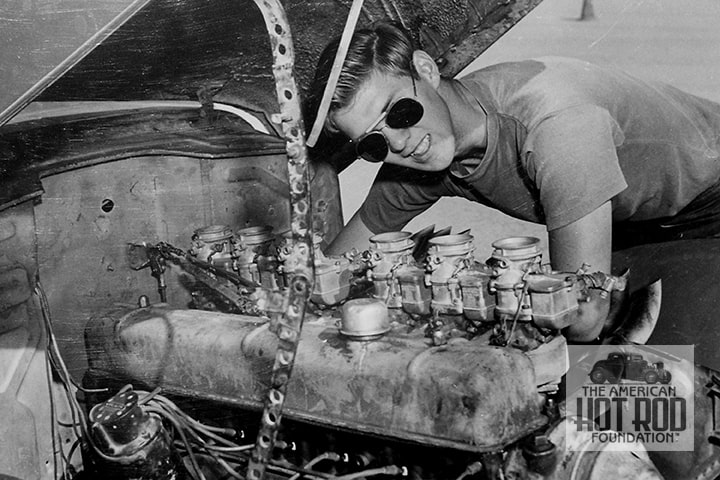 Many know the name Don Montgomery from his series of well-illustrated books about the early days of hot rodding. Montgomery, however, has had a long and interesting hot rod career. By the age of 15, he was firmly committed and remembers he got his education hanging around speed shops learning from the technical discussions of his peers saying, "The final exam was the actual doing of the modifications to your own engine and car."
As a member of the Velociteers, Don went to his first lakes meet in 1948. A year later he joined the Glendale Coupe and Roadster Club (GCRC) keeping company with legends such as Howard Johansen, Tom "Acmo" McLaughlin and Racer Brown. The club won many trophies and won the points championship in 1951. Don's daily driver was a clean Olds 88 and there's a nice shot of his wife Claire in his book Hot Rod Memories. She's standing on the front bumper possibly watching Don set a record at Paradise Mesa at 100.33 in their Hudson on May 30, 1951. According to Don's own caption, "The Olds 88 was our daily transportation and tow car. On several occasions both the Hudson and the Olds competed at a drag meet."
The following year, Montgomery fielded his own racer, a '36 Cord sedan that was unusual for the lakes. Not only was the car unusual but it too was unusual in that it had a Dodge front axle, Pontiac rear, a Buick straight eight and a Buick transmission.
Despite being a heavy car, the Cord performed well. At the Pomona drags Don hit a speed of 107.14 and at El Mirage during a Russetta meeting he ran 135.338 mph setting a B sedan record. He did so well that he came second in the Russetta Individual Points Championship for 1952.
For the 1953 season, Don 86'd the Buick and favor of a Jimmy six outfitted with a Howard 12-port aluminum head, a fabricated manifold with six Strombergs and a Scintilla mag donated by Ed Iskenderian. The cam was and F-6 from Howard and the pistons were either J.E. or F-6 Venolia. The exhaust was fabricated by Don himself.
As drag racing grew more popular and began to eclipse lakes racing, Don embraced it with a passion and promoted what was possibly drag racing's first individual class features show at Santa Ana—The Fuel Coupe . And why not, by 1957 he was running one of the fastest, full-fendered, stock Deuce-bodied A/Fuel Coupes in the country. Then, the NHRA banned fuel and Don's Coupe was instantly obsolete. As he says in his book Supercharged Gas Coupes, "It could have been switched to gas, the Altered class in which it would have run was dominated by much smaller Fiats and Crosleys. So my SCoT blown '51 Chrysler was removed and the '32 Ford Coupe was sold (dumbest thing I ever did)."
Don's next car was a '41 Willys Coupe rescued from a junkyard in the San Fernando Valley for $40. Powered by a blown, 342 ci Hemi, the Willys was ready for the '59 season with the chain-driven SCoT and a six-pack manifold made for Don by Phil Weiand. However, in 1960, NHRA introduced the Supercharged Gas Coupe class and Don ran in that for the next 12 years competing in B/GS, BB/G and BB/GS classes.
Don enjoyed eight good years amateur racing while he raised a family of three children but by 1968 the Willys was also became obsolete. In an effort to give the class a boost Don, with the help of the Pittman brothers, the Marrs boys, Dave Fentress, Jack Carlson and others the Southern California BB/G circuit was up and running. Soon, they were able to field eight cars often booked with AA/FA, AA/GS or injected Funny Cars. They usually raced at Lions, OCIR and Irwindale but according to Don they also got a few away meets, for example at Las Vegas, Sacramento and Holtville.
By 1970, the Willys had been painted black and lettered with the moniker "Rockerhead" given to him during his lakes racing days because he ran a Buick with rocker arms whereas most everybody else was running a flathead. Despite its 365 ci Hemi and a B&M Torqueflite, drag racing was changing, the economy was struggling and the racing all but dried up. According to Don, " The BB/GS circuit was great. We had heads-up racing, won some money and even ran some round-robin races that everyone could run three races. There was a points competition with a banquet, trophies and awards at the end of the season. In addition the drag strips gave us professional status treatment."
Meanwhile, Don, an engineering graduate of U.S.C., who was in the electronics manufacturing business, had started contributing to some of the magazines and in 1987 self published his first book Hot Rods in The Forties. This collection of photographs borrowed from a wide range of racers was an instant hit and Don soon followed up with other titles such as Hot Rods As They Were, Authentic Hot Rods, Hot Rod Memories and, of course, a book about his beloved Supercharged Gas Coupes, first published in 1993. His books and memories are on the shelf of any serious hot rod aficionado.
DON PRIETO
Beginning in 1953 with a '33 Ford cabriolet, Don Prieto has been a hot rodder his entire life. Born in New Orleans and bit by the bug at a young age, he moved on to a '39 Ford coupe that he street raced until discovering organized drag racing while serving in the military. The fact that the sport was in its infancy didn't detour young Don, who continued to make his way from one fast car to the next until finally making a bit of a name for himself with a hopped up '49 Oldsmobile convertible. An early mentor, Jake Howard of Howard's Speed Shop, set Don up with a Moon tank that he mounted on the passenger-side floor of the car. "Some special fuel" in that tank allowed Don to surprise many a competitor and take home a whole lot of trophies.
Upon leaving the service, Don became a partner in his first dragster while making ends meet in a New Orleans shipyard. Although some success was had with this first drag racing venture, it was the lure of good weather and the place where "it was all happening" that made Don move to California in 1963. With everything he owned packed into his '57 Chevrolet, Don no sooner rolled into town before he found himself working full time for none other than Mickey Thompson. Don would go on to help in developing Mickey's famous hemi-headed Pontiac engine while also campaigning his own Top Fuel dragster with partners Don Madden, Don Yates and Clarke Cagle.
For a drag racer, being in California in the early/mid-1960s just couldn't be beat. Don spent nearly every weekend during this time competing at all the great quarter-mile drag strips of the time: San Fernando, Bakersfield, Pomona, Fontana, Half Moon Bay and, of course, Lions. Although Don was as addicted to running a dragster as anyone could be, he also had a knack for observing the race meets and keeping a mental track of what everyone else was running and how they were ending up in the standings. This soon lead to a position as managing editor at Drag Racing magazine and began a decades-long relationship with print media that ultimately took him to an editing position with Petersen Publishing.
In 1972, Don donated his daily-driver '57 Chevy Nomad for use in a multi-part series that set out to show how an older car could, in fact, be tuned to run within the restraints of the emission standards of the day. Using the Nomad as the development test-mule for a whole new line of Edelbrock emissions-friendly speed equipment produced a vintage car that ran cleaner (and with better performance) than any new car from Detroit at the time.
From this great and timely achievement came Don's new position as director of communications for SEMA (Special Equipment Manufacturers Association) . With this new position, Don continued to be a spokesman and supporter of hot rodding and organized a collective of police administrators representing all 50 states in order to equalize the rules for modifying vehicles. In other words, hot rodders!
By the late '70s, Don turned his attention to what would become his ultimate personal achievement: his family-run business, The Prietive Group. PG oversees a fleet of up to 450 cars for companies such as Lexus, Honda, Acura, BMW, Rolls Royce, Mini, Volvo, Land Rover and Jaguar. Don sees to it that each vehicle is properly housed, delivered and maintained for any media use that the manufacturers have arranged. Although this does keep Don a little busy, that hasn't stopped him from building and owning a '32 Ford roadster, '32 Ford sedan, '56 Chevrolet Nomad and his incredible tribute to the late Frank Cannon of Chrisman and Cannon fame: the Hustler VI Top Fuel dragster. "It was something I wanted to do for Frank and his memory," Don said. "Not only was he the first guy to go 200 mph at Lions, but he also let me crew for him when I was a young guy. He looked out for me then, and it's a tribute that I wanted to do for him to help keep his name alive."
You can see Don "cackling" his Hustler VI at the California Hot Rod Reunion each year with a smile on his face and a tear in his eye from a heavy dose of nitro! We want to thank Don for honoring the American Hot Rod Foundation by being one of our advisory board members.
DAVE WALLACE JR.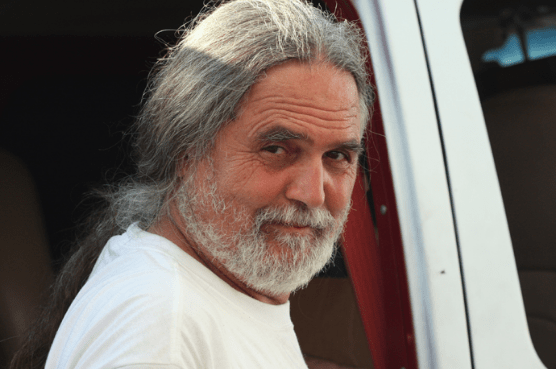 Dave Wallace Jr.'s journey to the International Drag Racing Hall Of Fame officially began with a Drag News byline atop San Fernando Raceway's event coverage in June 1964. Already a two-year pit-gate veteran of the southern California strip, the 14-year-old offered to fill in for his track-reporter dad on Father's Day, thereby freeing his folks for a rare Sunday-night celebration. By the end of that year, the kid was writing weekly reports for Drag News, Drag Sport Illustrated, and Drag World. In 1965, Dave Jr.'s first feature-length magazine article was published by Modern Rod. "That was my first freelance experience," he recalls. "I asked the editor for 75 bucks. The story ran eight pages, November '65 issue. I'm still waiting for that check." Nevertheless, Wallace stubbornly pursued that path.
Dave Wallace Jr.'s journey to the International Drag Racing Hall Of Fame officially began with a Drag News byline atop San Fernando Raceway's event coverage in June 1964. Already a two-year pit-gate veteran of the southern California strip, the 14-year-old offered to fill in for his track-reporter dad on Father's Day, thereby freeing his folks for a rare Sunday-night celebration. By the end of that year, the kid was writing weekly reports for Drag News, Drag Sport Illustrated, and Drag World. In 1965, Dave Jr.'s first feature-length magazine article was published by Modern Rod. "That was my first freelance experience," he recalls. "I asked the editor for 75 bucks. The story ran eight pages, November '65 issue. I'm still waiting for that check." Nevertheless, Wallace stubbornly pursued that path.
His earliest career objective, to become Lions Drag Strip's track reporter, was achieved at the ripe old age of 18—"before I was good enough, to be honest"—upon the sudden departure of his journalistic hero, Ralph Guldahl Jr., after a dispute with manager C.J. Hart. In 1973, when Hart took over Orange County International Raceway, "Pappy" made Dave the track's fulltime publicity manager. Among his duties were writing radio-commercial scripts and event coverage. While delivering one weekend's report to Drag News in nearby Garden Grove, publisher Doris Herbert offered the top job at the tabloid that launched Dave's journalism career. A two-year stint as Drag News editor brought him to the attention of Petersen Publishing Company executives, who fulfilled Dave's ultimate career ambition: writing for Hot Rod magazine (1977-80). Shortly after leaving HRM to freelance fulltime, Wallace contracted for a series of three Petersen historical drag-racing annuals that evolved into Drag Racing magazine, which he guided from a new bimonthly into a prosperous monthly through 1988. Twenty-two years later, he returned to the former PPC as editor of Hot Rod Deluxe (2010-13).
Except during the Army draftee's 14-month tour of Vietnam, Wallace's words have continuously entertained and educated readers for more than half a century in most rodding, racing, and muscle-car magazines, plus publications as varied as Motor Trend, Sport, and the New York Times. Not surprisingly, considering his own extensive history, Dave's specialty is historical subject matter. "The older I get, the more fascinated I become by the 1950s and '60s, the golden age of hot rodding and American auto racing—also of automotive publishing," he explains. Most recently, his season-by-season motorsports etrospectives have appeared as long-running series in Hot Rod Deluxe and Drag Racer magazines. Now that he's climbed aboard our board of directors, Wallace's unique combination of experience and talent are enhancing the American Hot Rod Foundation's website. Dave Wallace Jr. is the only living journalist in the International Drag Racing Hall Of Fame. He resides with his wife, artist Donna Guadagni, and four old Mopars in the Sierra Nevada foothills of Calaveras County, California.
ALEX XYDIAS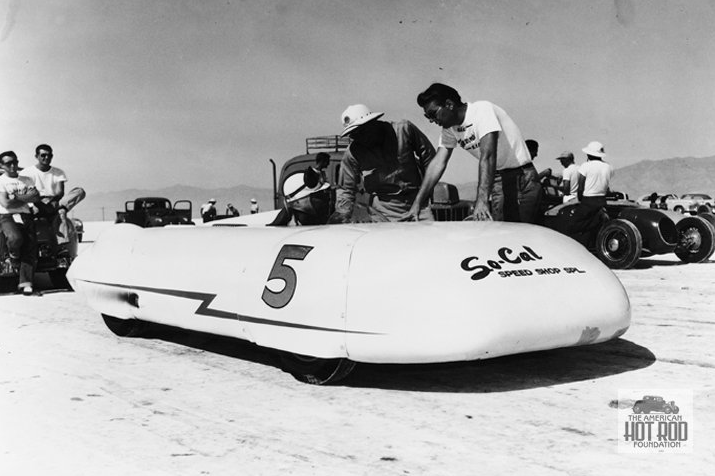 To many today, the name Alex Xydias (pronounced Ex-hideous) is synonymous with the famed hot rod company So-Cal Speed Shop. Yet, as the records show, Xydias' achievements on the lakes, in publishing and ultimately in event productions are equally phenomenal. The man had quite a career.
Before World War II, Xydias, who grew up in Los Angeles, was campaigning a '34 coupe at El Mirage enjoying moderate success. In 1946, after he was discharged from the army where he was a B-17 engineer and gunner, Xydias, using his $100 demob money, opened So-Cal Speed Shop, supplying hot rodders with speed equipment, much of it sourced from his friend Vic Edelbrock. There was no way to advertise back then and in an effort to market his business, Xydias decided to go lakes racing in a surplus P-51 belly tank powered by a mid-engined, Ford-V8-60 built by Edelbrock's Bobby Meeks.
"I only had limited racing experience." Said Alex. "The belly tank was like a pressure cooker inside and I was perched in the nose with no protection—I was the crush zone." Nevertheless, by the end of 1948 Xydias owned the Class A Streamliner record at 130.155 mph. He also garnered the cover of a new magazine called HOT ROD—the first of five such covers. The tank and the magazine helped launch the So-Cal Speed Shop as an internationally recognized brand.
Wanting to go faster, Xydias teamed up with legendary racer and author Dean Bachelor. Inspired by the small, lightweight, pre-WWII Auto Union Type C land speed racecar, they built the So-Cal Streamliner using the Model T Ford frame and engine from the tank. Neil Emory and Clayton Jensen of Valley Custom hand-formed the sleek aluminum body and with Batchelor behind the wheel the car turned 152 mph in the spring of1949.
Encouraged by their success, the team took the Streamliner to the first Bonneville Nationals in August that year. With a new, Meeks-built Mercury V8 they set a Class C Streamliner record at 189.745 mph. Their top speed was 193.54 mph. They returned to Bonneville the following year and set a record at 208.927 mph. The So-Cal Streamliner became " The World's Fastest Hot Rod."
Xydias quickly understood the meaning of the adage "Win on Sunday, sell on Monday," and what was now the So-Cal Racing Team continued to build hot rods and racecars that set records at the lakes and on the drag strips enabling Xydias to sell parts. Now restored to its former glory by Pete Chapouris and his team at the revived SO-CAL Speed Shop, the original So-Cal belly tank has become one of the most iconic hot rods ever.
Facing changes in the industry, Xydias tried his had at filmmaking, something his father had done in the "silent" era. Xydias, however, filmed motorsports—everything from Bonneville to Indy to Daytona—and while his productions were very professional he soon realized that he was ahead of his time, people just wouldn't pay to go watch racing movies. It was time for a career change. His legacy lives on though in such enduring documentaries as "The Hot Rod Story."
In 1963, Xydias joined HOT ROD publisher Petersen Publishing as editor of Car Craft Magazine. Within a year he moved on to be editor and then publisher of Hot Rod Industry News where, as a director, he helped launch an industry trade show that would eventually grow become the annual SEMA Show. He was inducted into the SEMA Hall of Fame in 1982.
After 12 years at Petersen, Xydias partnered with racer and entrepreneur Mickey Thompson and launched the SCORE Off-Road Equipment trade show. They operated that show for 10 years until Thompson's untimely murder. Meanwhile, Xydias was inducted into the Dry Lakes Hall of Fame, the HOT ROD Magazine Hall of Fame, and the Route 66 Hall of Fame. He also received the Robert E. Petersen Lifetime Achievement Award in 2008.
Over the years, Xydias had always maintained the So-Cal Speed Shop with reunions and commemorative catalogs. Consequently, when his friend Pete Chapouris came asking about resurrecting the iconic brand, Xydias was ready and in1997 the new SO-CAL Speed Shop was launched to much acclaim. Xydias remains active with the company as an advisor. He is also Chairman of Board of the Wally Parks NHRA Motorsports Museum.
Our story doesn't end there though. In 2012, the Learning Centers at Fairplex, Pomona, California, created a new automotive school called the Alex Xydias Center for Automotive Arts (AXC). The purpose of the school is to help educate young people and provide them an opportunity to develop skills for a viable career in the auto industry. At a time when high school auto shop programs have all but disappeared, AXC provides a much-needed auto-centric educational environment that facilitates opportunities for young enthusiasts and provides an incredible bookend for Alex Xydias' amazing career.
Along with fellow American Hot Rod Foundation advisory board member, Ed Iskenderian, Alex Xydias provides a level of first hand experience with hot rodding that is simply priceless as he has been witness to the majority of the sport's growth and development over his 90+ years. We are incredibly lucky and honored to have Alex as an advisory board member.