Since its inception in 2002, the American Hot Rod Foundation has retained most of our founding team members. Their hard work and dedication to this cause fuel our ongoing quest to preserve the great hot-rodding tradition for all generations to come.
Armed with a wide range of talents and representing our wide continent, the staff works tirelessly each day to ensure that hot rodding's history is never lost.
David Steele
David Steele is the Director of the American Hot Rod Foundation.
A lover of "anything interesting on two wheels or four," David grew up in Buffalo, New York. His car-obsessed father, a factory worker at Chevrolet's Tonawanda plant, restored, raced, and collected everything from pre-war classics to 1950s and '60s American performance cars and sports cars. Roger Steele took his family to car shows, swap meets, or race tracks on most weekends and instilled in young David a lifelong love for interesting machinery and the joy that comes from maintaining, preserving, and restoring old iron.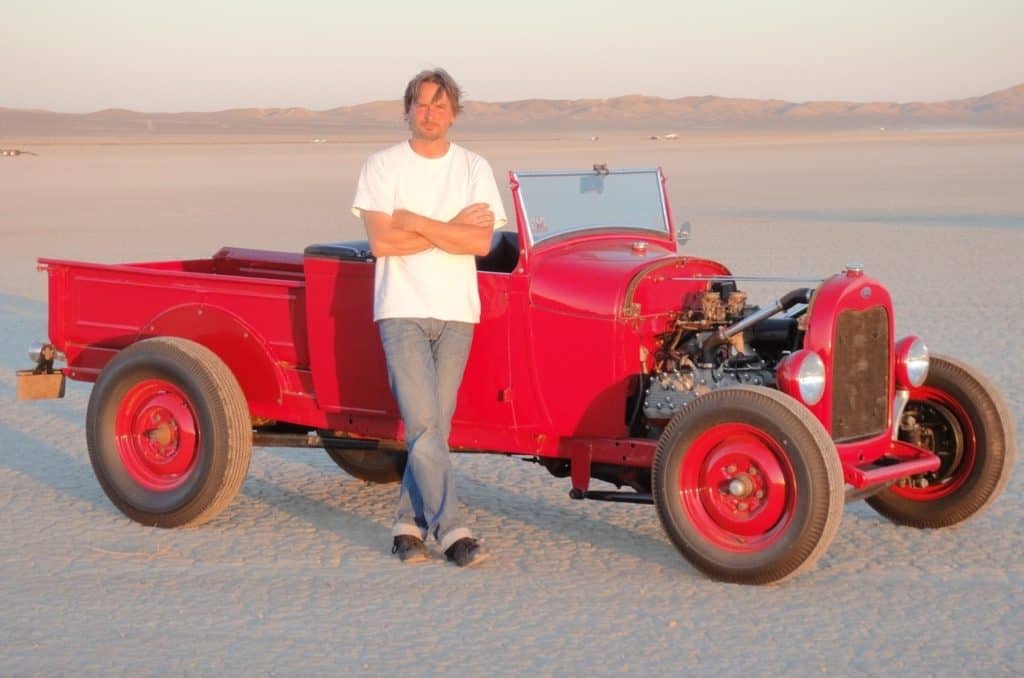 While working as a professional musician during the 1990s and 2000s, David began to seek out and interview early hot rodders and racers in the cities and towns that he toured. His practice of recording his rodding and racing heroes' stories on days off was preparing our director for a dream job that he never imagined could be his.
While working as a professional musician during the 1990s and 2000s, David began to seek out and interview early hot rodders and racers in the cities and towns that he toured. His practice of recording his rodding and racing heroes' stories on days off was preparing our director for a dream job that he never imagined could be his.
David's pursuit of automotive knowledge and obsession with preserving hot rodding's history led him to a chance 1996 encounter with early rodder, racer, and engine-builder Tommy Sparks (the first subject of our ongoing Pioneer film interview series). That introduction proved to be one of the most significant events of David's life. The master took the young man under his wing, introduced him to fellow pioneers and the American Hot Rod Foundation, mentored him on high-level restoration and maintenance, and even built a hot Ford flathead V8 alongside Steele, passing along seven decades of speed secrets. Sparks also chose David to be the next caretaker of his beloved '29 Ford Model-A roadster pickup that he'd owned since 1943.
Of his role with the American Hot Rod Foundation, David has said, "Our work is first and foremost about preservation. If we can save the stories of innovation and accomplishment made by our pioneer generation so they can be passed along to future generations to research, learn from, and be inspired by, we've done our job. If, in addition, we're able to help present hot rodding as the art form we believe it is—while promoting the fact that this is a living thing, still being practiced and celebrated—that will be the icing for our cake."
David Steele is also a freelance automotive journalist whose byline has appeared in Hot Rod Deluxe magazine. Besides collecting and restoring vehicles (including his 1st car, a Chevelle SS he's owned since high school), David has judged national-Concours-level shows such as the Cobble Beach Concours, San Marino Motor Classic, and Arizona Concours. He is a member of the Petersen Automotive Museum, the Classic Car Club of America, a lifetime member of the Antique Automobile Club of America, and is a graduate of the NASA high-performance driving school as well as the Putnam Park high-performance driving school of Indianapolis.
In his "previous lifetime" in the music business, the multi-instrumentalist performed and/or recorded with artists such as John Prine, Steve Earle, The Esquires (Gillian Welch and David Rawlings ), Lucinda Williams, and country performer Gary Allan. He has appeared on Late Night with David Letterman, The Tonight Show with Jay Leno, Conan O'Brien, Jimmy Kimmel Live, Good Morning America, The Today Show, Austin City Limits, and has toured the world, extensively.
David Steele currently resides in Los Angeles, California, with wife Katie, a professional violinist.
Jim Miller
A native of Southern California, Jim Miller was born into a family with gasoline in its veins. His grandfather was a Duesenberg driver and mechanic who set over 40 speed records at Muroc Dry Lake in the 1930s. Jim's father, Eddie Miller, was a founding member of the Southern California Timing Association Centuries Club, and, after the war, built a beautiful and now-famous "lakester".
With all of this going on in his house, Jim attached himself to a quarter-scale midget racer at age three. By the time Jim reached 12 years of age he had worked on two sports car projects and was fabricating parts for his Dad's gyrocopters. Jim's mechanical and automotive design abilities developed quickly and, throughout his early career, he was often pulled into situations to lend a hand. Among other achievements, a lap at 212.842 gained him entry into the prestigious El Mirage 200 MPH Club.
Today, Jim is finishing construction of a Class F Lakester, entirely of his own design and fabrication. His goal is to break the present class records at Bonneville and El Mirage and our money is on him!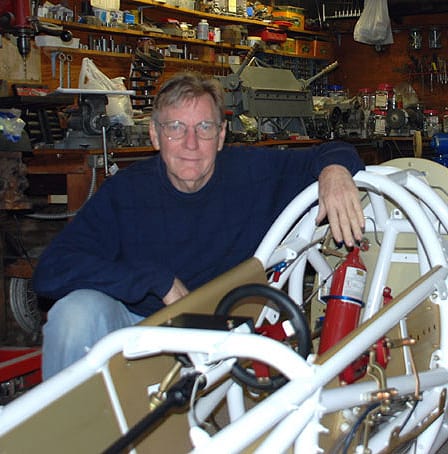 But the equally-impressive other side of Jim Miller, that you may not be aware of, is his high-level artistic talent. Jim was sketching constantly as a pre-schooler and, by junior high, could prepare fine mechanical drawings. At age 18, he designed and drafted a complete Formula 3 racer – structure, skin, suspension, brakes, and drivetrain.
After graduating high school, Jim worked as an art director at Hughes Aircraft and then moved on to Scientific Data Systems, which would later become the Xerox Corporation.
We are truly lucky to have Jim on board the American Hot Rod Foundation as our Historian and Archivist. Jim's pedigree, integrity, and vast knowledge of any and all forms of racing, combined with his close relationships with our hot rod and racing pioneers, make him the perfect man for the job. It is the level of research and preservation that Jim does every day that is the meat and potatoes of our cause and will surely be the most valuable thing that our initial work will leave behind.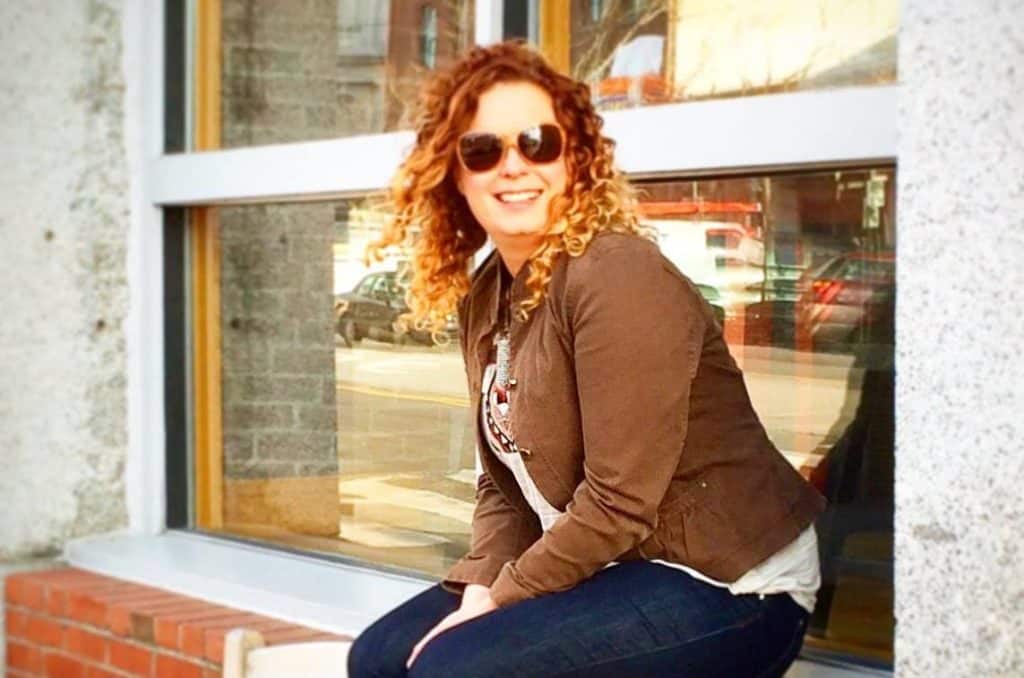 Kristel Hayes
Marketing Director
Kristel Hayes is the muscle behind AHRF's online presence and marketing efforts. As a cheerleader for the Foundation's success, she truly enjoys sharing the meaningful stories behind every picture and artifact with the passionate, and ever-growing AHRF audience.
Kristel is the founder of Mesh Marketing Creative Group and lives in Portland, Maine with her husband and their trusty canine sidekicks Capo & Dora.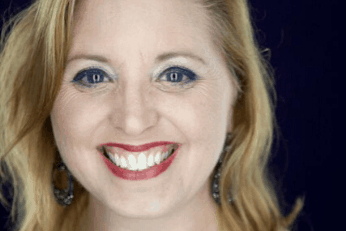 Angie Helton
Public Relations
Angie's role for the American Hot Rod Foundation involves driving all PR and publicity. Angie has a passion for telling the Foundation's story and being a part of the hot rod community. She coordinates and attends all hot rod related events that the Foundation participates in such as the Grand National Roadster Show, The Race of the Gentlemen, and the NHRA California Hot Rod Reunions. She sets up our media interviews and gets the AHRF story publicized through press releases and other outreach efforts. Angie is president of Northeast Media Associates, a multimedia public relations firm, founded in 2006.
Angie lives and works in South Portland, Maine.