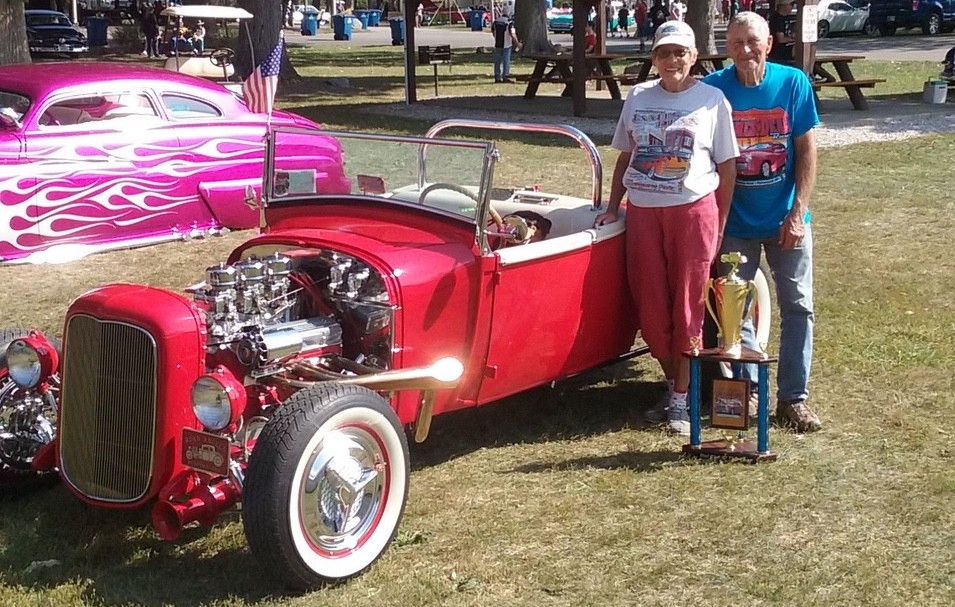 Congratulations to Claude and Sara Kern of Bedford, Indiana, on being chosen as our AHRF Member(s) of the Month. With Bob and Sharon Muravez in January, the Kerns are now our second "duo" to take this honor. Although many of us car folks can proudly say that we've been life-long enthusiasts, it would be tough to surpass the Kerns for their dedication and time invested in this hobby that became their family business.
Opened in 1960, Kern's Speed Shop served southern-Indiana hot rodders for more than 60 years, offering a full machine shop, engine building and tuning, and everything and anything else a hot rodder or racer would need. They even maintained a selection of speed equipment in their showroom for people who found themselves in an "I need it today" situation. Although Claude's passion for hot rodding started like so many other young kids in 1950s America, we have to applaud his loyalty to a particular '29 Ford roadster. A hot rod that has a truly great story:
Purchased in southern California in the early 1950s, Claude's AV8 roadster started its hot rod life as a flathead-powered highboy that had been painted turquoise and was driven by an unknown young hot rodder all the way across the country to its new home in southern Indiana. Because a real-deal, California hot rod was a bit of a rarity in rural Indiana at that time, word spread fast among Claude and his buddies that such a car had been spotted, and he desperately needed to know more and see more about it. With his friend, Karl Kinser ( of the famous Kinser racing family ), the two young enthusiasts set out to find this mystery roadster and see what all the hubbub was about. Incredibly, they located the car where it was being stored in a barn and eventually met and spoke with its owner, who, as luck would have it, was losing interest in the roadster. Funny enough, it was Claude's pal Karl who stepped to the plate first and purchased the car in 1956. Running its hopped-up flathead, it provided a great deal of fun and exciting cruising and stoplight racing for Karl Kinser until the following 1950s hot rodding cliche occurred: the little roadster lost a street race to a brand new '57 Chevy. The car was soon relieved of its valve-in-block V8 and became a project that the young Kinser was running out of gas to complete. As Claude continued to try and help Karl get the roadster going again, it became clearer that it was Claude who had more of an interest in the car, and a deal was made for the roadster to become his.
Within days of the purchase, Claude began the task of channeling the body over the frame ( using some discarded school-bus panels from nearby Carpenter Body Works ), painting the car bright red and installing a Chevy V8. This was in early 1960, a particularly important year in Claude's life as he would marry his life-long sweetheart, Sara, in May as well as opening his Speed Shop. In fact, it was the day after they'd returned from their honeymoon that Claude focused on getting the roadster back to being a usable car. Well, he not only did that but drove it to the drag races the following weekend in Terre Haute and competed in A/rdstr. With various versions of the small block Chevy ( from 265s to a 301 ), Claude's roadster was eventually running in the low 13s as a street-driven car ( he even ran it at the newly constructed Indianapolis Raceway Park in 1961, before IRP had even built its timing tower ) until a clutch explosion in 1962 convinced him to construct a more purpose-built machine and one that he could use to advertise his budding business. This came in the form of a cherry red '41 Willys that the Kerns competed with in B/gas. With "Kerns Speed Shop" on the doors and a unique quad headlight-equipped fiberglass tilt front end, the Willys was a formidable and recognizable machine at the many southern- and central-Indiana drag strips that existed at that time. As the Kern's business grew throughout the 1960s, the racing slowed – but Claude's enthusiasm never did. Regular outings to the many area dirt ovals were a constant, as well as their annual trek up route 37 to the great Speedway and its "Indy 500" in the month of May.
With all of this hot rod and racing activity going on during Claude and Sara's early years together, they did find the time to start a family, and the hot rod genes didn't fall far from the tree. Sons Cale and Travis both built successful automotive-based businesses, with Travis's "Travis Kern Autosports" supplying ready-to-go race engines for the Indiana circle-track community, and "Cale Kern's Hot Rods" building a consistent stream of award-winning hot rods and custom cars. This kind of family tradition is exactly what we love to see in the hot rod community, and the Kerns are definitely one of our favorites.
But what happened to that little red roadster, you might ask? Well, in the early 1990s, Claude and Sara ( with help and instigation from their sons ) pulled their long-resting roadster from its basement storage and began restoring the car back to how it was first finished by Claude in the days following their 1960 honeymoon. By the spring of 1996, it was back on the road and winning back-to-back awards, starting with a "Hot Rod of the Year" award at the annual James Dean Run in Fairmount, Indiana, Best in Class at the Ault Park Concours d'Elegance, as well as grabbing trophies at The Frog Follies and the NHRA Hot Rod Reunion in Bowling Green, Kentucky. We're honored to have the Kern roadster currently in the running for our AHRF Hot Rod of the Month series.
We have to say, if 62 years of hot rod ownership doesn't get you some thumbs up, then we don't know what would. We'd also be remiss if we didn't mention the 60-year run with their family Speed Shop business. All in all, we applaud Claude and Sara Kern for their passion and dedication to hot rodding and auto racing and for seeing that the torch is passed in such a grand way. In fact, we should maybe consider this as not just an AHRF "Duo of the Month" but a hot rod "Family of the Month." Either way, we salute the Kerns and thank them for everything they've done for our hobby and for being long-time supporters of the American Hot Rod Foundation.
To learn more about Claude and Sara Kern's journey through hot rodding, you can listen to our "Hot Rod Stories" recording of Claude sharing all of this in his own words via the following link: https://ahrf.com/claude-kern/