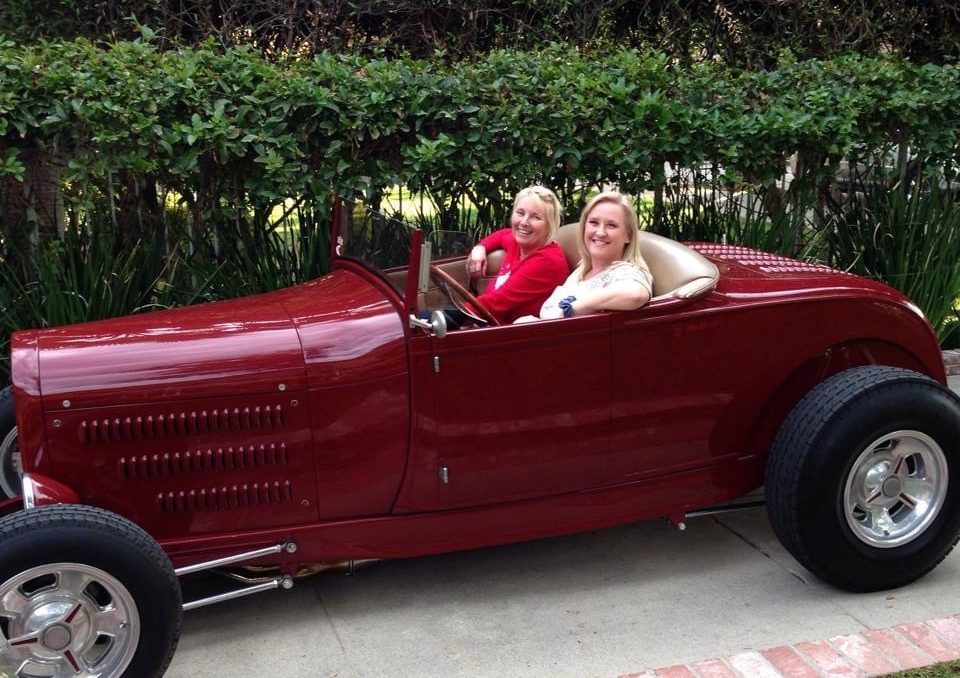 We are pleased to announce that this month's AHRF Member of the Month is Jennifer "Jenny" Sparks Crow. If some of you keen hot rod historians are thinking that her maiden name rings a bell, you would be correct…  Jenny is the daughter of hot rod pioneer Tommy Sparks! Pretty darn cool hot rod bloodline, if we do say so ourselves. Jenny's papa may have been one of our more ultimate car guys, for sure, but Jenny is proving that she hasn't fallen far from the tree. If you don't believe us, ask Jenny about her regularly driven '29 AV-8 roadster and she'll casually tell you that it's an 11-second car and will gladly point out the roll bar mounting points in the car's well-finished interior. In other words, once a Sparks always a Sparks! 
To say that Jenny grew up deep in the car hobby would be a serious understatement. During her formative years her Dad was performing high-level restorations on Pebble Beach class-winning Packards, Chryslers, Cadillac V-16s, DV32 Stutz', and Duesenbergs, all while taking on day jobs in the film industry to make sure that people like Francis Coppola had enough running/driving Tuckers in his film. Of course, Tom never lost his love of hot rodding and racing and Jenny was right there alongside him at these events where he'd get to reunite with his crew of childhood buddies; folks like Ray Brown, Fred Carrillo, Bud Meyer, Don Montgomery, Ed Pink, and others. Yeah, these were "Dad's buddies." So, with all of this car business swirling around you can understand why Jenny wasted no time in making sure she had her ducks in a row when it came time to buy her first set of wheels. Although her Dad had promised to match whatever downpayment she could come up with after saving all of her money from odd jobs, imagine his surprise when she announced that she had $3,500 in her savings account! Well, apparently Tom didn't feel she needed his help and so Jenny went out and bought herself a brand new '86 Honda Accord completely on her own at the age of 18! To surprise her Dad, who doubted she could actually get a car loan, Jenny parked her shiny new car in the family driveway and waited for her folks to return from their annual trip to the Fall Meet in Hershey. Yes, Tom was impressed! 
This can-do spirit would later find Jenny becoming active in the Harley Davidson community. She purchased a 2001 HD Sportster 883 and promptly performed a "Saddlesore" ride (1,000 miles in 24hrs) that was certified by the Iron Butt Association. Yeah, on a Sportster! 
These days Jenny and her husband Eric can be found regularly driving her Dad's '29 roadster, their stunning '56 T-Bird, or restoring vintage camper trailers. All of their vehicles grab a lot of attention (as well as awards) but, most importantly, they are driven…  and driven plenty. 
Like we said, once a Sparks, always a Sparks! 
We want to thank Jenny for her ongoing support of the AHRF and for bringing her great family name to our Member's roster. It is an honor to have her on board!