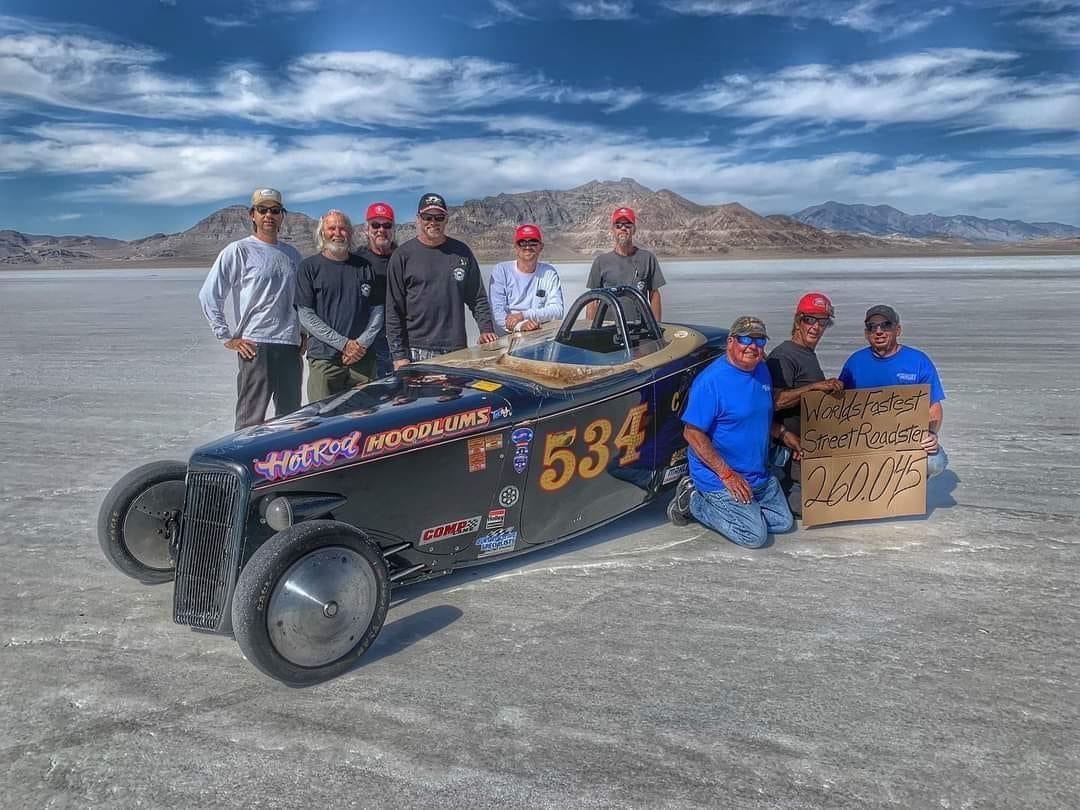 In more ways than one, we want to congratulate AHRF supporting member Jim Jard on being our Member of the Month. We say in more ways than one because a huge congratulations must go out to Jim and his great LSR team effort for their 2021 "World's Fastest Street Roadster" achievement. If that doesn't earn our Member of the Month award we don't know what else would! But we'll get to that later.
Born and raised in Houston, Texas, Jim was introduced to cool cars when his father bought a brand new MG-TD after having seen earlier MGs running around in the hands of British servicemen while serving during WWII. A conservative appearing CPA, Jim's father made quite a statement in their neighborhood with this flashy car and this inspired Jim to build up a good running '55 Chevy with a 283 and four-speed for his high school wheels. The car bug continued to follow him when he went off to college where Jim found a part-time position working at a local foreign car junkyard. With his business sense already engaged, he convinced the yard owner to take the salvageable engines and gearboxes out of the various wrecked cars and install them in new Meyers Manx dune buggy kits. The sale of these "new" dune buggies by the junkyard owner became his most profitable endeavor and made Jim a favorite employee.
Although Jim started his time in the law profession soon after graduation, it didn't diminish his love for interesting old cars and he quickly got himself a '51 Chevy pickup and '57 Corvette … two vehicles that he would continue to drive as his main modes of transportation for several years. By the early 1980s, Jim's interest in getting on a race track got the best of him and he joined the SCCA and began road racing in several different small-bore formulas. Always competitive and running at the front. After several seasons of seat time, Jim took an interest in SCCA Spec-Miata in the early 1990s and would go on to be a regional champion in that very competitive series.
It was around this time that Jim's interest in racing an earlier and more powerful car came into view and a switch to vintage sports car racing took place. A 1963 Corvette was built and prepped for competition in VARA's ( Vintage Auto Racing Association ) highly competitive B-production class and Jim's experience on a road course soon garnered him back-to-back B-production championships. Taking the "booming V8 in a sports car" thing to the next level, Jim had the honor of campaigning the famous ex-Dick Guldstrand / Herb Kaplan big block '65 Corvette roadster ( known as "The Cobra Killer" ) in A-production before getting bit again by the hot rod bug.
Because hot rodding had always been a through-line for Jim Jard it only made sense that he was taken by his first reading of "How to build a traditional Ford Hot Rod" by Vern Tardel. This reminder of the beauty and simplicity of an early hot rod immediately got Jim's imagination running and he began joining his fellow Texas hot rod buddies (Steve Wertheimer, Bobby Walden, etc.) at west coast events like the LA Roadsters Father's Day weekend as well as the Grand National Roadster Show. Within no time Jim was on the phone with the owner of a perfect flathead powered roadster located in Florida and hopped a plane with his wife Patti to go inspect it. Yup, it was what he was looking for and he and Patti were soon road tripping their little flathead powered hot rod back to Houston. This would set off a string of great hot rod builds and a long-running collaboration between Jim Jard and the Kennedy brothers in Pomona, California. AV-8 roadsters, '32s of nearly every body style, and even a '34 with a blown Cad would be just a few of the great cars built by this partnership.
But, as they say… "Once a Racer, always a Racer", and the speed bug was back and nagging at Jim thanks to the obvious nod to early Bonneville and the dry lakes that his traditional style hot rods suggested. His goal; go 200 mph in a roadster. Well, that was quickly achieved in 2006 when Jim Jard earned his membership into that coveted "2-Club" in a hot rod roadster. Fully bitten by the LSR bug, Jim and his "Hot Rod Hoodlums" crew would continue to develop their cars through new classes and with many achievements along the way but none more impressive than this year's 2021 performance. Running against the standing C/BSTR record of 244mph, driver Ro Yale went out and quickly surpassed that speed only to find himself spinning the car 8 times at nearly 250mph. Although Ro wasn't harmed, the same couldn't be said of the car. It lost its fiberglass cockpit cover as well as the rear decklid and major repairs had to take place round the clock to get the car ready to compete again. Fortunately, Jim and his crew were able to locate and purchase every fiberglass repair kit in Wendover, Utah (as well as few tubes of JB Weld) and get the car back together and on the salt while the weather and course were still agreeable.
With the repaired body panels in place, the Hot Rod Hoodlums roadster set back out across the salt and ran a beautiful 260.637 (with a 259.454mph on the return) earning Jim and his team the title of "World's Fastest Street Roadster" and a serious place of honor in the Land Speed Racing history books. As if this weren't enough, Jim and his team achieved this with a C-class engine (built by master engine builder and living legend Keith Dorton) and actually went faster than the record in class B, A, and even AA blown rear engine gas. A truly incredible achievement by all involved and a record that is close to the heart of the American Hot Rod Foundation, as the history and importance of hot rod roadsters being raced across the surface of the earth is the very thing that inspired and launched our work.
We want to thank Jim Jard for being an early supporter of the AHRF, for doing more than his part to demonstrate the beauty of a hot rod at speed and for inspiring future record breakers. It is an honor to have the owner of the "World's Fastest Street Roadster" on our team! Congratulations, again, to you and all of the Hot Rod Hoodlums Team (Corey Severa, Lee Dickerson, Ro Yale, Keith Dorton, Jeff Dorton, Skip Kennedy, Brad Whitworth, Robert Stookey, and Alp Sungurtekin) on a job well done.