We can't thank our supporters and community enough for the great year of growth we've had. It only means that even more Hot Rod History has been preserved … and that's all it's about!
2017 Has Been a Great Year for the AHRF!
We want to thank all of you who continue to support, follow, and cheer on the work that we do. Every aspect of the AHRF showed strong growth throughout the year and that includes thousands of new images that have been saved and added to our archive. Enjoy this overview of what has been a very productive year and thank you again for supporting The American Hot Rod Foundation.
The AHRF Image Archive Continues To Grow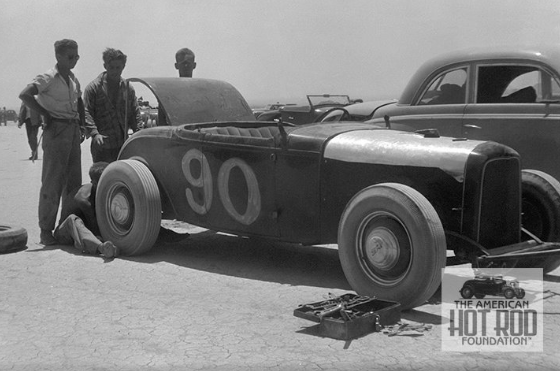 New collections of photos and artifacts from the pioneering days of early hot rodding continue to be offered to the AHRF for preservation. Each historic item that comes our way is researched, cataloged, and (in the case of historic photographs) cleaned or restored before having information from our research effort attached to it.
We would like to thank the following people or their friends and family for entrusting the AHRF with the preservation of their historic images:
Sam Dockery
Chris Echart
Chris Farren
Ralph Guldahl
Howard Hudson
Earl Mansel
Bob and Sharon Muravez
Don Prieto
Doug Robinson
Jim Schofield
Bob Sorrell
David Steele
Tom Stewart
Don Tuttle
Jim Vrabel
Jeff White
Don Zabel
Photo Collections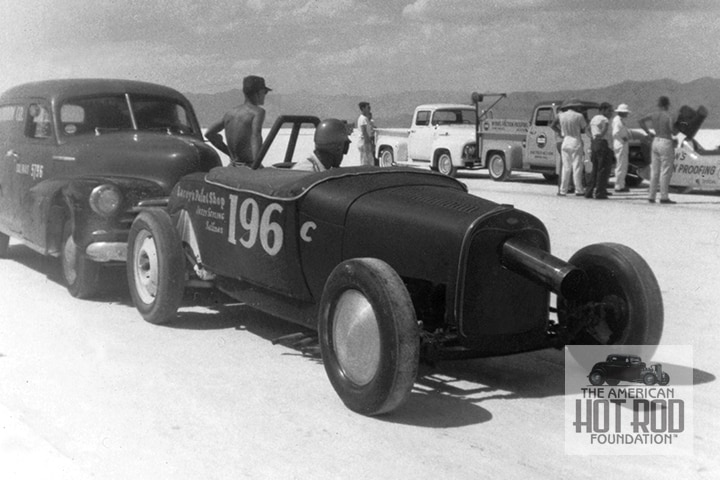 The typical historic collection that is offered to the Foundation is archived in between collections that have to be returned promptly. This has our archivist, Jim Miller, working very long hours and with never a dull moment! Amazingly, Jim has been able to clean, scan, and digitally file over 4,000 images so far this year. In addition to this, 6,000 historic photos are currently in the AHRF queue waiting to be archived and preserved. Jim follows a meticulous process of identifying, if possible, every person pictured in a photo, along with every car, event, location, buildings, and so forth, all the while pulling photos from our archives, and checking periodicals and books, to verify facts and approximate dates and make other connections. The more photos we gather, the more certain we can become regarding the history of a given person, car, race or other event, car construction detail, and so forth. For Jim, given the Miller family's incredible involvement in hot rodding and racing, it's a dream job. That must be why he puts in crazy hours!
New Photos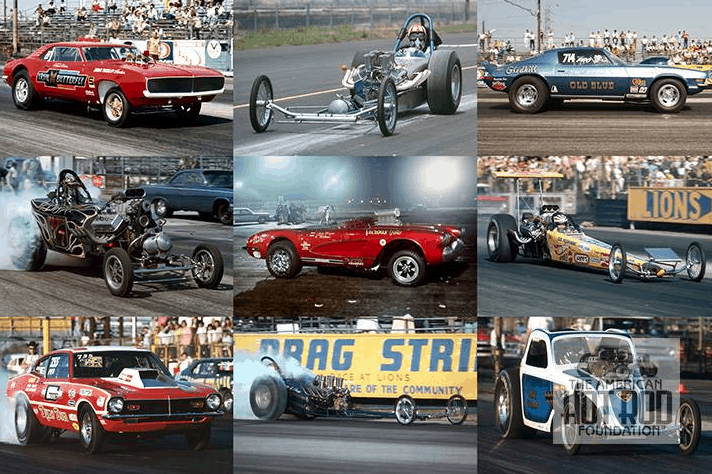 In addition to the collections that pass through our hands, we have an enormous amount of new content that is being gathered every day. When Jim Miller is not at his Power Mac and scanner he can be seen at any of the various hot rod and racing events that go on in the Southern and Central California area on any weekend. In 2017 alone, Jim shot 4,800 images covering these events, and in many cases, Jim is photographing historic machinery. As these get archived, they will become the historic photos that teach future generations about the state of hot rodding and racing as we know it today.
Social Media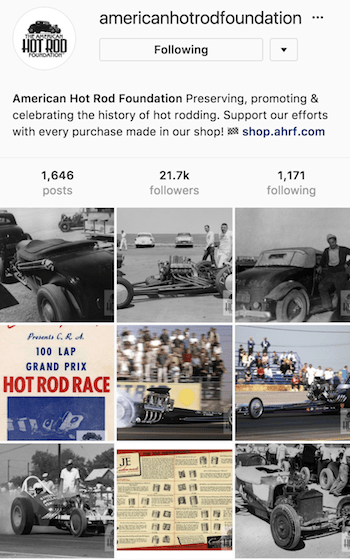 With a huge thanks to our social media manager, Kristel Hayes, we are pleased to say that our presence across all of our social media channels has grown exponentially.
Our Facebook page is definitely the star of the show with 140,000 dedicated followers and over 400,000 views per month, with Instagram at 21,000 followers and Twitter at 5,300 taking 2nd and 3rd. Our YouTube channel continues to be a great place to check out samples of our film productions and Pioneer Interview Series and we've even started up some boards on Pinterest.
All of these resources combined have raised even more awareness of our cause and provide a great way for family members and friends of hot rod pioneers to contact us regarding the documenting and preservation of their loved one's history and accomplishments.

Introducing the Rodcast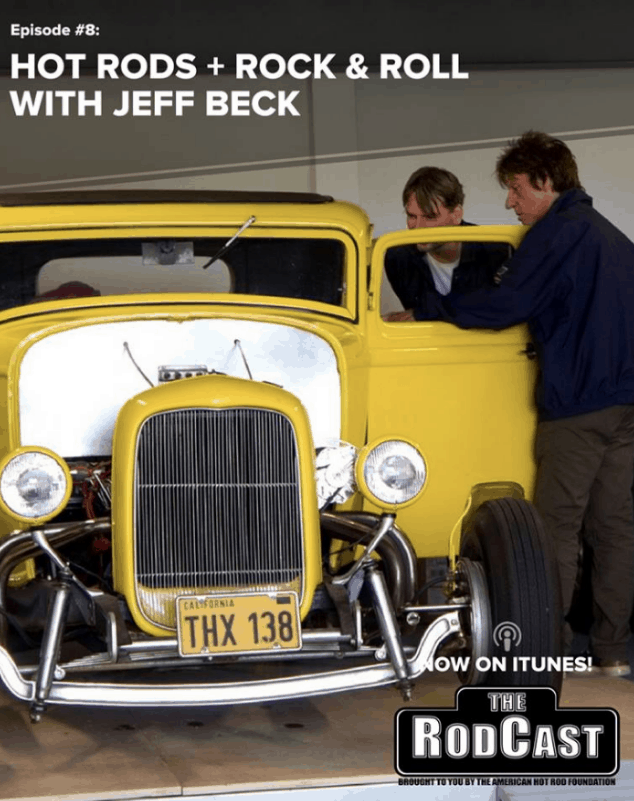 If you aren't already listening to the American Hot Rod Foundation podcast we like to call… "The Rodcast", we invite you to subscribe on iTunes, Soundcloud, or listen to any of the episodes on the Rodcast page here on our website.
This year's episodes have included one on one interviews with Hot Rod Pioneers Don Zabel, Vic Edelbrock Jr, Bob Muravez, Bob D'Amore, and even Rock Star, Guitar Legend, and Hot Rod builder, Jeff Beck. Listenership has been beyond our expectations and the feedback on the programs has been very positive. We know that anyone who is reading this will enjoy each and every episode and we're hoping you'll check out The Rodcast today!
Pioneer Interview Series
When Steve and Carol Memishian launched The American Hot Rod Foundation in 2002, its first order of business was the tracking down and interviewing of our most influential Hot Rod Pioneers. We're happy to say that over 120 early Hot Rod Pioneers were filmed in long-form interview sessions during this initial work, with an additional 30+ interviews performed with leading experts and personalities from the world of hot rodding and racing. We are fortunate to have captured so many of these extraordinary personal stories as, sadly, many have since left us. As we continue on with our interview series, we're pleased to say that we are still locating and speaking with early Pioneers but are also broadening our focus to now capture the stories of the post-war, 1950s, and early 1960s hot rodders and racers. This has opened up our research even more to the development of early drag racing as well as the equally fast developing world of land speed racing during the '50s and '60s. Some of our more recent interviews include:
Richard French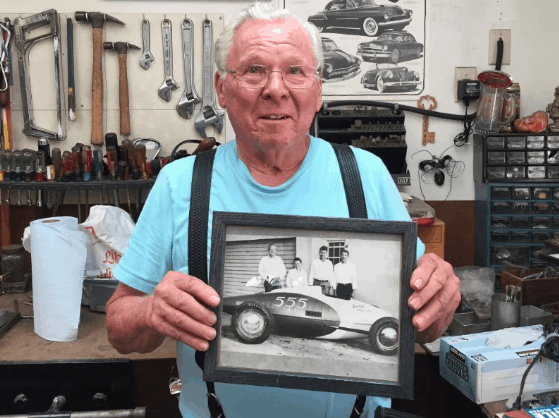 Richard French was 12 years old and working as a helper around the original So-Cal Speed Shop when he was asked by his boss, Alex Xydias, if he thought he could get his parents to sign a document saying that it was ok for little Rich to cross over state lines with the rest of the So-Cal team and attend the first Bonneville Speed Trials in 1949. They did, he did, and they made some hot rod history. That's young Richie standing second from left in the photo he's holding above. Richard sat down with us and shared every bit of that amazing story as well as many others that he remembered from his days of working in and around one of the more legendary and famous speed shops in post-WWII Southern California.
Kay Kimes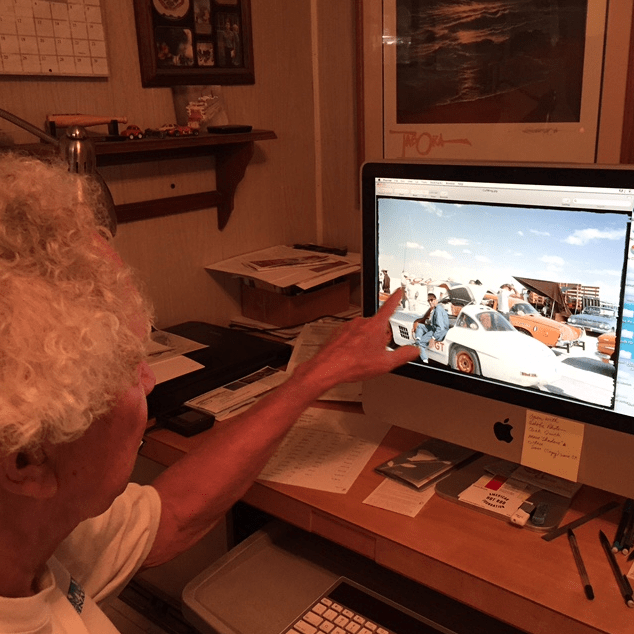 Kay Kimes is yet another WWII era hot rodder who got an early start and has an important story that we're glad we captured. Kay was running a 4 banger powered T at El Mirage as early as 1947 while learning the craft of mechanics, tuning, and wrenching on a track roadster for Bill Finley. He would soon find himself on the board of directors for the SCTA and would be one of a handful of hot rodders from this era to attend and race at the first running of the Bonneville Speed Trials in 1949. Kay went on to have an amazing journey in hot rodding and racing, attending and running at Bonneville throughout the '50s and '60s with stints behind the wheel of a Mercedes Benz 330SL as well as crewing for Art Arfons. Kay would even end up working for Dan Gurney during the developing years of his All American Racers project.
Dave Wallace Jr.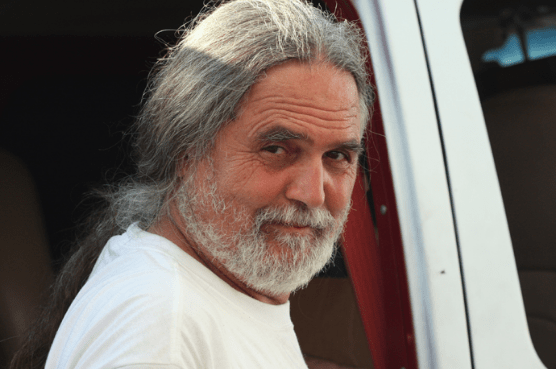 A very familiar name to any drag racing or hot rodding enthusiast, Dave Wallace Jr was given no choice but to enter the world of hot rodding. His well-known father, Dave Wallace Sr., had him handing out ET slips at San Fernando Drag Strip when Dave Jr was only 11 years old. He would become addicted to the sounds and smells of big time drag racing and would go on to have a long and impressive career in automotive journalism and magazine editing with nearly every big name hot rod publication, including Drag News, Drag Racing magazine, Hot Rod Magazine, and Hot Rod Deluxe. Dave worked alongside CJ Hart at the legendary Lion's Drag Strip in the '60s and '70s and was recently inducted into the International Drag Racing Hall of Fame. As much as anyone on the planet, Dave Wallace Jr is well equipped to share a first-hand account of how drag racing developed from a hot rodder's hobby to one of the biggest sporting events in the world. Our extensive interview with Dave collected all of that and much much more.
Robert "Bob" Williams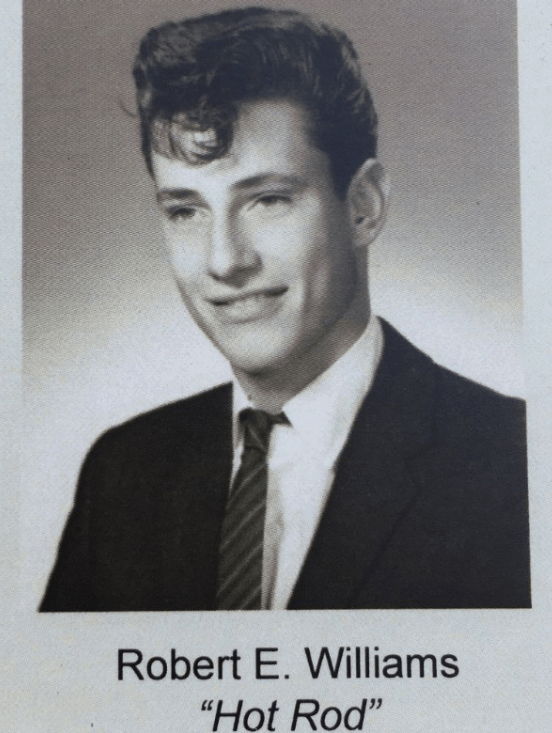 We're tempted to say that this senior-year photo from Bob Williams' 1961 high school year book sums up everything you'd need to know about our subject. If ever there was someone who defined a young hot rodder from 1950s America… it would be Bob Williams. Already an active hot rodder and street racer when this photo was taken, Bob would go on to have a rich and unbroken string of years that revolved around fast cars and weekly competition. Getting to do a film interview with Bob for the AHRF was a particular thrill, as it gave us a chance to document the story of a lifetime in hot rodding and drag racing from someone who wasn't a household name, wasn't featured in magazines, and wasn't well known outside of his Western New York region of the US but could tell the story of what real hot rodding was like from someone who never did it for anyone but himself. From street racing his Pontiac powered '57 Chevy as a teenager, to multiple Super Stock victories in a brand new '63 Max Wedge Dodge, to ultimately driving a 10 second street car during the week while running a 9 second drag car on the weekends ( all while in his 70s! ), Bob Williams is the consummate example of a truly exceptional back yard American Hot Rodder and a type of enthusiast who doesn't get their story told often enough.
Pete Henderson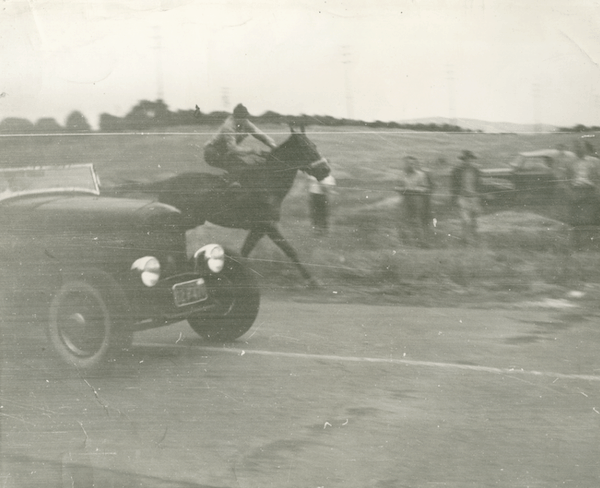 Much more than just the WWII era hot rodder that street raced a quarter horse with his sporty deuce roadster, Pete Henderson has had a long and diverse history with hot rodding and racing that adds up to a lot more than just that flash in time back in 1944. Although we did our film interview with Pete a couple of years ago, we were inspired to go back and do a follow up interview to document him as he took us through his truly incredible photo album page by page. Pete spent a lot of time actively hot rodding throughout the 1940s and did us all the great service of taking many wonderful photos while he was at it. When we realized that it was these photos that triggered the most detailed and vivid memories for Pete, we knew we had to try and capture that. Pete was generous enough to take the time and speak about each photo, individually, while calling out the AHRF file number before he did. This helps to verify faces, car owners, dates, and locations, and also attach some colorful stories that will now travel along with these images forever. This new approach to gathering even more information for the AHRF archive is something we hope to pursue with as many future interviewees as possible. We're also happy to say that Pete took advantage of the digitizing service we offer and his wonderful photo collection is now preserved in our archive for future generations.
Film & Audio Archive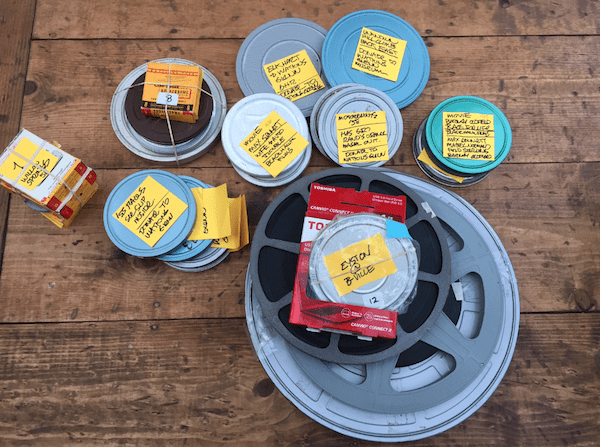 Although the focus of the AHRF archive has primarily been photographs and documents since its inception, 2017 has marked a banner year for donations of historic film and audio to be digitized and preserved. We consider every form of historic content invaluable, but in the case of analogue recordings such as reel to reel film or cassette audio, time is truly of the essence. We've been very lucky with this years donations that nearly every item taken in ( including an extremely rare 1938 8mm color home movie of George Eyston during one of his land speed record attempts at Bonneville ) has been in good enough condition that it could be run one last time during the digitizing process. We want to thank the following donors for taking the time to see that the preservation of these materials happened; Dave Wallace of Phil Reilly and Company for the 1973 audio recording of Art Sparks in conversation, Josh Shaw for the 1959 16mm film covering the first Indy 500 win for Roger Ward, our executive director ( David Steele ) for his audio recordings of Pioneer Tommy Sparks in conversation, Tom and Diana Branch for their audio recordings of early hot rodder and racer "Topper" Chasse in conversation, and Joel Driskill of Woodland Motors for sharing his remarkable stash of 16 and 8mm film covering an enormous range of 1950s auto racing that includes the Mt Washington Hillclimb, CalClub races at Torrey Pines, Pomona, Palm Springs, Paramount Ranch, and Willow Springs, as well as early Watkins Glen street races and dozens of SCCA sanctioned reliability runs from throughout the 1950s.
The AHRF Hot Rod Stories Project
Conceived by Steve Memishian as a way of reaching early hot rodders outside of California and throughout the rest of the country, the AHRF Hot Rod Stories project has gathered some great new friends in 2017. The project involves us sending out high quality and easy to use pocket size digital audio recorders to early hot rodders and racers, or their friends and family members, in order to capture their unique stories. This has proven to be a fun and educational thing for all involved, as we get to learn about early hot rod and drag racing scenes in parts of the country we wouldn't otherwise learn about while also giving recognition to hard working and innovative early hot rodders who may not otherwise get their due. These first-hand accounts from hard-core early hot rodders who were active in the northeast, midwest, and southern regions of the United States, remind us of just how country-wide this phenomenon has always been.
Along with the audio recordings that have been produced from this effort have come some truly great artifacts as seen by these two gems courtesy of our friend Joel Driskill in Richmond, Virginia. Joel has located and spoken with original members of both the Road Panthers and the Virginia Creepers ( both from the Richmond area ) and was knocked out to find that these senior hot rodders were basically waiting for a young guy like Joel to knock on their door. Photo albums and scrap books had been kept to show just how active and competitive these clubs were and these guys couldn't have been happier to share their stories. In addition, a collection of wonderful newspaper clippings had been saved showing the strained dynamic that existed at that time between law enforcement and these young hot rodders. Yet another aspect of early hot rodding that we've found was universal throughout the country.
Connecting With a New Generation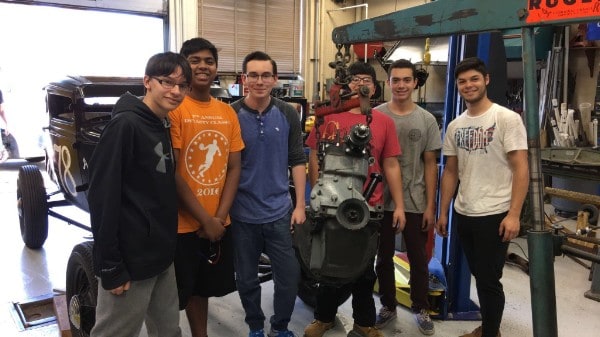 Another star player in our Hot Rod Stories project would have to be our friend Jon Ruvio. A resident of Long Island, NY, Jon has contributed 8! full length audio interviews with area hot rodders, former speed shop owners, and racers. These in-depth conversations have uncovered some truly great stories from immediate post-war hot rodding in the northeast and the cast of characters Jon was able to find are second to none. Although the language, techniques, parts, and practices are mostly the same, the flavor and attitude that his interview subjects represent is definitely unique to that region of the country and we can't thank Jon enough for the work that he has put into this project for the AHRF. And, as if that weren't enough, Jon is a full-time HS shop class teacher who is using the traditions and techniques established by early hot rodding to teach his kids mechanics and craftsmanship. In fact, Jon and his students even built a hopped up Model A Ford and competed with it at last year's Race of Gentlemen event in Wildwood, NJ! Incredible stuff! Because we live in a time when HS shop class is becoming a thing of the past ( something that truly gnaws at all of us here at the AHRF ) we are doubly grateful to Jon for the work he is doing. Truly a keeper of the flame!
If you or someone you know might be interested in getting involved with our Hot Rod Stories program, please contact us through our website www.ahrf.com or contact our executive director at david.steele@ahrf.com
New AHRF Merchandise
To any of you reading this who have supported the AHRF through making purchases via our online store, we want to say … thank you! We couldn't have imagined that by the end of 2017 we would reach a monthly sales increase of 50 times what it was just a couple of years ago. This is a staggering amount of growth and we are truly humbled that so many people want to fly our flag and support the work that we do. In addition to sales like this helping to keep the lights on, seeing so many of our t-shirts and jackets walking around the events we attend helps to raise awareness for our cause and, hopefully, steer people toward us who are keepers of hot rod history and interested in archiving and preservation via the AHRF.
Events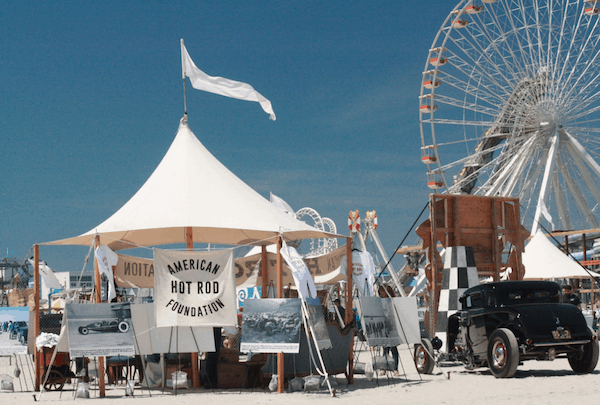 We are happy to say that we had a great and successful time at the events we attended in 2017. These would include the Grand National Roadster Show in Pomona, The Race of Gentlemen in New Jersey, and the Ventura Nationals. Each show had a unique crowd and style all its own but with a common theme. Getting to meet so many people who care about hot rod history as much as we do is always a thrill and if you came by and said hello, we thank you for doing so. If you walked away with a T-shirt or book, we thank you even more!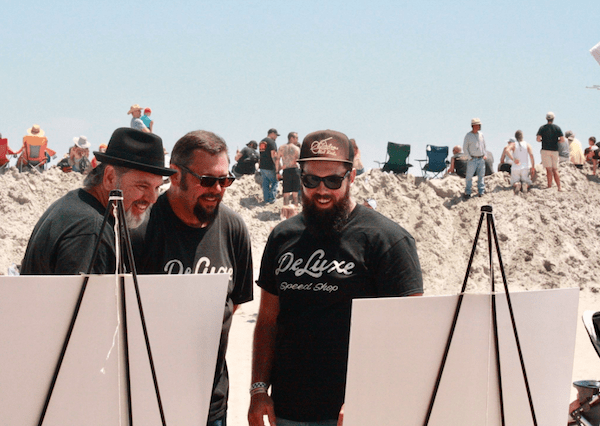 We're pleased to announce that we'll be returning to each of these fine events listed above in 2018 ( and possibly a couple new ones yet to be announced… ) and we hope you'll come by to say hi and maybe even let us help you preserve some hot rod history that you're close to.
After all, that's what the American Hot Rod Foundation is all about!