Everyone here at The American Hot Rod Foundation is simply heartbroken to have lost our friend, Pat Ganahl, on Saturday, August 20, in a vintage drag racing accident at Riverdale Raceway in Washington state. Pat was a man after our own hearts, as he has always been one of the leading caretakers and promoters of Hot Rod History. His long and impressive career as a writer, photojournalist, and editor was more than admirable, and his hot rod history blog series that he's been producing during his retirement is (and will always be) priceless. He has left as large an impact on our community as he has a void. It is simply hard to imagine future events where the ease of spotting "Too-Tall" won't be part of the joy of it. Again, we thank Pat for the wonderful work he did for our beloved history, and we send our heartfelt condolences to his son Billy and wife Anna of nearly 50 years. (Enjoy this photo we shot taken a couple of years back when Pat was inducted into the Dry Lakes Racing Hall of Fame by the "Mayor of El Mirage," George Callaway).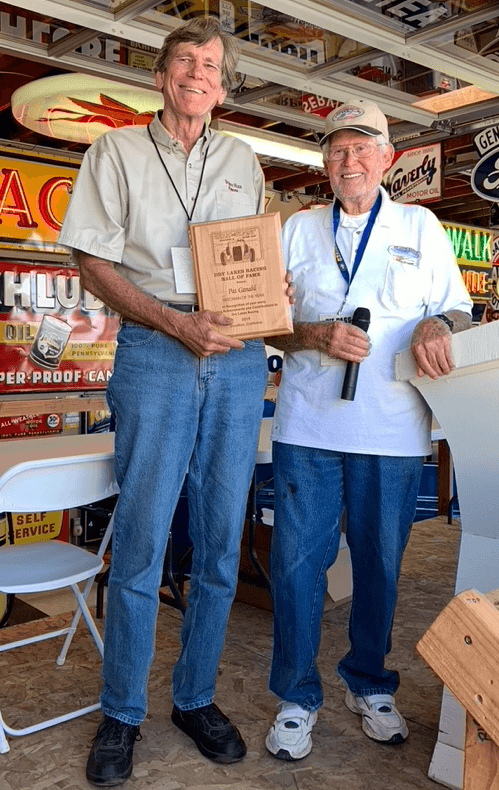 If you hadn't already been a follower of Pat's wonderful blog series, we highly recommend you go to his website (https://patganahl.com/) and begin browsing through the many installments that he published, mostly in his retirement. It is truly priceless stuff and gives you a glimpse into the knowledge, passion, and vast collection of historical content that Pat possessed. He only ever wanted to share the good word of hot rodding and custom cars … and how lucky we all are for that.
Rest in Peace, Pat "Too Tall" Ganahl. You will be missed.