Many know the name Don Montgomery from his series of well-illustrated books about the early days of hot rodding. Montgomery, however, has had a long and interesting hot rod career. By the age of 15, he was firmly committed and remembers he got his education hanging around speed shops learning from the technical discussions of his peers saying, "The final exam was the actual doing of the modifications to your own engine and car."
---
As a member of the Velociteers, Don went to his first lakes meet in 1948. A year later he joined the Glendale Coupe and Roadster Club (GCRC) keeping company with legends such as Howard Johansen, Tom "Acmo" McLaughlin and Racer Brown. The club won many trophies and won the points championship in 1951. Don's daily driver was a clean Olds 88 and there's a nice shot of his wife Claire in his book Hot Rod Memories. She's standing on the front bumper possibly watching Don set a record at Paradise Mesa at 100.33 in their Hudson on May 30, 1951. According to Don's own caption, "The Olds 88 was our daily transportation and tow car. On several occasions both the Hudson and the Olds competed at a drag meet."
The following year, Montgomery fielded his own racer, a '36 Cord sedan that was unusual for the lakes. Not only was the car unusual but it too was unusual in that it had a Dodge front axle, Pontiac rear, a Buick straight eight and a Buick transmission.
Despite being a heavy car, the Cord performed well. At the Pomona drags Don hit a speed of 107.14 and at El Mirage during a Russetta meeting he ran 135.338 mph setting a B sedan record. He did so well that he came second in the Russetta Individual Points Championship for 1952.
For the 1953 season, Don 86'd the Buick and favor of a Jimmy six outfitted with a Howard 12-port aluminum head, a fabricated manifold with six Strombergs and a Scintilla mag donated by Ed Iskenderian. The cam was and F-6 from Howard and the pistons were either J.E. or F-6 Venolia. The exhaust was fabricated by Don hisself.
As drag racing grew more popular and began to eclipse lakes racing, Don embraced it with a passion and promoted what was possibly drag racing's first individual class features show at Santa Ana—The Fuel Coupe . And why not, by 1957 he was running one of the fastest, full-fendered, stock Deuce-bodied A/Fuel Coupes in the country. Then, the NHRA banned fuel and Don's Coupe was instantly obsolete. As he says in his book Supercharged Gas Coupes, "It could have been switched to gas, the Altered class in which it would have run was dominated by much smaller Fiats and Crosleys. So my SCoT blown '51 Chrysler was removed and the '32 Ford Coupe was sold (dumbest thing I ever did)."
Don's next car was a '41 Willys Coupe rescued from a junkyard in the San Fernando Valley for $40. Powered by a blown, 342 ci Hemi, the Willys was ready for the '59 season with the chain-driven SCoT and a six-pack manifold made for Don by Phil Weiand. However, in 1960, NHRA introduced the Supercharged Gas Coupe class and Don ran in that for the next 12 years competing in B/GS, BB/G and BB/GS classes.
Don enjoyed eight good years amateur racing while he raised a family of three children but by 1968 the Willys was also became obsolete. In an effort to give the class a boost Don, with the help of the Pittman brothers, the Marrs boys, Dave Fentress, Jack Carlson and others the Southern California BB/G circuit was up and running. Soon, they were able to field eight cars often booked with AA/FA, AA/GS or injected Funny Cars. They usually raced at Lions, OCIR and Irwindale but according to Don they also got a few away meets, for example at Las Vegas, Sacramento and Holtville.
By 1970, the Willys had been painted black and lettered with the moniker "Rockerhead" given to him during his lakes racing days because he ran a Buick with rocker arms whereas most everybody else was running a flathead. Despite its 365 ci Hemi and a B&M Torqueflite, drag racing was changing, the economy was struggling and the racing all but dried up. According to Don, " The BB/GS circuit was great. We had heads-up racing, won some money and even ran some round-robin races that everyone could run three races. There was a points competition with a banquet, trophies and awards at the end of the season. In addition the drag strips gave us professional status treatment."
Meanwhile, Don, an engineering graduate of U.S.C., who was in the electronics manufacturing business, had started contributing to some of the magazines and in 1987 self published his first book Hot Rods in The Forties. This collection of photographs borrowed from a wide range of racers was an instant hit and Don soon followed up with other titles such as Hot Rods As They Were, Authentic Hot Rods, Hot Rod Memories and, of course, a book about his beloved Supercharged Gas Coupes, first published in 1993. His books and memories are on the shelf of any serious hot rod aficionado.
By Tony Thacker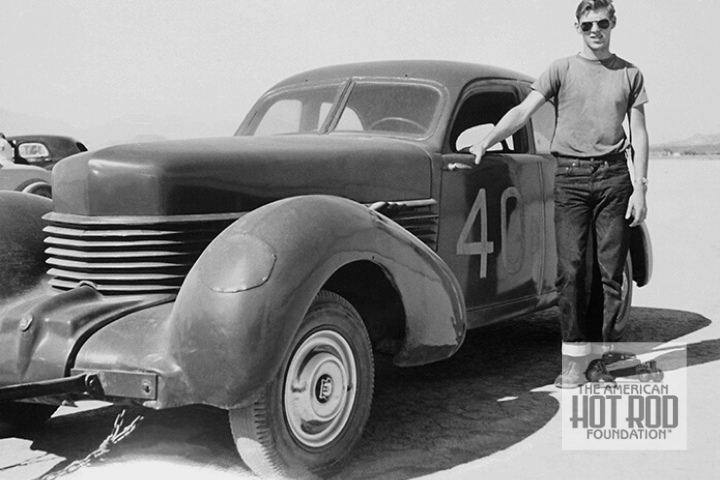 Tune in to The AHRF Rodcast #13, Featuring Don Montgomery: