Congratulations to the winner of the American Hot Rod Foundation Hot Rod of the Month contest for November, 2021!
This month's winning entry, a 1934 Ford 5 Window Coupe was submitted by Louis Stands…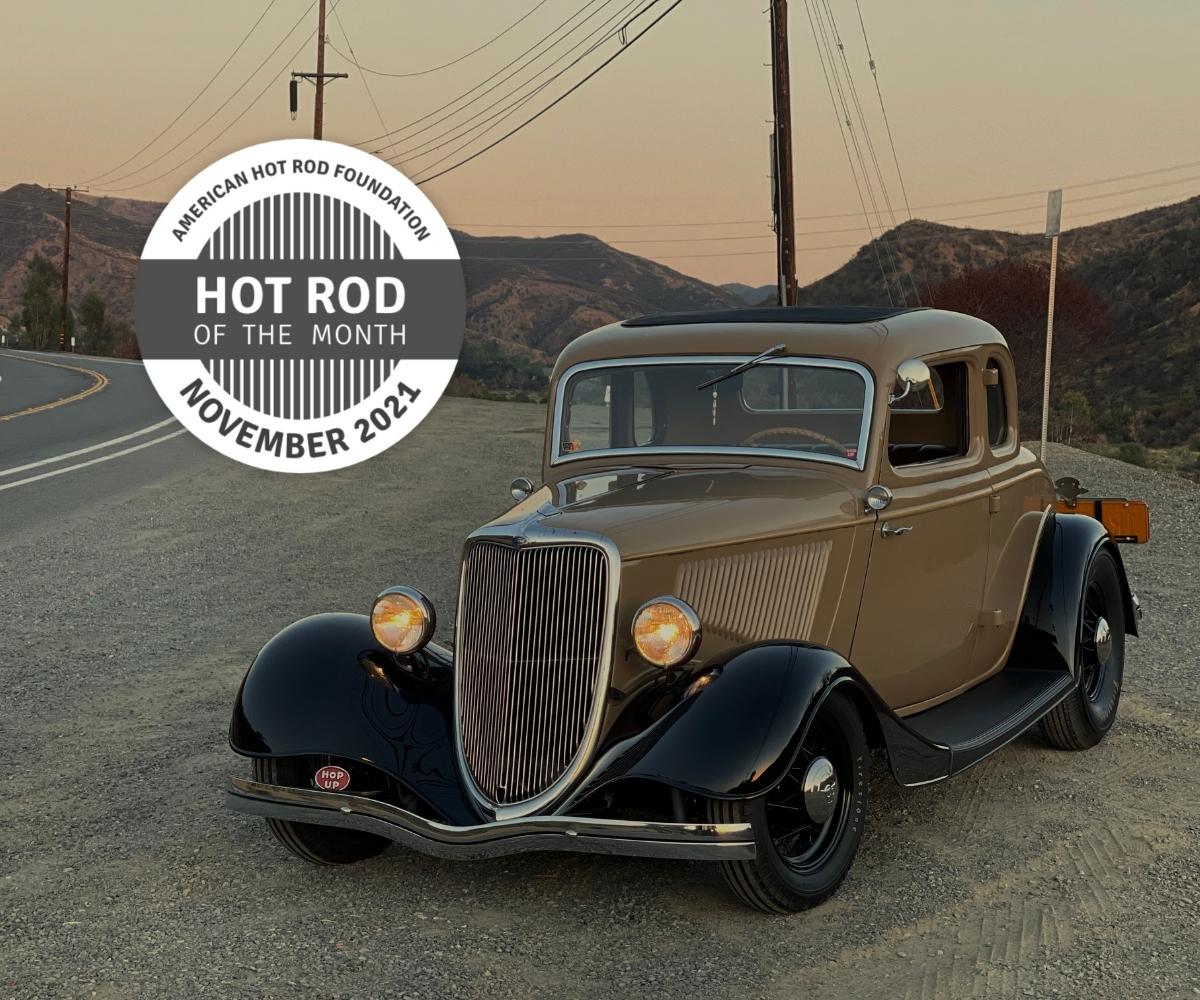 Additional Details
I found this 34 5 window as a basically stock restored car. The only things that had been upgraded was the brakes and the engine! It spoke to me and I knew exactly what I wanted to do to it.
I focused on the stance and got the suspension dialed into my liking. Found a set of Black lacquer fenders to give it the two-tone look. I used 35 ford wires and black wall tires for a gentlemanly hot rod.
I gave some treatment to the 59 A/B flathead and Hoped it up with some Edelbrock goodies, Stromberg carbs and Mallory ignition and I rewired the car to 12 volt throughout. I upgraded the brakes to Lincolns in the front. Found a Crestliner steering wheel and added some SW gauges to keep track of the vitals etc.
It's super fun to drive and reliable. Recently I got the chance to race it at the RPM Flathead Drags at Santa Margarita Ranch. Maybe a mill with a little more go will be in the Model 40's future.
About the AHRF Hot Rod of the Month Contest
The Hot Rod of the Month Contest is a special opportunity available only to Foundation Members. Active Members have a two-week period EACH MONTH in which to enter a car they own by providing photos and a description of their car. During the following two-week period, all Members, whether they have entered a car or not, can individually vote for their favorite car.
The car with the most Member votes at the end of each month will be the AHRF Hot Rod of the Month and will be featured on the AHRF website and on social networks.
At the end of each calendar year, the Advisory Board of the Foundation will select one car, as the AHRF Hot Rod of the Year, from that year's Hot Rod of the Month winners. The Hot Rod of the Year will be given special publicity, and the car will be maintained in an ongoing catalog of AHRF Hot Rod of the Year winners.