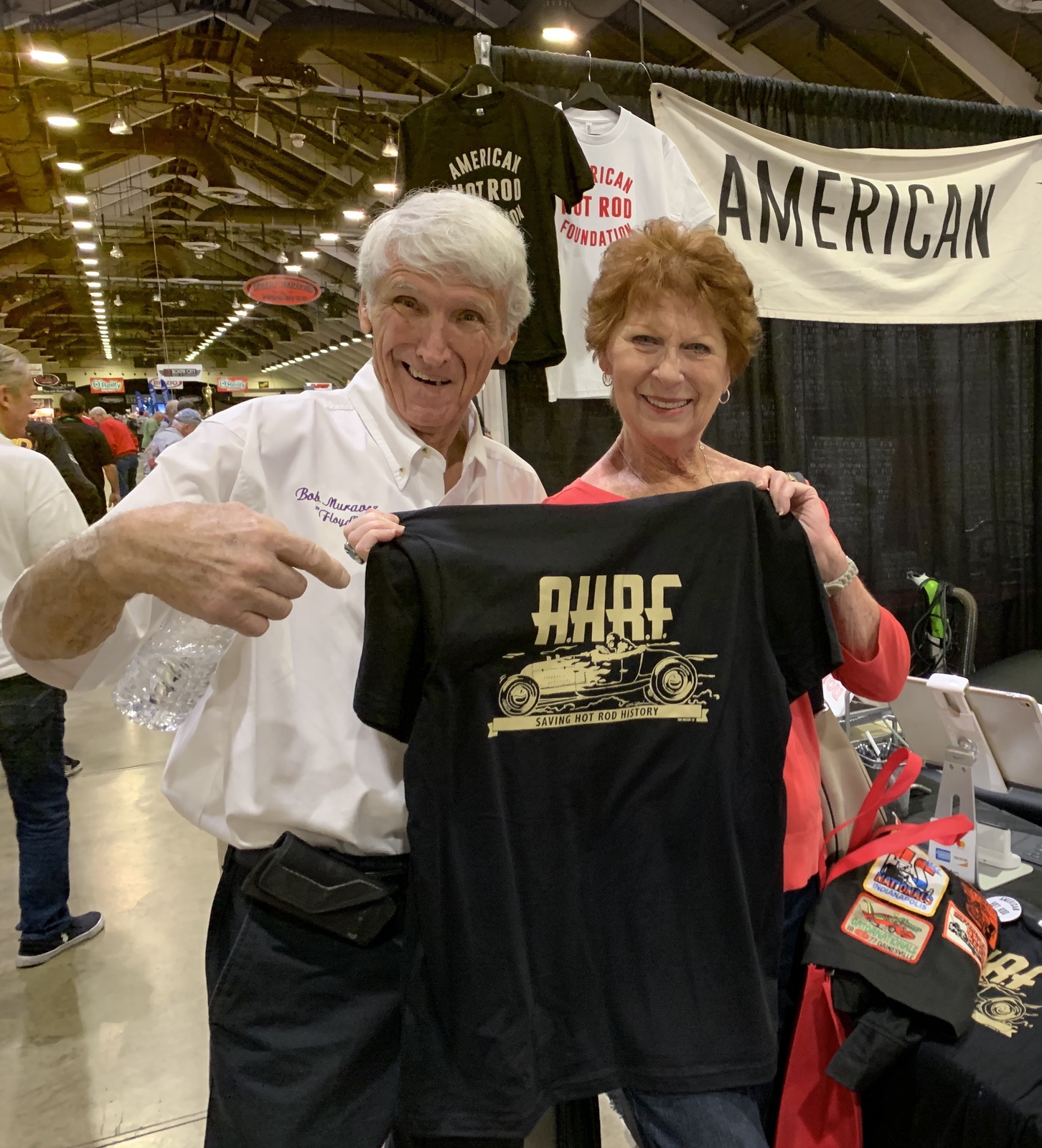 We want to congratulate not one but TWO AHRF supporting members on being this month's Member(s) of the Month!
That's right, sometimes the best people come in pairs, and Bob and Sharon Muravez are definitely one of the all-time great pairings. In fact, we might go as far as saying they're our favorite team! To consider either one of them without the love and support of the other would be like (to use some car-speak) fuel without air. Not only are Bob and Sharon both supporting members of the AHRF, but they were among the earliest sign-ups that we had.
Of course, many of you reading this are well aware of Bob, his accomplishments, and his importance to the history of drag racing. He is none other than Floyd Lippencotte Jr., that very guy who piloted the Peters and Frank twin-engine "Freight Train" AA/GD to so many successes during the 1960s. He won over 600 sanctioned drag racing events before his retirement in 1971 and is now a member of the International Drag Racing Hall of Fame. To say that Bob has a great story would be a huge understatement … and we invite you to check out our interview with "Floyd" here:
But what we really want to celebrate here is the dedication that Bob and Sharon continue to show for the cause of Saving Hot Rod History. When we first met Bob, we mentioned our ongoing interview series and the fact that we were interested in sitting down with him. We no sooner got the words out that Bob offered up his very cool garage/shop for the location and said he'd make room in his schedule for any date that worked for us. When we arrived with our equipment to do the interview, Bob had already set up two director's chairs and had placed several historic photos from his career out on a table for us to study and ask questions about. 
Along with this was his eagerness to introduce his many friends from the racing world to us, all while promoting our work and pitching to them a "you gotta get on board and support these guys." In fact, Bob and Sharon invited this author and unknown AHRF Director to their annual star-studded Super Bowl Party soon after moving to town so as to make sure I got to "meet the gang." This meant having Bob or Sharon walk me up to folks like Tommy Ivo, Al Teague, Steve Gibbs, Tom Jobe, Don Prieto, Marvin Graham, and many others… all with the same incredible pitch; "You need to know about the American Hot Rod Foundation." Thanks to this generosity, we have been able to get to know many legends in the drag racing world that we had yet to reach and therefore save and preserve materials from a pocket of motorsports history ( 1960s drag racing ) where we needed to do more work.
This is the kind of assistance that is crucial to the success of our research, and it is an act that comes naturally to Bob and Sharon, as the AHRF is far from the only place you'll find support coming from the Muravez's. Whether it is Sharon hosting one of the many gatherings at their home where legends regularly congregate to keep the stories, history, and accomplishments carrying on, or Bob volunteering to crew on a nostalgia dragster ( or any type of race car, for that matter! ), they are always working to "Keep it Alive."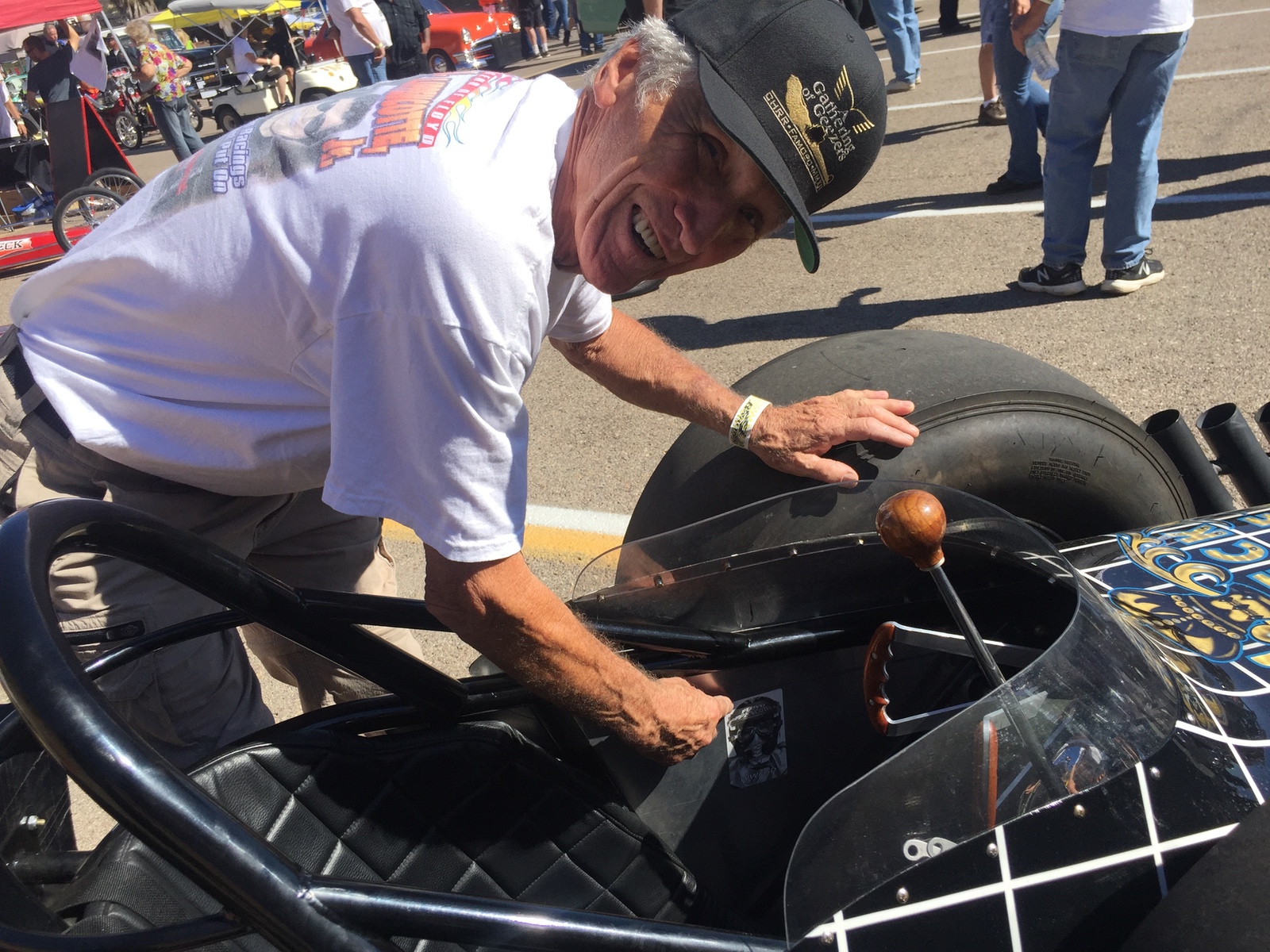 Most recently, we attended Steve Gibbs' fantastic "Nitro Revival" and were awestruck by the effort being put forth by both Bob and Sharon in everything from the pit area to the Legends Tent where fans lined up for autographs from the dozens of famous folks. They were both hustling as if the event were their own, and it occurred to us that it all kind of is; it is they and their friends who are the players in this history, and therefore it is only natural that this is a personal thing to the Muravez's. But, even with that said, Bob and Sharon are the very definitions of "above and beyond the call of duty." At every turn and with every action you'll find them both flying the flag of Saving Hot Rod History, and they do it in the only way that people from the racing community know how to … at 100%.
Please join us in thanking Bob and Sharon Muravez for everything they do for the hot rod and nostalgia drag racing communities and for supporting the work of your American Hot Rod Foundation.