Congratulations to the winner of the American Hot Rod Foundation Hot Rod of the Month contest for December 2021!
This month's winning entry, a 1933 Ford Model 40 Sedan was submitted by Chuck Hawman…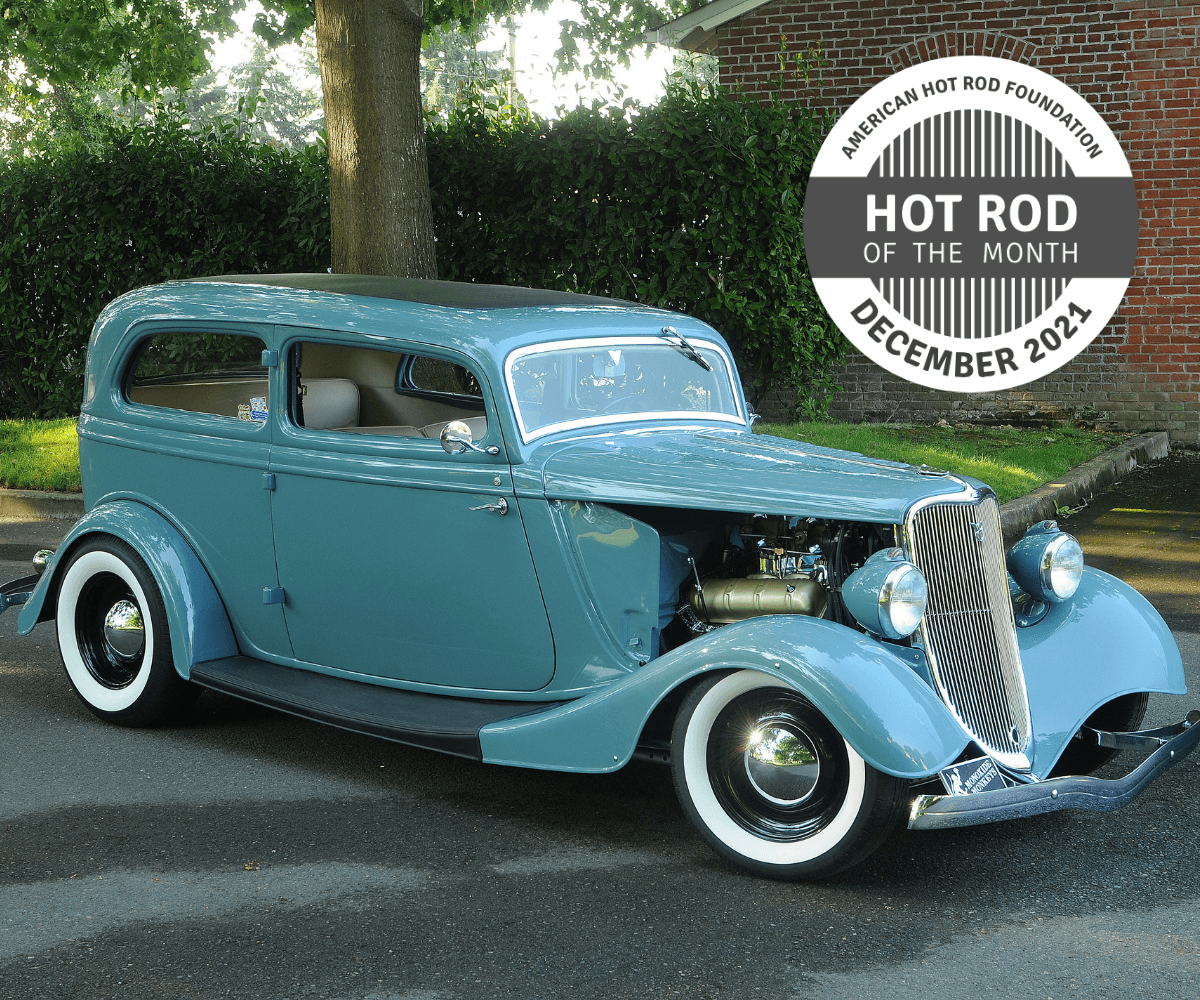 Additional Details
When I found this 33 sedan it had been stored for many years and was a little ruff. It was a frame and body only; someone had cut the door hinges to remove the doors. I spent several years gathering all of the missing Henry body parts and pieces.
I always wanted to build something that could have been built in the early sixties when I was still in Hi-school but still keeping it unique. That's where the idea of using a Studebaker engine began. I found the Edmonds 2×2 intake at a swap meet and things progressed from there.
The top is chopped 2in. The rear sale-panels at rear 1/4 window are from a 33 four-door that gives the top that unique appearance. Headlights are original Guide 682-C. The dash is a 1950 Ford that I shortened over 18in and still retained the glove box. The steering column is a 1940 Ford 3 speed. Steering wheel is also 1950 Ford as are the gauges.
Even though the car is full-fendered I still wanted a dropped and drilled axle with split bones. The bones are also drilled with stainless inserts. The hub caps are original Baldy caps. The paint color is Neptune Blue
About the AHRF Hot Rod of the Month Contest
The Hot Rod of the Month Contest is a special opportunity available only to Foundation Members. Active Members have a two-week period EACH MONTH in which to enter a car they own by providing photos and a description of their car. During the following two-week period, all Members, whether they have entered a car or not, can individually vote for their favorite car.
The car with the most Member votes at the end of each month will be the AHRF Hot Rod of the Month and will be featured on the AHRF website and on social networks.
At the end of each calendar year, the Advisory Board of the Foundation will select one car, as the AHRF Hot Rod of the Year, from that year's Hot Rod of the Month winners. The Hot Rod of the Year will be given special publicity, and the car will be maintained in an ongoing catalog of AHRF Hot Rod of the Year winners.