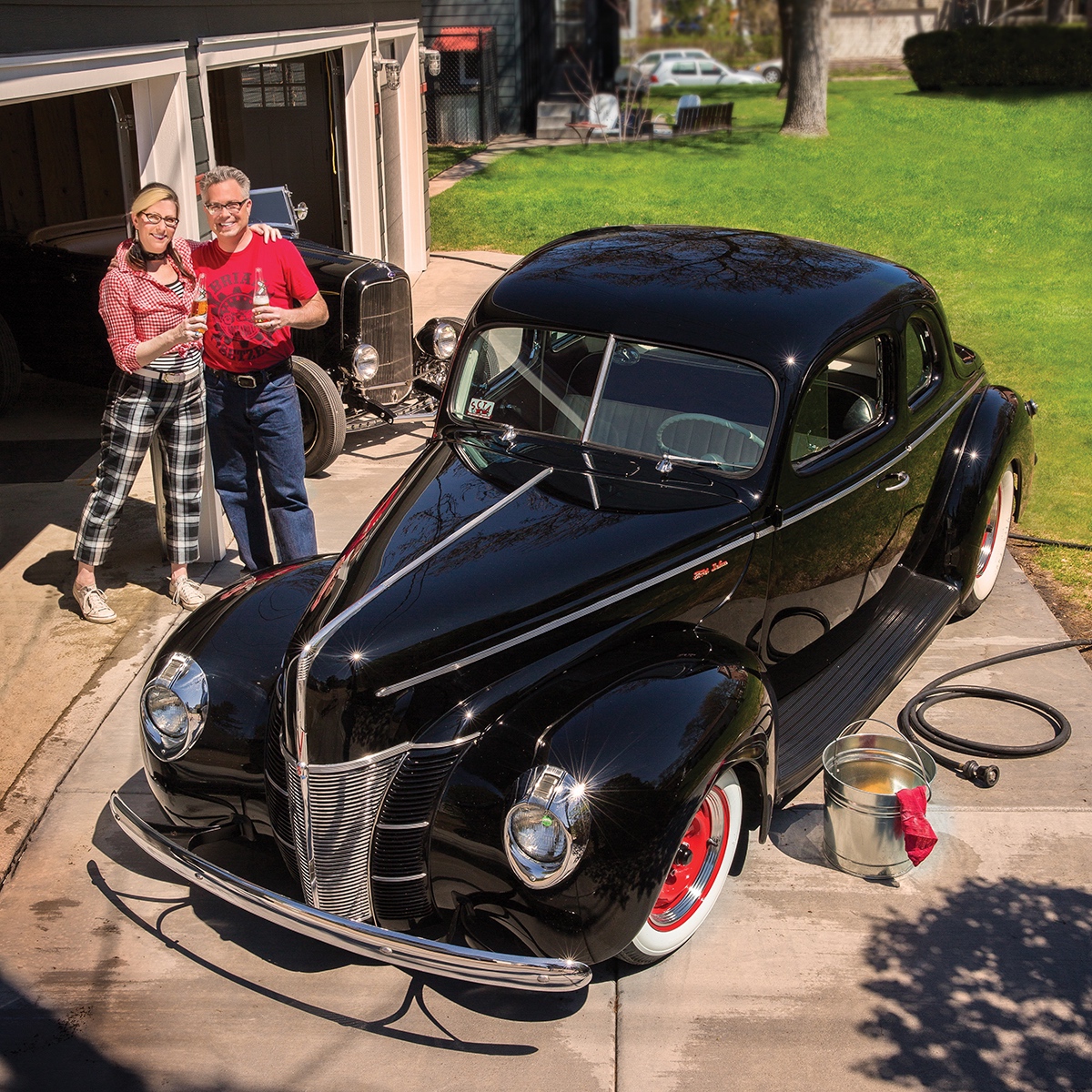 We are pleased and excited to be nominating AHRF supporting Member John Sticha as our Member of the Month. Pleased, because we happen to think John is a pretty swell guy, and excited because we couldn't be more excited to have had John work his magic and design our Year Three AHRF Membership T-shirt!
Yes, that's right, not only is John Sticha a righteous hot rodder of the first order but he is also an exceptionally talented designer. With his equally talented father, John Sr, making up the other half of the John Sticha Design company, this father and son team does some seriously impressive work. John Sr does the sketching and artwork while the younger John takes care of the layout, creative concepts, and design of each job. Having met and spoken with John at several GNRS's over the years, we were confident that we were going to the right guy for our new design and we can only say that they knocked it out of the park. Their understanding of what makes a great hot rod is burned deep into their souls and being able to call on that for what we were looking for in this new design was almost like finding a design team who were overqualified. After all, John's father goes back a long way in the hot rod hobby with his first car being a '50 Ford that was quickly followed by his first '57 Chevy. A slew of great cars would follow, including a '64 365hp Corvette, three '40 Fords, and EIGHT '32 Fords! Is it any wonder that John junior was bitten by the bug? As is evidenced by this great photo of John and wife Martine with their '40 Ford coupe and '32 roadster, it would appear that the apple didn't fall far from the tree. Oh, and that '32 roadster? That just happens to be a family heirloom that John Sr purchased in 1982. Known as the "Sticha Roadster", it has a long and great history as a hot rod dating back to its first appearance in the October 1957 issue of Rod and Custom magazine. At that time the roadster was "stationed" in Hawaii but would be back on the mainland by the late 1960s, making its way to the midwest, the Pacific Northwest, and showing up in the 1979 Rod and Custom annual ( with a somewhat modernized treatment ) before making its way to Minnesota. Still wearing its 30+-year-old black lacquer paint, the younger John has continued to preserve the old deuce roadster since his ownership began and has dialed it into a more traditional flavor. And when he isn't enjoying a night out in his deuce or '40 coupe with wife Martine, John can oftentimes be found running over to a local distillery on his '67 Triumph Trophy. I guess you could say John has a pretty good-looking garage with that lineup… and between the open, closed, and two-wheeled machines, he's got all the bases covered.
With his deep family connection to hot rodding and '32 Fords, in particular, it only makes sense that John has taken his artistic talent and merged it with his love for the iconic hot rod with the launching of his '32%'ers collection … products specifically designed for people who are as enchanted with Henry's finest ( the '32 Ford ) as he is. With a whole range of "32%" products to choose from, there is something for any fan of the deuce. You can find it all at www.32percenter.com and we highly recommend you check it out.
And if you want to check out some of John's amazing artwork and designs, go on over to www.johnsticha.com and see for yourself why choosing John to design our new shirt was a no-brainer.
We want to congratulate John Sticha again for being chosen as our AHRF Member of the Month and we thank him for taking on our 3rd-year Membership T design and for being one of the earliest supporters of the American Hot Rod Foundation.