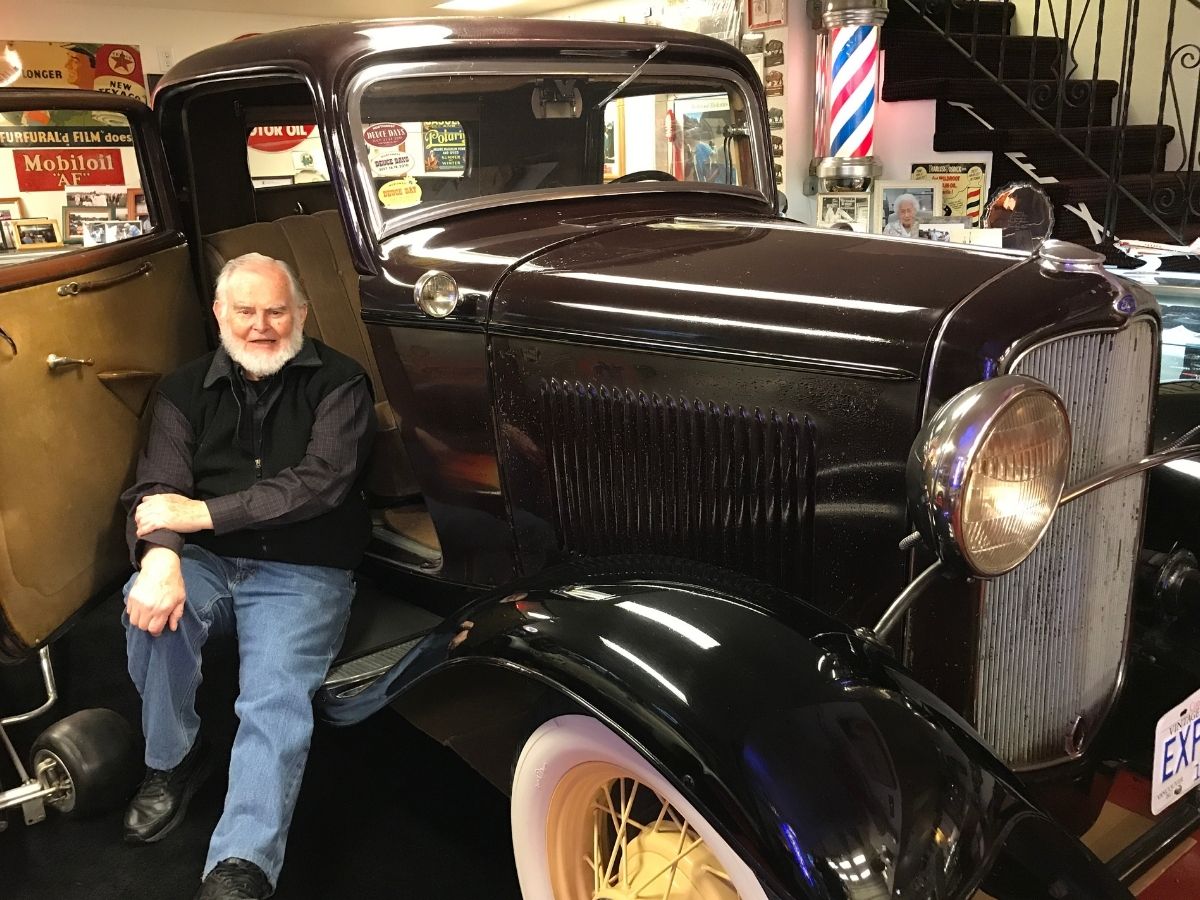 Congratulations to John Carlson of Belcarra, British Columbia on being our American Hot Rod Foundation "Member of the Month" for November 2020.
Although it might seem like an overstatement, it is reasonable to say that John's involvement in the old car world is nearly second to none. John is the current President of the National Association of the Automobile Clubs of Canada and has been involved in the old car hobby for over 50 years. He is a racer ( on land and water ), hands-on restorer, has written over 100 in-depth articles on subjects from Concours judging to collecting to racing, is Chief Judge at Arizona, Cobble Beach, Las Vegas, Crescent Beach, Hilton Head, and the Vancouver Island Concours, and has been a Concours Judge at the Pebble Beach Concours d'Elegance for over 25 years. He is an International Chief Judges Advisory Group founding member, serves on the LeMay America's Car Museum Steering committee, and has been inducted into three Motorsports Hall of Fames. John is also a recipient of the prestigious Lee Iacocca Award.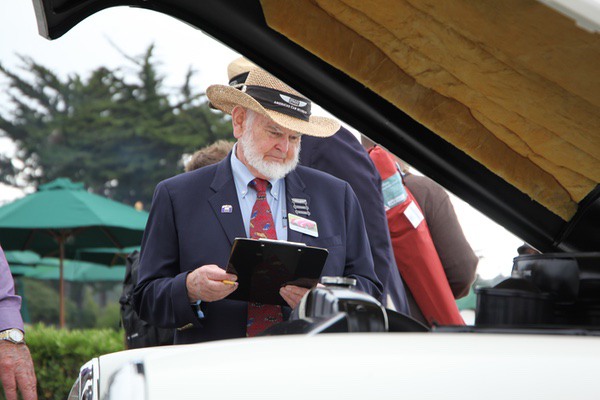 Yes, John is involved in nearly every aspect of the old car world but make no mistake… he was and will always be a hot rodder!
Born in Spokane, Washington, John started out with a '36 Plymouth sedan that he did everything he could to make into a proper hot rod. Short of making the car what he really wanted, he moved on to a '40 Ford complete with Zephyr gears, twin 81s, and a set of Navarro heads.
John remembers;
"In Spokane, Washington, in the mid-fifties, it was all about a blocked off 1 ½ paved road on what is referred to as the South Hill that was complete with a quarter-mile marker and a white finish line painted on the road. The Friday night races were run just before dark. There were crowds of teenagers cheering on their favorite cars, drivers, or even favorite high schools. There were no police to offer advice on becoming responsible citizens! Part of this same group showed up at Dear Park Raceway to race under controlled conditions the next day. A 27 tooth Cluster gear (Zephyr) and low rear-end ratio were a coveted combination in my 40 Ford. I had dual carbs and great set of Navarro heads, which made for a pretty 'trick' set up at that time. We had a few car clubs around, with "The Dukes" being the real heavy hitters. I remember all of it so fondly. I think I even remember every race, including a few against the famous pin striper, Don Audel, in my '40. He ran a really slick '50 or '51 Chevy. It looked good but couldn't stand up to my '40 Ford. Those Chevy's were heavy. After the 40 Ford came 52 Oldsmobile club coupe bored to 340 Cu. Inches, Engle cam, jetted dual fours complete with a BM Hydro stick transmission and eight separate hand formed headers. The interior was a shell and frame displayed many lightening holes. Ironically, it was my good friend Don Audel who painted and stripped the car for me. It was truly a glorious era and is why I'll always consider myself a hot rodder. I guess that's why I have a couple of '32 Fords in my collection today."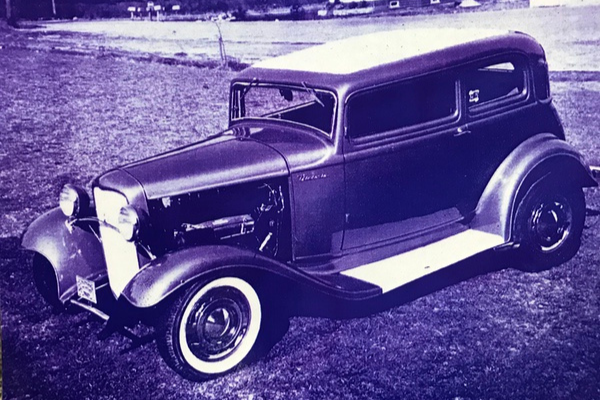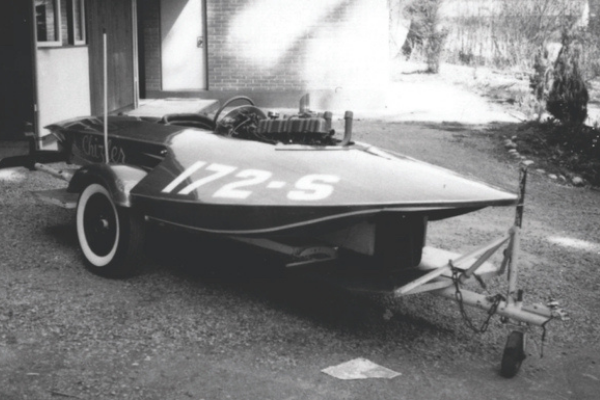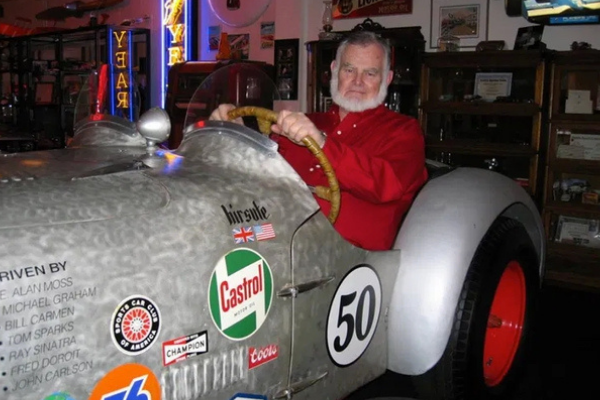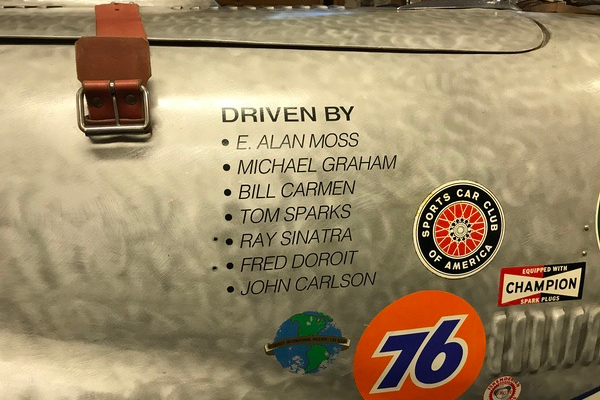 He sure does… a beautiful and completely original and unrestored Dearborn/Rouge Medallion '32 3 window as well as a to-die-for Ardun powered '32 roadster. In addition to his '32s, John's garage also houses a three time ISCA National Class Champion '29 Model A , '68 Camaro SS396/375hp (L78/L89) that set an NHRA record in 69, '47 Cadillac convertible, '70 Buick 225 Electra, '62 MGA MKII, 99 NSX Zanardi Edition formally owned by Paul Walker and Roger Rodas, 73 Cleveland powered Mustang and a very special J2 Allard originally purchased and campaigned by the legendary Al Moss. In fact, it was the first Allard J2 sold on the west coast and was the winner of the first Monterey Unlimited race at the inaugural Pebble Beach Road Races in 1950. The Allard's last race was in Reno Nevada at the Stardust International Raceway in 1970. Another fun fact about John's Allard is that it was once serviced and raced by hot rod pioneer Tommy Sparks, among other notable wheel-men during its heyday of the 1950s. Ironically, thirty years later Tommy Sparks and John became judging partners at the Pebble Beach Concours. They were close friends and judged together for over ten years.
But most important to us is John's life-long dedication to making sure the old car hobby is properly promoted and passed along to younger generations of enthusiasts. Case in point; When John relocated to Canada in the 1960s, after having served with the United States Coast Guard, he went to work for the B.C. department of education to create an auto mechanics and antique automobile restoration program for the high school system. John would ultimately spend the next 30 years of his life teaching antique auto restoration to budding young auto enthusiasts and would foster countless careers in the old car world.
"It was a fantastic job and I enjoyed teaching for 30 years and retiring from that [in 2000] was a very difficult decision," he says.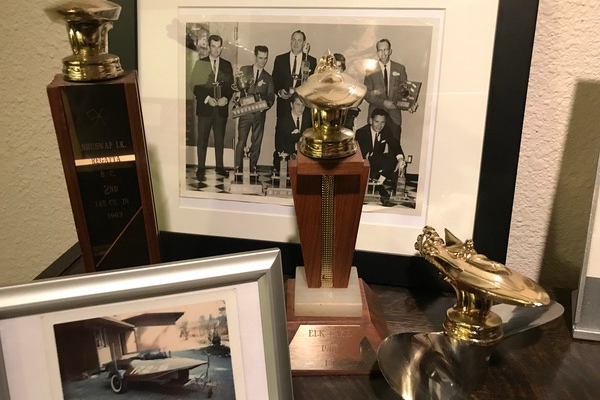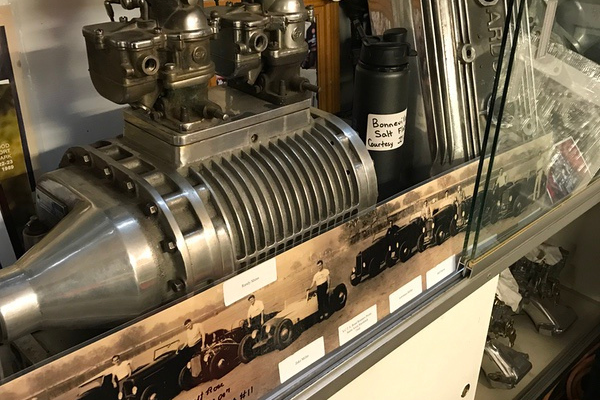 These days John and his wife of 45+ years, Koko, enjoy taking in every possible form of the car hobby and can be found on showfields across Canada and the U.S. as well as putting down many many miles driving cars from their stable on everything from regional to cross-country (literally!) tours. In 2017 they drove (22,000 Kms) from Victoria BC to Newfoundland and back in their 73 Mustang. In other words, John is our kinda car guy; he restores cars to as new condition but also makes sure they're 100% drivable and dependable… and does most of it himself. The fact that he's doing his part to make sure that this great tradition continues is icing on the cake! In 2020 he partnered the National Association of Automobile Clubs of Canada with TechForce Foundation in the USA. The goal is to provide Tech scholarships to the younger generation.
We thank John Carlson for his support and interest in the work that we do and we are honored to have him as a Member of the American Hot Rod Foundation.
Interested in learning more about John Carlson? Be sure to check out his Podcast with CarsYeah!