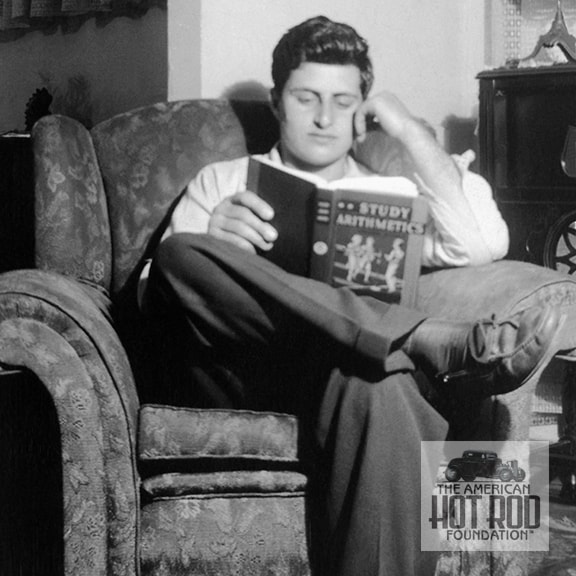 This​ ​month​ ​our​ ​choice​ ​for​ ​the​ ​spotlight​ ​was​ ​a​ ​no-brainer.​ ​After​ ​all,​ ​how​ ​often​ ​do​ ​you​ ​get​ ​to​ ​raise​ ​a​ ​toast​ ​and​ ​wish​ ​a​ ​Happy​ ​101​ ​to​ ​a​ ​fellow​ ​hot​ ​rodder?​ ​Yes,​ ​it​ ​is​ ​true.​ ​Our​ ​hero,​ ​friend​, and​ ​platinum-level​ ​hot​ ​rod​ ​pioneer,​ ​Ed​ ​"Isky"​ ​Iskenderian​ ​(​​sometimes​ ​known​ ​as​ ​the​ ​"Camfather"​​),​ ​turned​ ​101​ ​on​ ​the​ ​10th​ ​of​ ​July.​ ​
Although​ ​much​ ​has​ ​been​ ​written​ ​and​ ​much​ ​is​ ​known​ ​about​ ​Ed,​ ​we​ ​want​ ​to​ ​make​ ​a​ ​point​ ​of​ ​outing​ ​him​ ​as​ ​one​ ​of​ ​the​ ​most​ ​dedicated​ ​keepers​ ​of​ ​hot​ ​rod​ ​history.​ ​Having​ ​Ed​ ​as​ ​one​ ​of​ ​our​ ​very​ ​first​ ​AHRF​ ​Advisory​ ​Board​ ​members​ ​has​ ​proven​ ​to​ ​be​ ​as​ ​much​ ​fun​ ​as​ ​it​ ​is​ ​invaluable.​ ​He​ ​is​ ​simply​ ​priceless.​ ​Of​ ​course,​ ​the​ ​fact​ ​that​ ​he,​ ​himself,​ ​is​ ​walking​ ​history​ ​is​ ​plenty.​ ​But,​ ​Ed​ ​is​ ​one​ ​of​ ​our​ ​favorite​ ​go-to's​ ​for​ ​answering​ ​questions​ ​having​ ​to​ ​do​ ​with​ ​the​ ​"early​ ​days."​ ​His​ ​incredible​ ​memory​ ​never​ ​lets​ ​us​ ​down​ ​, and​ ​any​ ​historic​ ​image​ ​or​ ​name​ ​that​ ​we​ ​send​ ​across​ ​his​ ​desk​ ​always​ ​has​ ​us​ ​pulling​ ​up​ ​a​ ​whole​ ​lot​ ​more​ ​in​ ​our​ ​net​ ​than​ ​we​ ​bargained​ ​for.​ ​One​ ​of​ ​our​ ​favorite​ ​little​ ​bonuses​ ​that​ ​we​ ​always​ ​seem​ ​to​ ​get​ ​from​ ​Ed​ ​is​ ​when​ ​we​ ​ask​ ​him​ ​if​ ​he​ ​remembers​ ​someone​ ​, and​ ​he​ ​lights​ ​up​ ​and​ ​not​ ​only​ ​begins​ ​reporting​ ​on​ ​the​ ​person​ ​but​ ​will​ ​oftentimes​ ​mention​ ​the​ ​person's​ ​address​ ​at​ ​that​ ​time​ ​…​ ​along​ ​with​ ​what​ ​their​ ​parents​ ​did​ ​for​ ​a​ ​living.​ ​No​ ​joke!​ ​His​ ​ability​ ​to​ ​store​ ​away​ ​this​ ​kind​ ​of​ ​data​ ​and​ ​report​ ​it​ ​back​ ​with​ ​great​ ​excitement​ ​is​ ​one​ ​of​ ​our​ ​favorite​ ​things​ ​about​ ​the​ ​Camfather​ ​and​ ​should​ ​be​ ​a​ ​lesson​ ​to​ ​us​ ​all.​ ​At​ ​101​ ​years​ ​of​ ​age,​ ​he​ ​continues​ ​to​ ​be​ ​just​ ​as​ ​curious​ ​as​ ​he​ ​has​ ​always​ ​been​ ​, and​ ​we​ ​believe​ ​this​ ​to​ ​be​ ​his​ ​secret.​ ​He​ ​is​ ​curious​ ​about​ ​everything;​ ​mechanical​ ​creations,​ ​racing​ ​of​ ​all​ ​types,​ ​the​ ​never-ending​ ​development​ ​of​ ​the​ ​internal​ ​combustion​ ​engine,​ ​etc.​ ​etc.​ ​But,​ ​what​ ​he's​ ​most​ ​curious​ ​about​ ​is​ ​other​ ​people.​ ​Who​ ​are​ ​they?​ ​How​ ​do​ ​they​ ​spell​ ​their​ ​name?​ ​What​ ​is​ ​their​ ​nationality?​ ​Where​ ​are​ ​they​ ​from?​ ​What​ ​do​ ​they​ ​do?​ ​He​ ​asks​ ​these​ ​questions​ ​and​ ​nods​ ​with​ ​great​ ​anticipation​ ​while​ ​waiting​ ​for​ ​the​ ​answers.​ ​He​ ​loves​ ​to​ ​learn​ ​and​ ​to​ ​learn​ ​about​ ​anyone​ ​he​ ​meets.​ ​Is​ ​this​ ​not​ ​the​ ​secret​ ​to​ ​a​ ​long​ ​and​ ​energized​ ​life?​ ​We​ ​sure​ ​think​ ​so.​ ​
Well,​ ​if​ ​you​ ​ask​ ​him,​ ​he'll​ ​say​ ​that​ ​it's​ ​really​ ​about​ ​"having​ ​as​ ​much​ ​hot​ ​sauce​ ​and​ ​spicy​ ​food​ ​as​ ​possible,"​ ​but​ ​we​ ​will​ ​go​ ​out​ ​on​ ​a​ ​limb​ ​and​ ​say​ ​that​ ​it's​ ​probably​ ​a​ ​combination!​ ​
We​ ​wish​ ​our​ ​friend​ ​and​ ​hot​ ​rod​ ​hero​ ​the​ ​greatest​ ​of​ ​birthday​ ​months​ ​, and​ ​we​ ​see​ ​no​ ​reason​ ​not to​ ​believe​ ​that​ ​he'll​ ​outlast​ ​every​ ​last​ ​one​ ​of​ ​us.​ ​After​ ​all,​ ​there​ ​is​ ​still​ ​so​ ​much​ ​to​ ​learn​ ​and​ ​discover​ ​…​ ​and​ ​with​ ​plenty​ ​of​ ​hot​ ​sauce​ ​on​ ​the​ ​side.​ ​
Happy​ ​Birthday,​ ​Ed​ ​Iskenderian!​ ​
If you'd like to learn more about Ed, you can also check out his story in our Gallery of Pioneers & Legends: https://ahrf.com/ed-iskenderian/