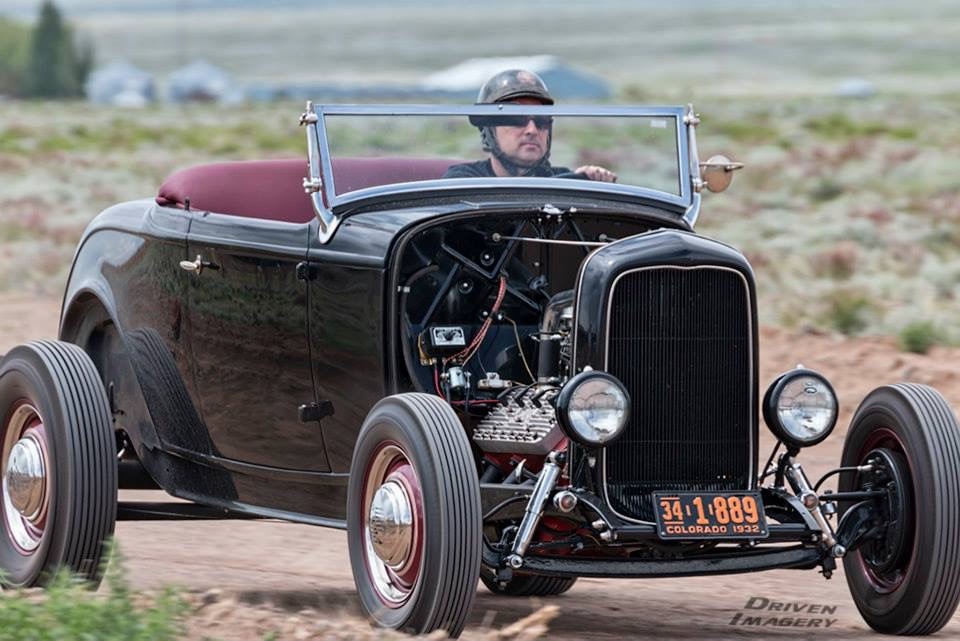 Congratulations to AHRF supporting member Ed Gallagher on being chosen as AHRF Member of the Month.
Besides being a first-class hot rodder and hot rod builder, Ed checks our biggest box thanks to the fact that he's a hot rod historian and preserver of hot rod history. Yes, our kinda guy!
Born and raised in Buffalo, New York, Ed got into cars mostly because of his father. Ed remembers, "He gave me all of his Rod & Custom and Car Craft little books from the '50s when I was about 10. From then on, I was hooked on hot rods and customs." Although Ed now resides in the great state of Colorado, he took a 14-year year detour to Southern California where he applied his skills as a rock drummer, worked alongside a custom car icon and built his first of many great hot rods in the backyard of a senior member of the Burbank Road Peasants. "When I moved to LA in the '90s, I remember seeing Keith Weesner's roadster around Burbank, and I told myself that someday I'm going to build a traditional hot rod." Fast forward to 2004 when Ed bought his first hot rod project, a '28 Model A roadster. "It was a project car, and I started to build it outside in the backyard of a friend of mine named Jerry Haberman in Burbank. He was a Road Peasant and had been a hot rodder since the 1950s. I sat in on some Road Peasants car club meetings, and that's how I met Jerry. He was a gruff old dude, but for some reason he took a liking to me and offered me his back yard and tools so I could have a place to work on my car. I guess he liked that a guy my age wanted to build a car like he had when he was a kid. He also knew that I lived in an apartment and didn't have any way to work on it there. Amazingly, after only 18 months, I was able to finally drive it. It was such a thrill. I'll never forget that first time of driving a car you built yourself. It's the best feeling." Ed's Model A has an 8ba flathead with an Offenhauser dual carb intake, '39 Ford trans, banjo rear end, and runs bias ply tires on Ford steel wheels. Ed says, "I always liked Bill Burke's chromed '32 grille shell that he ran on his roadster, so I put a chromed '32 shell on mine. It's a cool detail that makes my roadster stand out, I think."
In 2004, while still living in LA, Ed started working for George Barris and produced two DVD documentaries, Barris Kustoms of the '50s and George Barris' Star Cars of the '50s & '60s. They are available at Barris.com. Ed recalls, "Working for George was interesting. I got to interview guys like Nick Matranga, Junior Conway, Bill Hines, Jack Stewart, Adam West and Butch Patrick. Really important guys in the history of custom cars."
Ed's next project was the production of a DVD documentary titled Famous Southern California Hot Rods that is available on eBay. "That was a really fun one to do," Ed remembers. "I interviewed Neal East, Bruce Meyer, Verne Hammond, Don Dillard and Tommy Ivo, and they talked about their cars and what it meant to be a hot rodder in Southern California. I featured cars like the Doane Spencer roadster, the Bob McGee Roadster, the Ala-Kart, The Emperor, Tommy Ivo's T Bucket, Aaron Kahan's '32 coupe, Jack Carroll's '32 coupe and a lot more. My Model A roadster mysteriously made its way into that DVD as well, as did my good friend AJ Elias' very nice and traditional '29 Model A roadster."
In 2007, Ed moved to Denver but still had the itch to keep building. "Yeah, as soon as I got there, I started building a '29 Model A roadster pickup with a 59A flathead, '39 Ford trans and '40 Ford banjo rear end with bias ply white walls on '40 Ford rims. It had a '32 grille shell, and I painted the roadster in grey primer. Unfortunately, I had to sell that car." In 2010, Ed began work on what many consider to be one of the finest current-day builds of a traditional deuce roadster. "I guess everybody wants to someday have a '32, and I'm no different. I was able to buy an original and complete '32 Ford frame on Craigslist and started to build a '32 roadster using a Brookville body. It's black with a maroon interior and runs a '40 Ford steering wheel. It's flathead powered with Edelbrock heads, an Edmunds dual carb intake, '39 trans, and a banjo rear end with bias ply tires on vintage Ford rims. It's just what I wanted because it reminds me of some of my favorite '32s that I'd seen in the Don Montgomery books. I'm pretty proud of it, and a lot of people seem to like it."
"In 2016, I got the itch again and decided to build a Model T roadster hot rod. I wanted to build it for the Hot Rod Hill Climb here in Colorado, and I got it done just in time. I found a '27 T roadster body, and I built a '32 chassis to fit it. I scored some vintage parts on Craigslist that included a nice rebuilt 59a flathead with a Merc crank and Edelbrock block-letter heads to which I added a Weiand triple carb intake manifold with Strombergs. That car was really fast. It also had a '39 Ford transmission with a banjo rear end. I painted it red, and it had a lot of chrome plated parts. I unfortunately had to sell the T, as well, to make room in my garage for my next project… a '36 Ford five-window coupe. I'm still in the process of building the car, and it is a real departure for me because I've mainly built roadsters up until now, and this will be a custom," says Ed. "After taking the entire car apart and media blasting everything, I built a slightly more modern chassis for it that includes a 327 Chevy, a T5 and Ford 9-inch rear end. That said, it will look very traditional… like an early '50s custom. Chopped top, fender skirts and white wall tires. It's not finished yet, but it's really looking cool. I'm pretty excited about it."
Ed is also very proud of the fact that he and some fellow hot rodders in his area came together to form a fun and active car club. "In 2012, I met Clint Glasgow at a local cruise night, and he introduced me to RJ Barnes who has a '32 three-window coupe. There was also Tom Hardy, who I had known for a while, with his '30 Model A coupe that he was drag racing at Bandimere, and my great old friend, the late Tim Graham. Together, we formed the Denver Deton8tors, with Tim Graham designing our logo that you see on our shirts and club plaques. I'm happy to say that we've been pretty active and have made it to many events in Colorado, like the Hot Rod Hill Climb and Dirt Drags, but also to out-of-state events like the Lonestar Roundup and Speed Week at Bonneville. It's a really fun group of guys, and I think I'm getting to experience something that guys back in the '50s had: a club of like-minded guys who all work on their own cars and are happy to help you with yours."
Although Ed is quite busy these days with his work and the build of his '36 coupe, he still makes time to do what he can to document and preserve some hot rod history. As Ed told us, "Denver has a lot of hot rodding going on, as well as some great hot rod history, so I decided to start an online TV show called Denver Hot Rods (available on YouTube, Facebook and Instagram). So far, I've done two episodes. One that mostly covers some of the Colorado events, like the vintage drag racing at Bandimere. In the other episode, I got to interview some famous hot rod guys around Denver like Neal East, Pete Stringer, Kent Hedershot and Paul Dozoretz. That was pretty cool and fun to do, as it's always so cool to get to talk to guys like that. I'd like to do more and hopefully I will… but I do have a '36 custom to finish!"
Well, we hope you do, too, Ed. We only wish we had more guys like Ed who were going out and documenting the hot rod history in their neck of the woods, because hot rodding didn't just happen in California. It happened everywhere, and we thank Ed Gallagher for doing his part to help Save Hot Rod History!
Oh, and we can't wait to see that finished '36!