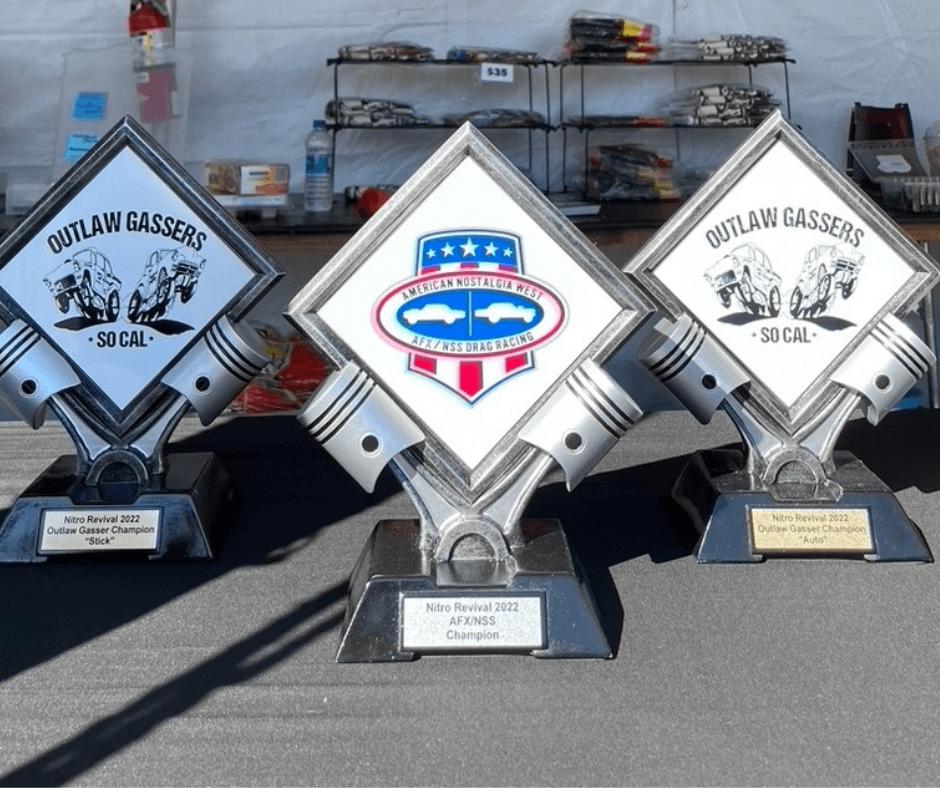 The American Hot Rod Foundation couldn't have been happier or more proud to have been a small part of the festivities that were this year's Nitro Revival at Irwindale Speedway. Steve Gibbs, his daughter, Cindy, and their entire crew and staff put on a world-class event that was a welcome reunion for racers and fans of nostalgia drag racing. Hot Rod and Drag Racing Pioneers could be seen walking around everywhere you looked…and all with big smiles on their faces. A few that come to mind would be; Bob Muravez, Ed Pink, Tommy Ivo, Don Prudhomme, Roland Leong, Don Prieto, Linda Vaughan, and Ed "Isky" Iskenderian, just to name a few. The race cars were on the track and making passes starting at 10 am each day and provided the perfect audio backdrop to the proceedings. Everything from early '60s super stocks to gassers and nostalgia top fuel cars made passes and appearances on the track, and many a nail-biting race went down. On Saturday night, one of the best Cackle Fests that we've ever witnessed went off, and we particularly enjoyed getting to watch Steve Gibbs walk the line of Nitro burners and signal to each one to fire. It was an emotional scene for all who were there, and we're tempted to say that the tears seen shed were as much (or more) for Steve, the racers, and the memories of those who've left us than it was the Nitro fumes.
Again, we cannot thank Steve Gibbs enough for having us on board and for honoring us with the duty of sponsoring the trophies for the three race classes. We enjoyed meeting and greeting with everyone who came by our booth to say hello, and, thanks to our wonderful booth workers, Nick Anderson and his girlfriend, Rose, we even got to run around and see and hear some of the great cars running and on display.
Once again, our hats are off to Steve Gibbs for providing such a meaningful, fun, and zero-stress event for the nostalgia drag racing community and all of its fans. To learn more about Steve and his amazing career in the world of drag racing, please check out our three-part film interview with Steve in the AHRF Members area of our website.