It doesn't happen often enough that we get to spend an evening driving around in a hot rod as if we don't have responsibilities, but that's exactly what we got to do about a week ago.
If this sounds all too familiar a problem to those reading this, I feel your pain. Work, family, and a myriad of other duties can make such a simple sounding getaway become a near impossibility. What's even rarer is that feeling that's almost impossible to remember… of your evening simply being open ended. Of leaving the house in your hot rod and you're just "going out". Not sure what you'll do, not sure for how long, not sure where you're going, not sure when you'll get back. You're just going out and driving around and you'll see what the night brings. Even further away in one's memory is the feeling of not having anything in particular going on the next day. Now THAT is something it would take going back to a high school weekend to remember!
Well, that's exactly what our friend and 1950s era hot rodder, Vic Cohen, was able to conjure up for me recently.
Vic has a similar story to many guys who grew up in 1950s southern California; bought a Model A before he could drive, stripped it down with some help from his friends, got involved in hot rodding and riding motorcycles, and continued this practice and these interests for the rest of his life. Throughout his years he would participate in street racing, hill climbs, motorcycle flat track racing, organized drag racing, and doing high level concours restorations on pre-war American motorcycles. Vic is also one of the most gifted fabricators and machinists that I've ever seen but his humility forces him to refer to himself as "an amateur".
It is this kind of attitude that makes anything that Vic says have that much more weight to it and our little adventure in his beautiful ( and quick ) '27 T RPU was made very special because of that.
We left out of Vic's neighborhood in North Hollywood at about 7PM and growled and burbled our way into Toluca Lake, enjoying the head turning and the pointing. Vic's flathead powered roadster pickup is a tribute he built to the hot rod that he drove in the 1950s during and just after his high school years. Although his current roadster is no slouch, as Vic says, "the one I had when I was a kid would run circles around this thing". Vic's old roadster is seen here on the cover of Hot Rod Magazine ( third roadster from the left with the track nose ) when it ran on the Pasadena Roadster Club Reliability Run. Vic would run his current roadster in the revival of that same event 3 times in the early 2000s.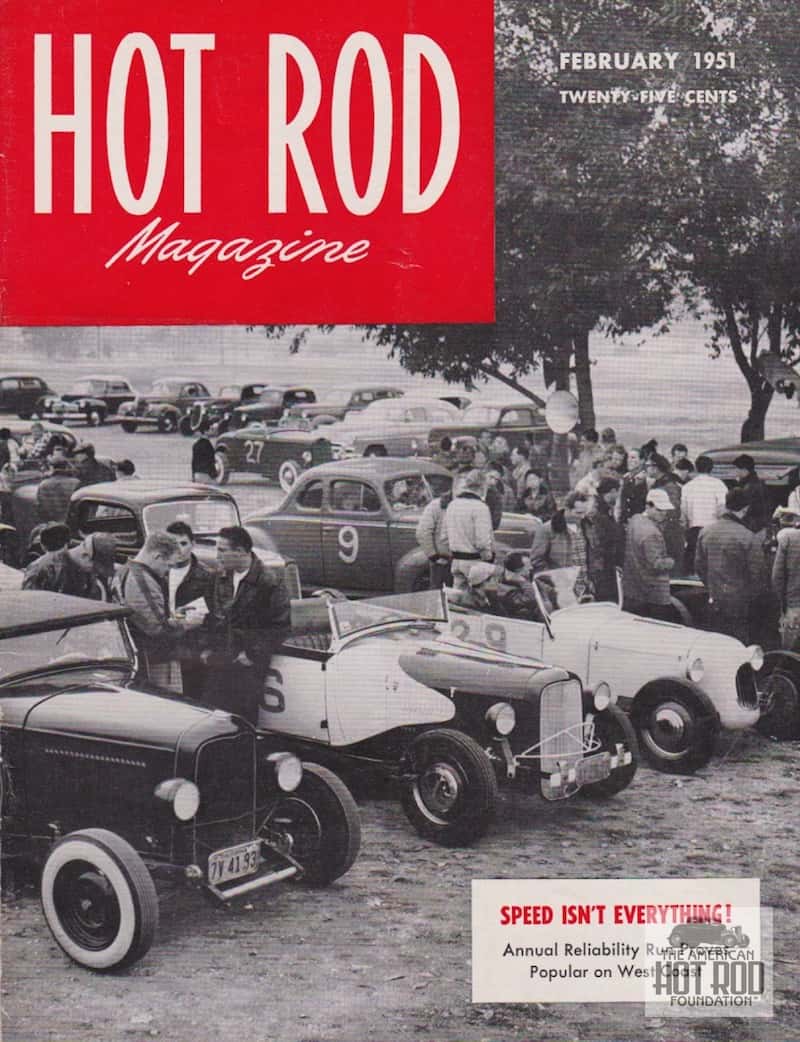 Now, to be clear, nothing about this was planned and we had only suggested we take his roadster out for a quick spin. We had no idea that Vic would take us through his crystal clear memories of his early days… but he did just that.
As we pulled into Bob's Big Boy on Riverside Drive, Vic simply began by saying, "You know, this place hasn't changed a bit since the '50s. Not one bit." He went on to say, "We'd come here maybe once or twice a week from my side of things ( Vic grew up in the Fairfax district of Los Angeles ) just to see what the guys were doin' in the valley. It was great back then. Wall to wall hot rods and pretty much everybody was up for racing. Even the guys that had stockers would race you… just for something to do." I asked Vic what the basic make up of it all was. Did certain people park certain cars in a particular place? How did people choose each other off? Where did you race? etc etc…
Vic remembered, "Yeah, the hot rods would all try and get parking there under the awning. If you could do that you were one of the cool people for the night and you'd try not to give it up. I don't know why they let us just hang out like that but they did. I mean, no other customers could get in to those spots but if you bought a coke every now and then they'd leave you alone. The more serious guys who were wanting to race parked up in the back. That way they could go in and out of the parking lot as they would come and go from a race. And they'd never come in the main entrance. You'd only use the entrance from the side street if you were serious and didn't want to attract attention."
Of course, this then opened up the topic of the street racing. I asked Vic to directly lay out how this would go and he said, "Well, everybody was just hanging out and you'd get in a conversation with a guy and next thing you know you're leaving to go and race. Sometimes a few cars would go and all would race in different combinations. If you beat one guy his friend might then want to race you or vice versa. The biggest problem was when too many people would tag along. Then you had all of these cars trying to leave at the same time and attracting too much attention. Other than that it was pretty straightforward. We'd decide to go and we'd pull out the side exit on the right side of the parking lot and slink over to Forest Lawn Drive."
At this point I just had to ask Vic, "Cool. How about we retrace these steps?" He seemed happy to do this and soon we were driving through those same twists and turns leaving Toluca Lake, making our way around the enormous Warner Brothers lot, and heading over to Forest Lawn Drive. As we turned on to the stretch of road, Vic said, "There's a long and straight section of the road up here that is the place we raced. It's obvious. Just here past the entrance to the cemetery." I have to admit that the idea of these kids racing these home built open top hot rods with no seat belts right next to a cemetery was not lost on me.
Vic remembered, "There used to be a huge tree way down near the end that we all used as the reminder to get hard on the brakes, as the road takes a pretty sharp right not long after that. Other than the tree being gone, it's just exactly like it was. Nothing has changed. I remember that someone painted a line on the edge of the road for the starting line at one point and you'd have a dozen or so cars lining the side of the road starting from that point."
I asked Vic if any particular races or cars stand out for him in his memory and he said, "Yeah. I guess every time I beat a Corvette was a fun one for me. My roadster would just piss all over those things, especially in the first hundred yards or so. It would just leap out of the hole and take off and those guys didn't know what to do. I never lost to a Corvette until the last year I had the car and the Corvettes were getting faster and one guy beat me. There were a lot of fast cars around though and you could never be sure what you'd come up against. I remember those guys the Pisano Brothers had a '49 Studebaker pickup with a Cad/LaSalle setup in it and that damn thing was fast. You wouldn't believe it. They'd race anybody and usually win and you can imagine how surprised people were by it. I remember that thing well."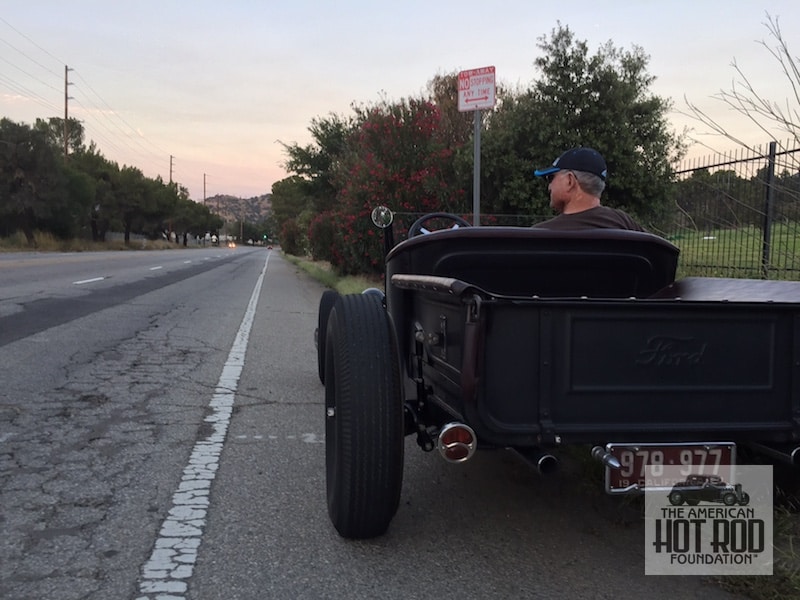 As I sat in Vic's roadster on the edge of the road and listened to all of this, it became very easy to envision. The kids lined up along the side of the road, the cars pulling out of the cemetery entrance and into the street and up to the line, and then tearing off and away. It all felt right for the surroundings and the layout of the place, even today. Yes, there was more traffic to deal with but that 4 lane road complete with turning lane/median seemed to still be calling out to us to "pull up to the line". I have a feeling that if another similar hot rod had pulled up, Vic wouldn't have hesitated. In fact, I know he wouldn't have.
We made our way back to Bob's just as Vic would have on one of those nights and he reminded me, "You know, pulling back into the lot at Bob's was half the fun. People would come running up to you to ask who won and by how much. They'd want to know the details. Who was faster off the line? Who could chase you down? Stuff like that. Then you'd get put in a class of car that could beat so and so and next thing you knew you had a reputation to keep up with. It was all a lot of fun, that's for sure."
I had to agree with Vic on that one… I bet it was.