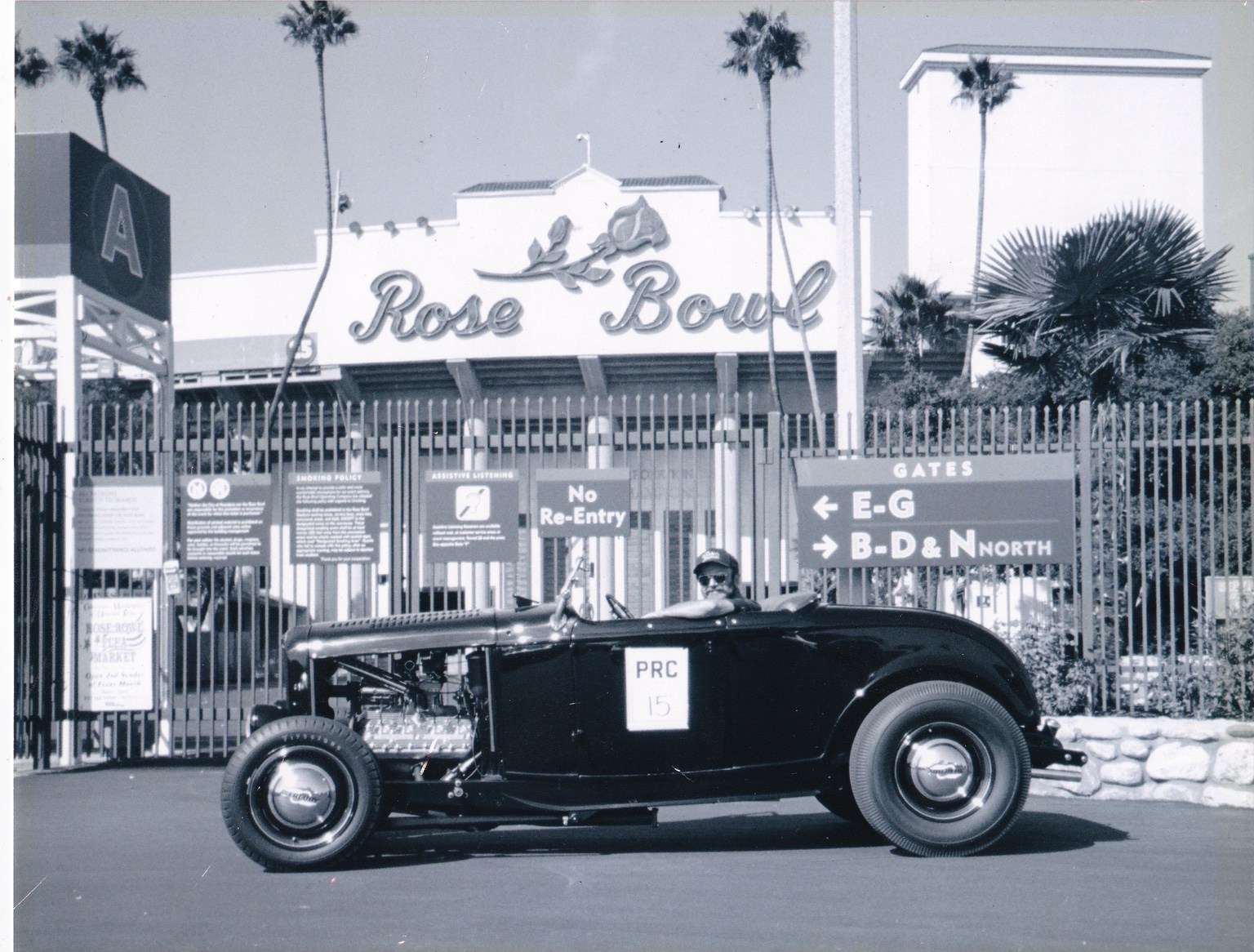 We want to congratulate American Hot Rod Foundation Member, Augie Esposito, on being our Member of the Month!
Augie started out in cars the way so many of us did … as a young kid pouring over issues of Hot Rod Magazine and building AMT model kits. As Augie put it," I never missed an issue of Hot Rod Magazine, from the time I could first read. And I blame the fact that those early AMT kits were molded in black plastic for my affinity for black cars, which I carry with me to this day."
Augie Esposito was born in San Pedro, California 70 years ago to a father who went to work every day at an automobile tire retreading facility. Although the tire business may not have excited young Augie all that much, the "Pierce Brothers Garage" next door to his father's place of business certainly did. "They had every kind of work going on over there; engine building, tuning, you name it, and they let me hang around in that shop as a little kid. I couldn't wait to go over there and ask questions of the mechanics doing the work. I was fascinated by all of it and dreamed of one day being able to do similar stuff on a car of my own. It was around this time that I decided I'd someday have a '40 Ford coupe. I must have built a dozen or more of the '40 Ford AMT model kits. In fact, you could say that my dream came true because I did end up owning a few '40s and the one I have now ( with the Cadillac mill … commonly referred to as a Fordillac ) is directly styled after an AMT '40 Ford "Drag Coupe" that I would build and rebuild and stare at as a little kid."
Although it's true that Augie would have his share of '40 Ford coupes, he does admit that his very first car was a second hand '41 Ford business coupe. This didn't last long though and Augie's first "real" car came in the form of a '40 Ford coupe that he paid $100 for. "It was kind of a turd. It wasn't a bad car, and it was a '40, but I knew I wanted to get something a little nicer that I could put my own touches on. I was borrowing the family '50 Olds Holiday and even ran it at Lions a few times. It had a V8 and a 4spd Hydro but it was only good for about 68mph. I really needed a cool car of my own. That's when I spotted the second '40 that I'd end up owning. It was a beautiful car that just happened to be owned by my nearby Lomita neighbor, Nolan Temple."
Now, some of you hot rod historians may recognize the name Nolan Temple as being the real name of a character from the Pete Millar published "Drag Cartoons" series. Yup, our man Augie bought his second '40 Ford coupe from none other than Temple McFlathead! "Yeah, it's pretty funny to look back on now. I knew who he was and that he was a friend of Pete Millar's and that this Drag Cartoons character was named after him. I thought it was pretty cool but you weren't surprised by things like that in southern California back then. Guys like that were all around us. You know; guys who worked at or were in the popular magazines of the day. I was mainly focused on this really bitchin' '40 coupe that I was getting for $175 bucks! I mean, this thing was a nice car. It even had a Columbia in it so I could commute back and forth to school in it. I even drove it back and forth to Long Beach State for the four years that I went there."
Augie would stay loyal to his first "real" '40 for quite some time but would soon find himself testing the fit of other cars as he entered adulthood and the workforce as a manufacturing engineer for Hughes Helicopter. "Yeah, I started playing with all kinds of cars at some point in the late '60s. I guess it was in '68 that I bought my '55 T-Bird. I had that a while. Maybe 3-4 years… until it got rearended pretty hard. That set off a run of all kinds of stuff. I bought a '59 356 Porsche coupe around this time and got really into that. I did all sorts of track days and gymkhana events with that car. It was so fun! I ran it at sportscar events at Irwindale, Pomona and even Ontario Motor Speedway. I really got the sportscar bug around this time. I even bought a Lotus Europa that I spotted for sale at Bob Chalmin's on the PCH. That was a fun car. I eventually traded the 356 for a really nice '70 Porsche 911T that a guy I knew had and that was my main daily driver until it came time to buy my first house. At that point I sold the Lotus and the 911 for the downpayment on the house and bought a '67 El Camino as my new daily driver. I have to say, though… I always knew that I'd have another hot rod. I didn't know how, I just knew that I'd never be happy not having one. Same goes for the Porsches."
During the 1970s a few things were happening in Augie's life; he was climbing the ranks as a project manager and production engineer with his employer going from Hughes Helicopter to McDonald/Douglas to Boeing, and he was beginning the journey of assembling a parts collection that would someday become his next hot rod.
"I really got back into it when I bought another 356 in 1979. This is the car I still have today. I spent a few years restoring it to Concours show-level condition and it's just as beautiful now as it was when it was finished. In fact, it did win a few Concours events and even got a "best interior" award at a major Concours. An award that was chosen by Tony Nancy! I'll never forget him handing me that trophy. Anyway, it really got me going again on the car thing and in the early 1980s I started going to all the swap meets around and buying hot rod parts. LA Roadster's show, Pomona, I hit them all… and this is back when stuff was cheap. My '32 3-window that I have was something I bought as a project in 1986. Getting that car to what it is today was a long road but it helped to have so many choice parts to choose from and to then have the Kennedy Brothers help to make it all a realization."
Of course, a rite of passage for any lifelong hot rodder seems to be the ownership of a '32 roadster at some point along the way, and Augie Esposito is no different. "Yeah, I knew I had to have a roadster and that happened right during the years of assembling parts and working on the 3-window. I ended up buying my '32 roadster from a guy named Will Moore. Will was a well-known hot rodder and the roadster was something I was familiar with, as it had been originally built by Harold Johansen and was made up of a lot of great parts. This was in 1990 when not a lot of people were into the early style cars but it was exactly what I wanted; a straight up, black '32 highboy that sat just right and looked like it rolled right out of the 1940s. Though it did have a small block Chevy in it when I got it, I did install a proper 59A flathead in it and used the small block to power my 3-window, as I always knew that car would be more of a late '50s style car."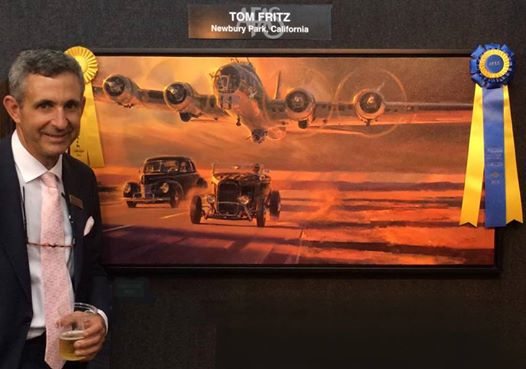 Now 70 and retired after 38 years of service in the aerospace industry, Augie Esposito can walk out to his garage on any day of the week and look at his collection of cars with a great sense of pride and personal connection."Yeah, I guess I am pretty lucky that I stayed with the stuff I like and it all came full-circle back to the cars that have always meant the most to me. The '40 coupe I now have is something I bought in 2009 and I finally have it exactly the way I want it; black with a nice, finished interior. Three pedals and a really bitchin' '57 Cad motor built by Sprint Car Hall of Fame engine builder Ron Shaver with an Isky solid roller RR-2 cam, Studebaker rockers, and the big Cadillac Eldorado dual-four setup. The motor is so bitchin' that I haven't considered running a hood on it. It looks that good. And it's just the way my favorite AMT '40 kit was; black drag coupe with no hood. Talk about a childhood fantasy come true. It even does 90 in the quarter! Not bad for a fat fendered car using a bunch of early hot rod technology."
Not bad, indeed. As Augie said, he has achieved a life-long goal of having the cars he's always wanted; a highboy deuce roadster, a '32 3-window, his '40 coupe, 356 Porsche, and even another 1970 911T … all in black, of course.
"Yeah, it's not the biggest car collection in the world. Hell, it's really not even a collection. These are just the cars that I've always had or wanted throughout my lifetime and nothing more. Each one makes me really happy in different ways and each one is really familiar to me. As a life-long bachelor, they really feel like my "kids" because I've invested so much time with them. And like any proud parent, I wouldn't trade them for anything!"
Well, we wouldn't either, Augie. A great journey that continues on, as Augie can be seen at most any traditional hot rod event in the southern California area and sometimes even on the dragstrip with that bitchin' '40 "Drag Coupe" that he's been building since those early childhood days with his AMT model kits.
Congratulations again to Augie Esposito for being our American Hot Rod Foundation Member of the Month!