Congratulations to Kay Kimes on being our AHRF Member of the Month!
Born in Clearwater, Nebraska on November 20th, 1928, Kay Kimes is yet another WWII-era hot rodder who got an early start and has an important story… a story, we're happy to say, that we've captured via a long-form film interview. Once in California, it wasn't long before Kay was bit by the racing bug and was running a 4-banger powered T at El Mirage (in 1947) all while learning the craft of mechanics and tuning by wrenching on a Cragar powered track roadster for Bill Finley. He would soon find himself on the board of directors for the SCTA and was one of a handful of hot rodders whose relationship with Bonneville goes all the way back to 1949. Kay has had an amazing journey in hot rodding and racing, attending and running at Bonneville throughout the '50s and '60s with stints behind the wheel of a Mercedes Benz 330SL, as well as crewing for the great Art Arfons and helping Jim Deist to develop his race-application parachutes. And as if that weren't enough, Kay would even end up working for Dan Gurney during the developing years of his All American Racers project.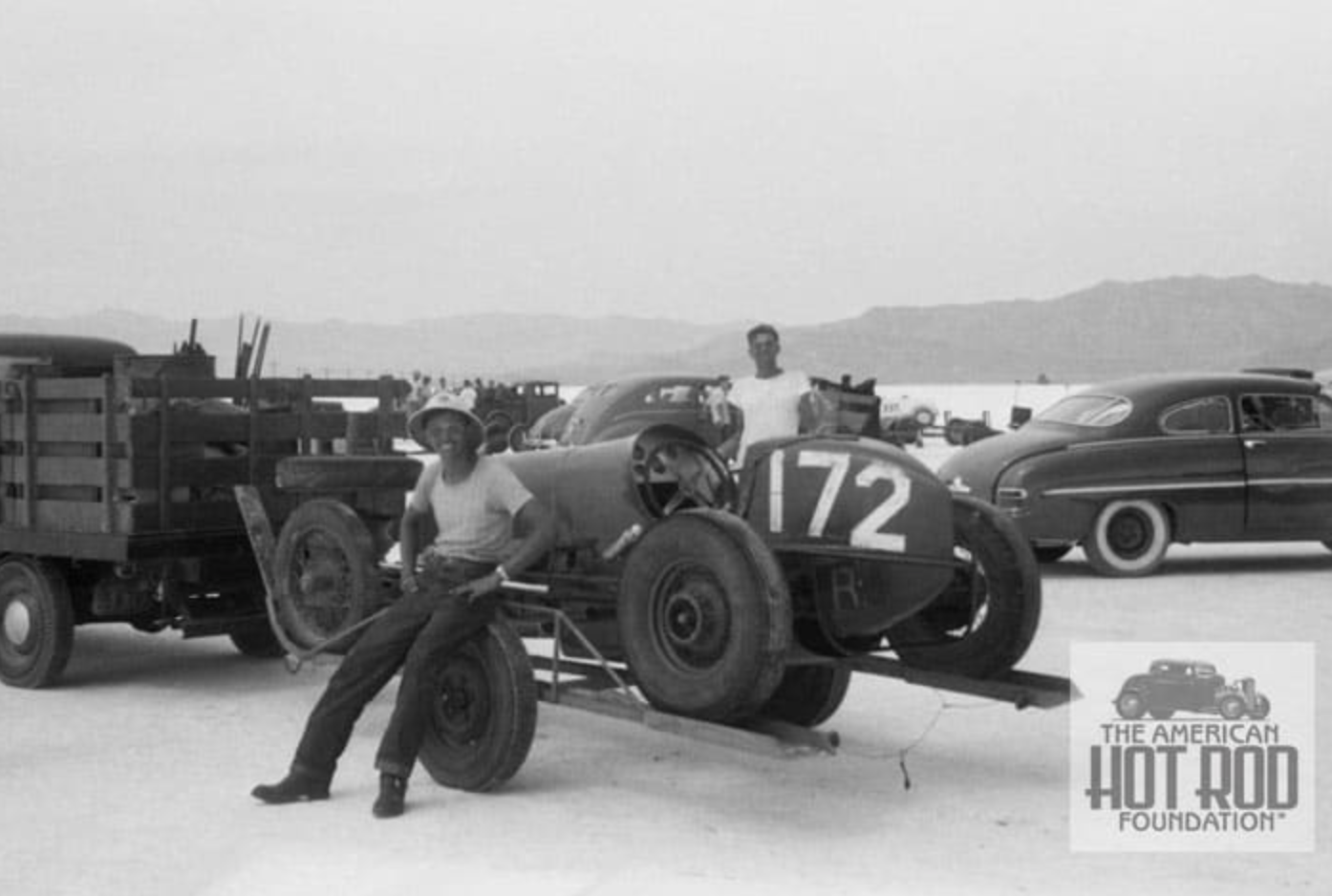 We couldn't be happier or more honored to feature Kay Kimes as our AHRF Member of the Month. Kay is not only a familiar name to anyone who is a fan of land speed racing but he is, in fact, what we call "an original 49'er". Yes, Kay was one of the few who showed up to campaign on the salt that inaugural Speed Trials year of 1949. Amazingly, we're doubly honored to have not one but TWO original 49'ers on the AHRF Membership roster in Kay and fellow hot rodder and past Member of the Month recipient, Richard French. Of course, a third 49'er, Alex Xydias, can be found on our list of AHRF Advisory Board members! Considering how few were in attendance at that historic first meeting, we feel incredibly lucky to have support and guidance coming from such living legends as Alex, Richard and Kay Kimes.
Thanks again to Kay for supporting our work, contributing many historic images to our archive, and for sharing his knowledge with us. It is an honor to have legends like Kay on board!