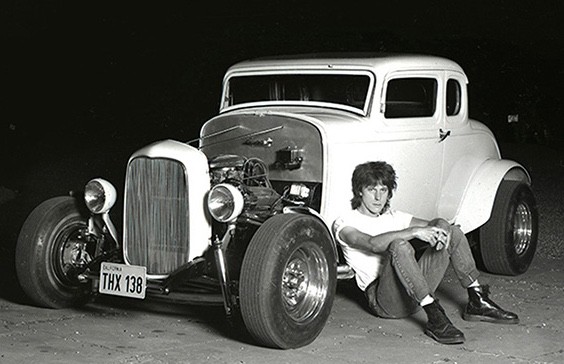 All of us here at The American Hot Rod Foundation are shocked and deeply saddened by the sudden passing of Jeff Beck. Since our launch in 2002, Jeff had always been one of our more enthusiastic supporters. Quick with a "whatever I can do" anytime we'd contact him and was oftentimes seen flying our flag by way of an AHRF t-shirt or jacket. Of course, his status as one of the single greatest electric guitar players in history is universally accepted and deserved, but to us, he'll always be remembered as one of our favorite hot rodders. A highly skilled craftsman, Beck enjoyed doing most of his own work when building his cars (unless his dear friend, Roy Brizio, was called on), and this included everything from chassis construction to chopping tops … the latter being something that famously held up a rehearsal with Rod Stewart on one occasion. This passion for his "other art form" would routinely make him giddy with excitement, giving away the fact that he was as addicted to this tradition as anyone could be. As someone who, from the time of his late teenage years, had the means to be behind the wheel of any car he chose, the fact that he preferred Ford-based hot rods as his mode of transportation showed a lifelong love affair with hot rodding and a dedication to spreading its gospel. Truly our kind of guy. We were so lucky to have known him, and it was a thrill and a joy to be able to call him a friend. Our hearts go out to his wife, Sandra, at this time, and we thank him for the wonderful gifts he gave the world . . . both on and off the stage.
Some personal thoughts on the passing of Jeff Beck from our Executive Director, David Steele:
I first met Jeff Beck at the 2007 "Deuce Days" multi-day event that was based in and around the Petersen Museum. It was one of the shop tour days when we crossed paths, and it couldn't have happened in a more casual way, as we simply ended up looking over the same car at the same time, and he began commenting to me. Incredibly, he was completely alone and simply walking around looking at the collection of completed and under-construction hot rods on this particular tour stop. He was friendly and very enthusiastic. We realized that we had similar tastes when, at the same time, we both began commenting on the beauty of an actual chrome-reverse wheel (as opposed to a stamped steel wheel that is simply chromed) that we spotted on the rear of a '40 Ford coupe. He went on about the "dish" that the reversing makes and how it is "unmistakable." I commented that I'd recently taken a set of real chrome-reverse to a tire shop to have the tires dismounted and had to run into the shop from the waiting room when I realized that the kid running the machine probably didn't know to place the rim upside down on the machine before breaking the bead on the tire. This set off a dialogue regarding these wheels, the fact that the wheels I was referring to had come off of my late father's '60 Corvette (he really liked that) and the fact that both of the hero cars in American Graffiti needed nothing more than these wheels to look timelessly cool. Of course, this then set off an American Graffiti-dialogue showdown that would become a constant between us for the rest of the time I knew him.
They say that meeting your heroes is rarely a good idea, and I've certainly had experiences that have backed up this theory. And I'd be lying if I said my initial encounter with one of my great heroes, Mr. Beck, didn't come with some complication ( only because I mentioned that I played guitar for a living as we were saying goodbye and that seemed to make him very uncomfortable ), but I could tell by the bulk of our time together that day that he was a particularly nice, unassuming, hot rod crazy, almost lonely seeming guy, and completely without any air of "fame" to him. This last detail was beyond impressive to me, as I'd been in the music business for a couple of decades by this time and had been around plenty of far lesser musicians who thought far more of themselves than did this platinum-level rock guitar genius. In fact, he had such a "regular guy" quality to him when talking cars, that the reality of who I was speaking with would (at times) wash away. This is saying a lot, considering the fact that he had always been one of my Mt Rushmore guitar guys and someone whose artistry was a constant source of inspiration and ego-reset.
We next crossed paths at the 2010 Goodwood Festival of Speed when I somehow found myself hobnobbing with the fancy folks while attending a dinner the night before the start of the event. Beck was there, and I spotted him at a table with George Lucas. Of course! After dinner, folks were milling around, and I walked up behind him and said, "Where you goin', Milner?" He swung around and immediately said, "Uh, nowhere, sir," perfectly meeting my American Graffiti dialogue challenge. And with that, Jeff Beck (yes, THAT, Jeff Beck) began to tell me with a child's excitement that he had been sitting with George Lucas. "Can you believe that??? I'm getting to sit and talk with the man who made the single greatest film of all time. I'm sitting with him. It's incredible!" And when I reminded him that George Lucas might be excited to be sitting with him, as well, Beck simply waved off the comment and said, "Bullocks."
That night was a blast, and the AG dialogue continued well into the AM. I remember that, as we were all filing out, he had the perfect closing line … saying, "Geez, what a night."
It was at glorious Goodwood, again, (now in 2016) that I next met up with him. He was standing on a balcony watching the races at the Revival meeting and it happened to be 1960s GT racers that were out on the track. When I approached him, he didn't fully remember me but seemed to know that I was safe. When I reminded him, he remembered ( amazingly ) the fact that I had a dad who ran around in an early Corvette and said, "You grew up with Corvettes. Have you seen these bloody things going around?" And with that, a pack of them came out of the chicane and were drag racing down the main straight toward us. As they passed by toward turn one, he literally jumped in the air and screamed, "7 grand on the tach of that big bock!!! Incredible!!!" And we stood and watched the races and commented back and forth until they were over. As he started to say goodbye, I mentioned that I'd see him on Monday for the interview. He looked at me with confusion. I said, "For the American Hot Rod Foundation?" And he lit up and started laughing, "Sorry, mate, I hadn't put it together that you were that guy! Yes! Looking forward to it." 
What happened on that Monday will forever be one of my most cherished memories. My wife and I met Jeff and his wife, Sandra, at their home in Kent at 10 am and didn't leave until well after midnight. Yes, we were able to sit down for a very fun interview, but this was only after hours spent in his garages going over every car, every project, the history of the property and his history with it, having tea and having meals. To say that he and Sandra were gracious would be an enormous understatement. Just wonderful people with a friendliness that (lucky for me and for the interview) completely put me at ease. So much so that, in fact, I had to keep reminding myself that "this is Jeff Beck." Call it whatever you want, but I chalk it up to the fact that he was simply one of the guys, even with all of the genius that he walked the earth with. He was just a kid who had been eaten alive by Gene Vincent and Ford-based hot rods, and he never lost the fire for either and never tried to tamp down this excitement. He was a buzzing, beaming light of enthusiasm and curiosity. Always planning the next build, the next project, and his drive was infectious to be around. It was exciting, and he made you want to join in. To discover, first hand, that this quality (the very thing that I'd heard when I first discovered his music) was just who he was as a human being was like seeing behind the curtain and discovering that his secret was more profound and more inspiring than you were prepared for. That he had gone through life completely unaffected by outside influences. That he was his own man. That there wasn't a gap between his personality and his music. That there wasn't a gap between his personality and his hot rod obsession. That it was all one thing. That it was all the same thing. That he was this completed being with the name Jeff Beck. That his music was Jeff Beck, and his hot rods were Jeff Beck. That it was all Jeff Beck.
I want to believe that he knew how much his art meant to so many people. I really hope so, anyway. Speaking for myself, he inspired me throughout my life in the way he pursued these two areas that we had in common, but getting to be around him will forever inspire me by who he was as a person. When I was coming up, his art constantly pushed me to be a better musician and this allowed me to eventually enjoy a career doing something that I loved. That's a pretty great gift. I only wish I'd thanked him for all of this in person.
So, I guess I'm thanking him now.
Thank you, Jeff Beck, for everything.