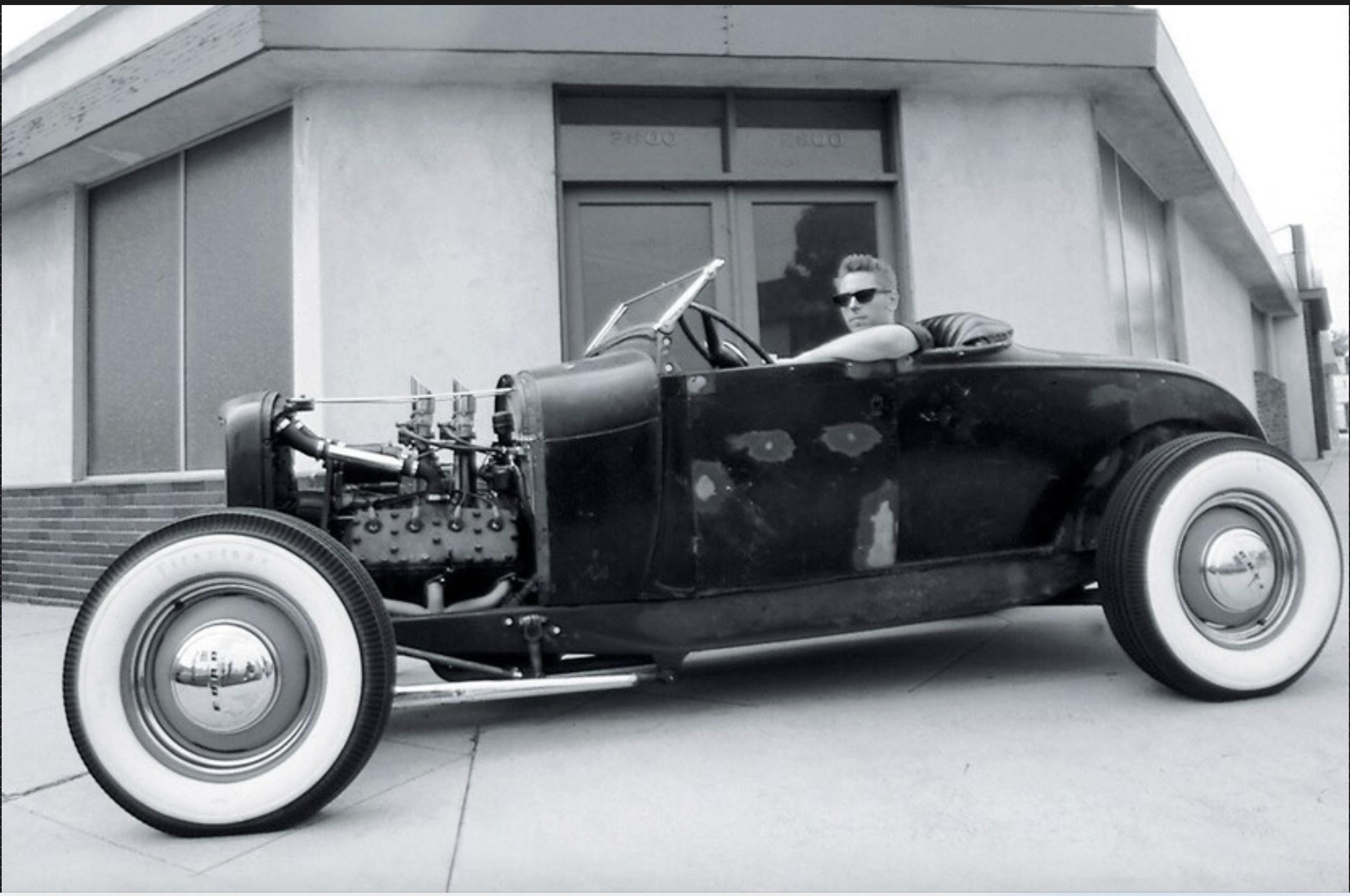 We are pleased to congratulate American Hot Rod Foundation Member Jon Fisher on being our AHRF "Member of the Month!" Although many in our community can lay claim to having had an eye for the more traditional style of hot rod or custom car for many years, it might be tough to beat Jon Fisher's record … unless you are one of the lucky few who were there "back in the day" and never got caught by the fads and changing times.
Much like the Kye Flemming-penned country classic, "I was country when country wasn't cool", you might say that Jon was "hot rod when hot rod wasn't cool." You see, Jon was chasing hot rod purity as long ago as the late 1980s when our slice of the car community pie was dominated by peach and tan-colored "catalogue" street rods. Aftermarket chassis', lumbar seats, and AC were standard fare along with Billet wheels wrapped with fat radials. It was hard to sense the roots of hot rodding at that time and most of the current builds of the day only helped to further blur the feel for where this had all come from. Thanks to the inspiration Jon and his buddies found via early hot rod magazines and the wonderful series of books by the late Don Montgomery, Jon and his group of cohorts set out to construct a little universe for themselves that would mirror what their great heroes like Ed Iskenderian, Vic Edelbrock, Don Montgomery, Jon Athan, and countless other WW2 era hot rodders had experienced. Fortunately for them, they were so far ahead of the traditional hot rod wave of the mid/late 1990s that it was a good bit easier to find the remains of original lakes roadsters, hot rod coupes, and even early customs (and all of the parts to either make or finish them) that within a 2-3 year period Jon and his pals were either driving their dream throw-back time machine of choice or were working to complete one. Armed with some of the coolest cars around and looking in every way to be from another time, Jon and his group of friends realized that they had organically arrived at having a real-deal car club and a decision was made in 1991 to officially form the Burbank Choppers. Although it may seem hard to believe in this day and age when the Choppers went out into the hot rod world with their cars they were not met with immediate acceptance. In fact, on at least one occasion they were turned away at the gate of a large-scale hot rod and custom car meet because the event didn't allow "unfinished cars." To say that this was no deterrent would be an understatement. Jon and his fellow club members knew what was cool and what was timeless and they weren't too concerned about whether or not the mainstream of the hobby would catch up. I guess you could say, now 30 years on, that Jon Fisher and the Choppers got the last laugh!
Once again, we want to congratulate Jon Fisher on being chosen as our AHRF Member of the Month and we want to thank him for all he has done for the world of traditional hot rodding. Knowing Jon as we do, it means even more that this happened via Jon's quiet and kind demeanor and the fact that he simply liked what he liked and lead with an example that inspired so many.
We hope you enjoy reading about Jon's life and career in his own words and the many things that have given him his creative inspiration.
It was pretty hard not to be obsessed with cars and hot rods growing up in Southern California. As a baby, my makeshift crib was my Dad's 1953 Jaguar roadster. In it, I was transfixed in the garage as my Dad went to work repairing and modifying the old cars he bought and sold. My Dad, Elliott Fisher, may have been a world-renown violinist who worked with people like Bing Crosby and Frank Sinatra, but he was also an old-school hot rodder who ultimately transformed into a 1960s sports car racer. This activity would involve his beloved MG TC's that he ran with his buddies who zipped around in their Jag XK120s and Allard sports cars. Maybe it's no surprise that I ended up being a car guy who also works in the arts! He exposed me to the Ascot car races in Gardena, the Barris's shop, Cars of the Stars museum, and the myriad of other iconic car shows around Los Angeles. This had a colossal impact on me growing up.
Oddly enough, my elementary school was located directly above Dean Jeffries' shop in Cahuenga pass in North Hollywood, where I routinely snuck out of school, ambled down the hill and checked out his latest projects, all of which, blew my mind! The Manta Ray always on display in his shop!
After building endless model kits and rifling through thousands of hot rod magazines, the time was right to start my own project. I knew I wanted some kind of Model A Ford, 32 coupe or roadster. As soon as I landed my first real job, I was routinely checking the Recycler classifieds, scrounging for parts, and scouring swap meets and junk yards. The best part of this was doing it with like-minded friends along the way. These friends went on to become my future Chisler/Burbank Choppers buddies. Teaming up with these friends was how I amassed all the parts and bones for my 29 Model A Roadster.
My friend, Jim Aust was about to trade his 32 cabriolet for a 29 Model A Roadster in about 1992. Sadly, the seller changed his mind and put the car up for sale instead. Jim told me about it and I ended up buying the car for myself. I was definitely in the right place at the right time! It was pretty much a basket case when I brought it home, but all of the bones on it looked promising for my interest in a post-war era hot rod. I towed the car home along with several boxes of extra parts. The car was missing the motor, steering and drive shaft. It possessed a hint of some kind of racing past by its tonneau cover snaps and missing faded outline timing tag holes in the dash. It was already set up for a flathead which suited me just fine. It also had an Auburn dash with gauges, and for some reason, a Halibrand quick change rear end installed upside down. Chrome axle and backing plates were on the rolling chassis, all drilled out for lightness. The body was in pretty good shape with no serious rust, and had a little bit of lead work. I found a donor 46 flat head with an Isky 3/4 cam at the next Father's Day Roadster show in Pomona. I installed a Tattersfield hi-rise manifold with a couple of Stromberg 97's that I had saved, bought some Belond headers to negotiate the F1 Steering box, and installed a 42 Crab-style ignition. At this point, I was pretty well set.
I gained an enormous amount of knowledge from my buddy Lynn Bird. He helped me with setting up the frame and getting all the dynamics in proper working order. After assembling it all in my garage, it became quite a thing of pride! My maiden voyage was to Paso Robles in 1992. It has been to Muroc, Las Vegas and all over California. I could not be be happier! What a fun project!
My car club, the Burbank Choppers, originated from an older club we started back in 1987, called the Chislers. That club was more of a 60's car and bike, kinda dice shooting club. Around 1991, we transformed the Chislers into a more 1940's period style of a stripped-down club with a nod to the original hot rod origins. We wanted to take more of a grassroots approach of fun and style, while maintaining a modest budget. We were all inspired by DIY in your garage or while working after hours at a gas station, like the old guys did. We embarked on a journey to save hot rodding and its history from being lost by all the hi-tech deviations and awkwardness of what the 70s and 80s had brought… more Chuck Berry and Little Richard than Emerson Lake and Palmer! Back to the roots!
I have to thank all the Burbank Choppers, Aaron Kahan, Verne Hammond, Deron Wright, Steve Uhl, Keith Weesner, and Jack Carrol, for all the help and great times!
-Jon Fisher
About Jon Fisher:
Jon grew up on a steady diet of skateboarding, comics books, and rock and roll. Before his career in animation, Jons's entrepreneurial spirit allowed him to design his own skateboard as well as developing a silk-screened T-shirt line at the tender age of 12. He graduated from the Art Center College of Design in Pasadena where he majored in Industrial Design. His keen interest in hot rodding and illustration skills lead to a gig as Prop Designer for Warner Bros' "Batman" the animated series. From there he worked for most of the major animation studios including Disney, Cartoon Network, Fox Studios, and Nickelodeon, among others. Some of the shows after Batman and Superman animated series he has worked on, for Background and Prop Design are: Duck Dodgers, Veggie Tales, Freakazoid, Fosters Home for imaginary Friends, Phineas and Ferb, The Cleveland Show, Wabbit, Apple and Onion, and Kid Cosmic. He is currently working at Netflix Animation. LEARN MORE at www.jonfisherdesign.com.