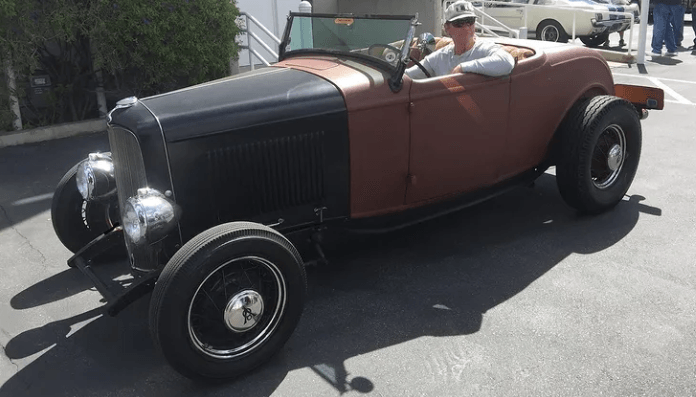 Congratulations​ ​to​ ​our​ ​AHRF​ ​Member​ ​of​ ​the​ ​Month​ ​and​ ​real-deal​ ​lifelong​ ​car​ ​guy,​ ​Steve​ ​Beck!​ ​Born​ ​and​ ​raised​ ​in​ ​Santa​ ​Monica,​ ​California,​ ​Steve​ ​was​ ​a​ ​car-crazy​ ​kid​ ​from​ ​the​ ​drop​ ​of​ ​the​ ​flag.​ ​An​ ​avid​ ​slot-car​ ​racer​ ​as​ ​a​ ​child,​ ​he​ ​was​ ​drawn​ ​to​ ​Team​ ​Ford​ ​and​ ​the​ ​miniature​ ​versions​ ​of​ ​their​ ​race​ ​cars​ ​of​ ​the​ ​time​ ​, thanks​ ​to​ ​the​ ​fact​ ​that​ ​this​ ​was​ ​right​ ​in​ ​the​ ​middle​ ​of​ ​Ford's​ ​"Total​ ​Performance"​ ​era.​ ​Whether​ ​it​ ​was​ ​winning​ ​LeMans​ ​in​ ​the​ ​GT40s,​ ​dominating​ ​the​ ​NASCAR​ ​tracks,​ ​taking​ ​national​ ​titles​ ​in​ ​sports​ ​and​ ​GT​ ​cars​, or​ ​winning​ ​Indianapolis,​ ​it​ ​was​ ​most​ ​likely​ ​a​ ​Ford​ ​or​ ​Ford-powered​ ​racer​ ​during​ ​the​ ​1960s​ and​ ​young​ ​Steve​ ​Beck​ ​was​ ​paying​ ​close​ ​attention.​ ​This​ ​early​ ​addiction​ ​drove​ ​him​ ​to​ ​do​ ​what​ ​so​ ​many​ ​budding​ ​car​ ​guys​ ​do:​ ​he​ ​found​ ​a​ ​mentor.​ ​Bud​ ​Hand​ ​was​ ​a​ ​self-taught​ ​master​ ​mechanic​ ​who​ ​was​ ​well​ ​known​ ​in​ ​car​ ​circles​ ​around​ ​Los​ ​Angeles,​ ​and​ ​Steve​ ​began​ ​riding​ ​his​ ​bicycle​ ​over​ ​to​ ​his​ ​shop​ ​to​ ​hang​ ​out​ ​and​ ​learn​ ​as​ ​much​ ​as​ ​possible.​ ​Thanks​ ​to​ ​the​ ​fact​ ​that​ ​Bud's​ ​dad​ ​was​ ​a​ ​master​ ​mechanic​ ​(​and​ ​Bud's​ ​grandfather​ ​was​ ​a​ ​blacksmith​),​ ​Steve​ ​had​ ​unknowingly​ ​struck​ ​gold,​ ​as​ ​he​ ​would​ ​not​ ​just​ ​be​ ​exposed​ ​to​ ​Bud​ ​and​ ​his​ ​dry​ ​lakes​ ​racing​ ​hot​ ​rod​ ​buddies​ ​but​ ​also​ ​to​ ​Bud's​ ​dad​ ​who​ ​would​ ​teach​ ​him​ ​about​ ​the​ ​simple​ ​beauty​ ​of​ ​the​ ​Model​ ​T​ ​Ford​ ​and​ ​other​ ​cars​ ​from​ ​the​ ​earliest​ ​days​ ​of​ ​automobile​ ​production.​ ​This​ ​would​ ​prove​ ​to​ ​shape​ ​Steve's​ ​talents,​ ​tastes​ ​, and​ ​interests​ ​to​ ​this​ ​day…​ ​​ ​as​ ​well​ ​as​ ​what​ ​he​ ​has​ ​collected​ ​in​ ​his​ ​garage​ ​through​ ​the​ ​years.​ ​
Steve's​ ​first​ ​usable​ ​car​ ​came​ ​in​ ​the​ ​form​ ​of​ ​a​ ​well-used​ ​Austin​ ​Healey.​ ​This​ ​was​ ​the​ ​perfect​ ​car​ ​to​ ​drive​ ​back​ ​and​ ​forth​ ​to​ ​high​ ​school​ ​in​ ​the​ ​always-agreeable​ ​southern​ ​California​ ​climate,​ ​but​ ​by​ ​the​ ​time​ ​Steve​ ​was​ ​about​ ​to​ ​graduate​ ​(​class​ ​of​ ​1974​)​ ​and​ ​enter​ ​the​ ​workforce,​ ​he​ ​knew​ ​that​ ​a​ ​more​ ​reliable​ ​form​ ​of​ ​transportation​ ​was​ ​needed.​ ​
Going​ ​back​ ​to​ ​when​ ​Steve​ ​was​ ​9​ ​years​ ​old,​ ​it​ ​happened​ ​that​ ​his​ ​mother​ ​worked​ ​for​ ​a​ ​doctor​ ​who​ ​was​ ​the​ ​Shelby​ ​family​ ​physician.​ ​Knowing​ ​that​ ​her​ ​son​ ​would​ ​love​ ​nothing​ ​more​ ​than​ ​to​ ​get​ ​an​ ​up-close​ ​look​ ​at​ ​these​ ​new​ ​Shelby​ ​racers​ ​being​ ​built​ ​in​ ​the​ ​neighboring​ ​community​ ​of​ ​Venice,​ ​Mrs.​ ​Beck​ ​asked​ ​Dr.​ ​Watson​ ​if​ ​arrangements​ ​could​ ​be​ ​made​ ​for​ ​a​ ​tour.​ ​Considering​ ​the​ ​fact​ ​that​ ​Dr.​ ​Watson​ ​had​ ​delivered​ ​the​ ​Shelby​ ​children,​ ​this​ ​was​ ​just​ ​a​ ​phone​ ​call​ ​away.​ ​Soon​ ​young​ ​Steve​ ​was​ ​walking​ ​through​ ​the​ ​Shelby​ ​race​ ​facility​ ​and​ ​looking​ ​in​ ​amazement​ ​at​ ​the​ ​new​ ​Cobras​ ​and​ ​Mustang​ ​GT350s​ ​that​ ​were​ ​being​ ​assembled​ ​and​ ​readied​ ​for​ ​race​ ​tracks​ ​and​ ​road​ ​courses.​ ​The​ ​look​ ​and​ ​feel​ ​of​ ​those​ ​cars​ ​had​ ​a​ ​powerful​ ​impact​ ​on​ ​the​ ​young​ ​Steve​ ​Beck,​ ​and​ ​he​ ​never​ ​forgot​ ​it.​ ​Nine​ ​years​ ​later,​ ​he​ ​came​ ​face​ ​to​ ​face​ ​with​ ​one​ ​of​ ​these​ ​cars,​ ​and​ ​that​ ​chance​ ​encounter​ ​would​ ​affect​ ​him​ ​for​ ​the​ ​rest​ ​of​ ​his​ ​life.​ ​
Steve​ ​remembers,​ ​"When​ ​I​ ​was​ ​about​ ​to​ ​turn​ ​18,​ ​I​ ​got​ ​a​ ​call​ ​from​ ​a​ ​friend​ ​of​ ​my​ ​older​ ​brother​ ​who​ ​heard​ ​that​ ​I​ ​was​ ​looking​ ​for​ ​an​ ​American​ ​car​ ​that​ ​I​ ​could​ ​drive​ ​to​ ​my​ ​first​ ​job.​ ​He​ ​said​ ​he​ ​had​ ​one​ ​of​ ​those​ ​"Shelby​ ​things"​ ​and​ ​asked​ ​if​ ​I'd​ ​like​ ​to​ ​come​ ​by​ ​and​ ​check​ ​it​ ​out.​ ​He​ ​was​ ​always​ ​wheeling​ ​and​ ​dealing​ ​in​ ​stuff,​ ​and​ ​he​ ​had​ ​about​ ​four​ ​cars​ ​he​ ​was​ ​selling.​ ​One​ ​of​ ​them​ ​was​ ​a​ ​pretty​ ​nice​ ​Boss​ ​302,​ ​and​ ​the​ ​other​ ​interesting​ ​car​ ​was​ ​a​ ​'65​ ​GT350.​ ​The​ ​Boss​ ​302​ ​was​ ​a​ ​nicer​ ​car​ ​and​ ​a​ ​lot​ ​newer,​ ​so​ ​I​ ​test​ ​drove​ ​that​ ​first.​ ​Then​ ​I​ ​hopped​ ​in​ ​the​ ​Shelby​ ​to​ ​take​ ​it​ ​around​ ​the​ ​block,​ ​and​ ​I​ ​fell​ ​in​ ​love​ ​with​ ​it.​ ​I​ ​knew​ ​it​ ​was​ ​the​ ​car​ ​for​ ​me.​ ​It​ ​was​ ​lighter​ ​and​ ​had​ ​precise​ ​steering.​ ​I​ ​could​ ​see​ ​out​ ​of​ ​it​ ​easily,​ ​and​ ​I​ ​just​ ​loved​ ​it.​ ​It​ ​had​ ​been​ ​painted​ ​green​ ​and​ ​was​ ​jacked​ ​up​ ​in​ ​the​ ​back,​ ​the​ ​water​ ​pump​ ​was​ ​leaking​ ​, and​ ​it​ ​needed​ ​some​ ​attention,​ ​but​ ​I​ ​knew​ ​that​ ​with​ ​a​ ​little​ ​bit​ ​of​ ​work,​ ​I​ ​could​ ​have​ ​a​ ​good​ ​car.​ ​I​ ​asked​ ​the​ ​guy​ ​what​ ​he​ ​wanted​ ​for​ ​it,​ ​and​ ​he​ ​said,​ ​'How​ ​about​ ​$900?'​ ​So,​ ​I​ ​sold​ ​my​ ​Healey​ ​for​ ​$600​ ​and​ ​came​ ​up​ ​with​ ​$300​ ​more​ ​over​ ​the​ ​next​ ​few​ ​weeks​ ​and​ ​bought​ ​it.​ ​That​ ​was​ ​almost​ ​50​ ​years​ ​ago,​ ​and​ ​I​ ​still​ ​have​ ​the​ ​car.​ ​It​ ​was​ ​my​ ​daily​ ​driver​ ​for​ ​over​ ​20​ ​years​ ​and​ ​got​ ​me​ ​my​ ​first​ ​job​ ​at​ ​a​ ​BMW​ ​repair​ ​shop.​ ​The​ ​owner​ ​who​ ​was​ ​interviewing​ ​me​ ​came​ ​out​ ​to​ ​see​ ​the​ ​car​ ​when​ ​I'd​ ​pulled​ ​up​ ​in​ ​it.​ ​He​ ​reached​ ​over​ ​to​ ​open​ ​the​ ​hood​ ​and​ ​said​ ​that​ ​he'd​ ​hire​ ​me​ ​if​ ​it​ ​was​ ​a​ ​real​ ​Shelby.​ ​He​ ​hired​ ​me​ ​that​ ​day,​ ​and​ ​that​ ​was​ ​the​ ​beginning​ ​of​ ​my​ ​career."
As​ ​Steve​ ​continued​ ​into​ ​his​ ​profession​ ​as​ ​an​ ​auto​ ​mechanic,​ ​his​ ​love​ ​and​ ​interest​ ​for​ ​old​ ​cars​ ​only​ ​grew.​ ​He​ ​became​ ​more​ ​and​ ​more​ ​involved​ ​in​ ​the​ ​LA​ ​car​ ​community​ ​and​ ​showed​ ​a​ ​sincere​ ​interest​ ​in​ ​everything​ ​and​ ​anything​ ​on​ ​four​ ​wheels​ ​that​ ​was​ ​unique.​ ​From​ ​Model​ ​T​ ​and​ ​Model​ ​A​ ​Fords​ ​to​ ​Austin​ ​Healey​ ​Sprites​ ​to​ ​Lotus​ ​Sevens,​ ​it​ ​was​ ​all​ ​cool​ ​and​ ​interesting​ ​to​ ​Steve​ ​Beck.​ ​But​ ​one​ ​constant​ ​continued​ ​to​ ​follow​ ​him​ ​along​ ​on​ ​his​ ​journey…​ ​​ ​his​ ​faithful​ ​old​ ​'65​ ​Shelby.​ ​Now​ ​returned​ ​to​ ​its​ ​original​ ​livery​ ​of​ ​Wimbledon​ ​White​ ​with​ ​Guardsman​ ​Blue​ ​stripes,​ ​the​ ​trusty​ ​old​ ​Mustang​ ​not​ ​only​ ​got​ ​Steve​ ​to​ ​work​ ​but​ ​competed​ ​in​ ​many​ ​a​ ​gymkhana​ ​and​ ​track-day​ ​session,​ ​did​ ​some​ ​canyon​ ​carving​ ​, and​ ​saw​ ​many​ ​a​ ​stoplight​ ​drag​ ​race.​ ​As​ ​Steve​ ​remembers,​ ​"Yeah,​ ​I​ ​was​ ​a​ ​road​ ​offender.​ ​It​ ​was​ ​kinda​ ​bad.​ ​I​ ​was​ ​jailed​ ​twice​ ​and​ ​lost​ ​my​ ​license​ ​twice​ ​because​ ​of​ ​excessive​ ​speed.​ ​I​ ​would​ ​use​ ​my​ ​one​ ​phone​ ​call​ ​to​ ​call​ ​my​ ​brother​ ​and​ ​have​ ​him​ ​get​ ​the​ ​car​ ​before​ ​it​ ​was​ ​impounded.​ ​I​ ​finally​ ​started​ ​taking​ ​it​ ​to​ ​the​ ​Cobra​ ​Club​ ​track​ ​days​ ​at​ ​Willow​ ​Springs​ ​in​ ​the​ ​late​ ​1970s​ ​and​ ​learned​ ​how​ ​to​ ​get​ ​around​ ​a​ ​real​ ​race​ ​track​ ​from​ ​guys​ ​like​ ​Dave​ ​Drolley,​ ​Wayne​ ​Richards,​ ​and Ray​ ​Hudson​ ​…​ ​​ ​real​ ​racers.​ ​I​ ​still​ ​bring​ ​the​ ​car​ ​to​ ​Willow​ ​twice​ ​a​ ​year​ ​with​ ​the​ ​Shelby​ ​club​ ​for​ ​track​ ​days.​ ​It's​ ​a​ ​lot​ ​of​ ​fun.​ ​Too​ ​bad​ ​it​ ​took​ ​over​ ​20​ ​speeding​ ​tickets​ ​to​ ​get​ ​me​ ​to​ ​take​ ​my​ ​love​ ​of​ ​speed​ ​to​ ​the​ ​track.​ ​That​ ​being​ ​said,​ ​I​ ​did​ ​just​ ​get​ ​another​ ​one​ ​the​ ​other​ ​day​ ​in​ ​the​ ​Mustang,​ ​so​ ​I​ ​guess​ ​I'm​ ​a​ ​slow​ ​learner.​ ​That,​ ​or​ ​it's​ ​the​ ​fact​ ​that​ ​I​ ​feel​ ​18​ ​again​ ​every​ ​time​ ​I​ ​look​ ​through​ ​that​ ​windshield."​ ​
Speaking​ ​of​ ​being​ ​18​ ​again,​ ​as​ ​the​ ​late​ ​1980s​ ​approached,​ ​the​ ​faint​ ​buzz​ ​of​ ​a​ ​more​ ​traditional​ ​hot​ ​rod​ ​movement​ ​began​ ​to​ ​bubble​ ​up,​ ​and​ ​Steve​ ​took​ ​notice.​ ​Not​ ​only​ ​did​ ​he​ ​like​ ​seeing​ ​this​ ​return​ ​to​ ​Ford-based​ ​hot​ ​rods​ ​that​ ​were​ ​being​ ​owner-built,​ ​but​ ​it​ ​reminded​ ​him​ ​of​ ​those​ ​great​ ​old​ ​days​ ​when​ ​he​ ​would​ ​get​ ​to​ ​hang​ ​around​ ​his​ ​old​ ​pal​ ​and​ ​mentor,​ ​Bud​ ​Hand,​ ​and​ ​hear​ ​stories​ ​of​ ​the​ ​dry​ ​lakes​ ​from​ ​Bud​ ​and​ ​his​ ​pals​ ​and​ ​see​ ​and​ ​hear​ ​flathead​ ​powered​ ​'32s​ ​and​ ​Model​ ​As.​ ​This​ ​was​ ​something​ ​that​ ​was​ ​very​ ​much​ ​still​ ​in​ ​his​ ​bones,​ ​and​ ​he​ ​quickly​ ​got​ ​to​ ​work.​ ​"Yeah,​ ​I​ ​had​ ​always​ ​wanted​ ​a​ ​car​ ​like​ ​what​ ​these​ ​guys​ ​I​ ​grew​ ​up​ ​around​ ​drove.​ ​The​ ​kind​ ​of​ ​car​ ​that​ ​represented​ ​the​ ​early​ ​days​ ​of​ ​hot​ ​rodding.​ ​I​ ​had​ ​always​ ​had​ ​plenty​ ​of​ ​fun​ ​in​ ​my​ ​sports​ ​cars​ ​and​ ​in​ ​muscle​ ​cars,​ ​and​ ​all​ ​of​ ​that​ ​stuff​ ​is​ ​fine,​ ​but​ ​there​ ​really​ ​is​ ​nothing​ ​like​ ​a​ ​hand-built​ ​car​ ​that​ ​you​ ​put​ ​together​ ​yourself.​ ​Even​ ​when​ ​you​ ​see​ ​a​ ​similar​ ​car​ ​to​ ​something​ ​you​ ​built,​ ​there​ ​are​ ​always​ ​differences.​ ​No​ ​two​ ​are​ ​alike​ ​because​ ​no​ ​two​ ​people's​ ​tastes​ ​are​ ​the​ ​same​ ​or​ ​talent​ ​or​ ​skill​ ​levels​ ​are​ ​the​ ​same.​ ​You​ ​build​ ​what​ ​you​ ​can,​ ​and​ ​you​ ​build​ ​it​ ​to​ ​your​ ​liking​ ​, and​ ​it​ ​ends​ ​up​ ​being​ ​a​ ​very​ ​personal​ ​statement."​ ​
Now,​ ​if​ ​there's​ ​a​ ​better​ ​definition​ ​of​ ​hot​ ​rodding,​ ​we​ ​aren't​ ​aware​ ​of​ ​it!​ ​
"Another​ ​thing​ ​that​ ​happened​ ​was​ ​that​ ​by​ ​the​ ​time​ ​I​ ​started​ ​to​ ​build​ ​my​ ​first​ ​Model​ ​A​ ​roadster,​ ​all​ ​of​ ​these​ ​guys​ ​that​ ​I'd​ ​grown​ ​up​ ​around​ ​who​ ​were​ ​30​ ​years​ ​older​ ​than​ ​me​ ​or​ ​older,​ ​they​ ​began​ ​to​ ​pass​ ​along​ ​some​ ​of​ ​their​ ​parts​ ​or​ ​tools​ ​so​ ​that​ ​I​ ​could​ ​get​ ​my​ ​car​ ​done.​ ​They​ ​had​ ​already​ ​built​ ​their​ ​cars,​ ​and​ ​now​ ​it​ ​was​ ​time​ ​for​ ​them​ ​to​ ​see​ ​that​ ​I​ ​build​ ​mine.​ ​This​ ​also​ ​had​ ​a​ ​profound​ ​effect​ ​on​ ​me​ ​because​ ​I​ ​realized​ ​how​ ​permanent​ ​the​ ​cars​ ​are,​ ​and​ ​the​ ​fact​ ​of​ ​the​ ​matter​ ​is​ ​that​ ​it​ ​is​ ​us​ ​who​ ​wear​ ​out​ ​around​ ​them…​ ​and​ ​not​ ​the​ ​other​ ​way​ ​around.​ ​This​ ​statement​ ​that​ ​I​ ​was​ ​about​ ​to​ ​make​ ​by​ ​building​ ​an​ ​AV8​ ​roadster​ ​would​ ​be​ ​a​ ​form​ ​of​ ​self-expression​ ​that​ ​would​ ​represent​ ​me​ ​for​ ​long​ ​after​ ​I'm​ ​gone.​ ​I​ ​think​ ​that's​ ​why​ ​getting​ ​your​ ​first​ ​hand-built,​ ​self-built​ ​car​ ​together​ ​and​ ​then​ ​driving​ ​it​ ​for​ ​the​ ​first​ ​time​ ​is​ ​a​ ​feeling​ ​that​ ​is​ ​indescribable.​ ​It​ ​is​ ​something​ ​that​ ​only​ ​you​ ​could​ ​have​ ​done.​ ​No​ ​one​ ​can​ ​replicate​ ​your​ ​process,​ ​and​ ​that​ ​is​ ​why​ ​this​ ​part​ ​of​ ​the​ ​hobby​ ​is​ ​so​ ​unique."​ ​
Well,​ ​we​ ​couldn't​ ​agree​ ​more​ ​with​ ​that,​ ​and​ ​we​ ​couldn't​ ​have​ ​said​ ​it​ ​better​ ​ourselves.​ ​Sounds​ ​like​ ​the​ ​spirit​ ​of​ ​a​ ​true​ ​hot​ ​rodder​ ​…​ ​​ ​something​ ​that​ ​Steve​ ​Beck​ ​most​ ​certainly​ ​is!
Steve​ ​is​ ​known​ ​by​ ​his​ ​friends​ ​in​ ​the​ ​car​ ​world​ ​as​ ​a​ ​master​ ​mechanic​ ​and​ ​vintage​ ​car​ ​expert.​ ​If​ ​he​ ​is​ ​not​ ​working​ ​on​ ​cars,​ ​he​ ​is​ ​at​ ​a​ ​racetrack,​ ​car​ ​show​​, or​ ​swap​ ​meet.​ ​Born​ ​and​ ​raised​ ​in​ ​Santa​ ​Monica,​ ​he​ ​worked​ ​mostly​ ​on​ ​British​ ​cars​ ​in​ ​his​ ​youth.​ ​He​ ​went​ ​on​ ​to​ ​work​ ​for​ ​GT​ ​International​ ​Motors,​ ​BMW​ ​specialists​ ​in​ ​Santa​ ​Monica,​ ​then​ ​Reuman​ ​(now​ ​Century)​ ​BMW​ ​in​ ​North​ ​Hollywood,​ ​where​ ​he​ ​was​ ​certified​ ​as​ ​a​ ​BMW​ ​technician.​ ​Steve​ ​and​ ​Chris​ ​Toppenberg​ ​started​ ​Check​ ​Point​ ​Automotive​ ​in​ ​1994​​, and​ ​they​ ​have​ ​been​ ​servicing​ ​their​ ​clients'​ ​BMWs​ ​ever​ ​since.​ ​Called​ ​upon​ ​for​ ​his​ ​extensive​ ​knowledge,​ ​Steve​ ​regularly​ ​judges​ ​classic​ ​car​ ​shows​, including​ ​the​ ​Palos​ ​Verdes,​ ​Dana​ ​Point,​ ​and​ ​Santa​ ​Barbara​ ​Concourses.​ ​He​ ​is​ ​a​ ​docent​ ​at​ ​the​ ​Pebble​ ​Beach​ ​Concours​ ​d'Elegance​ ​in​ ​Monterey.​ ​He​ ​is​ ​also​ ​a​ ​founding​ ​member​ ​of​ ​the Shelby​ ​Club​ ​Los​ ​Angeles​ ​Chapter.