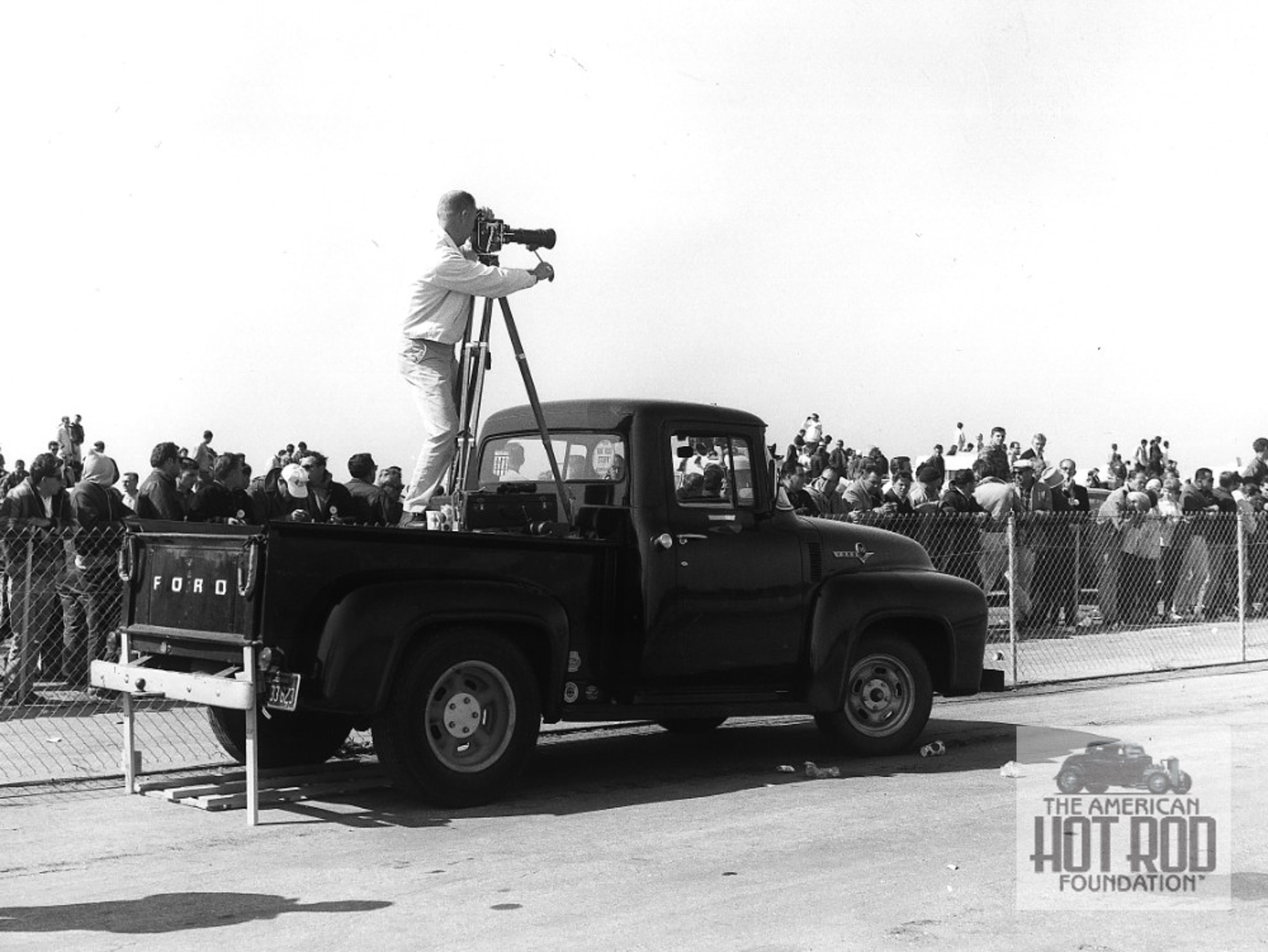 We want to congratulate a very special AHRF Member this month with our Member of the Month award … Mr. Alex Xydias.
Although much has been written about Alex and his accomplishments (all of which you can read about in Alex's Pioneer bio here on our website), we want to take a moment to talk about Alex's incredible contribution to the saving of hot rod history. Yes, Alex served during the war as a young man, came back home, and immediately opened his first SoCal Speed Shop location, and then went out and set multiple land speed records with his bellytank and SoCal streamliner. Yes, he was instrumental in establishing what we now refer to as the "SEMA Show" and partnered with Mickey Thompson to launch the SCORE Off-Road show. But, did you know that Alex was toting his motion picture camera and tri-pod around to document the goings-on in west coast auto racing as early as the early 1950s? In fact, Alex had the foresight to set up his camera and film races that were considered nothing more than club events at the time, but are incredibly important to the timeline and history of southern California auto racing today. Races such as the Cal-Club events at venues like Hanson Dam, Torrey Pines, and Paramount Ranch. That said, he also was out filming at early Riverside meets as well as keeping up with what the guys were doing out at El Mirage. It was all interesting and important to Alex, and he worked to ensure that it was documented so that people in the future would know "the way it was." If you doubt us, feel free to check out Alex's wonderful film "The Hot Rod Story" where he takes a large amount of this original footage and pieces together the story of pre-and post-war auto racing in America and how hot rodding played a role in not only that but even the space race! On an even larger scale, Alex loaded up his camera equipment in the 1950s and headed to both Indianapolis and Sebring on multiple occasions to capture all of the pageantries of those incredible events and brought his reels of movie film back to Los Angeles to be shown at different movie houses around the city. Considering all that Alex had going on in his professional and personal life ( working full-time for Petersen, developing the trade show events mentioned above… and raising a family! ) during these earlier years, it is a serious testament to his dedication to preserving our motorsport history that he was able to collect such an archive of films. Again, this footage can be seen on his "The Hot Rod Story" documentary as well as in his three-part series on Sebring, which covers 1956-'58.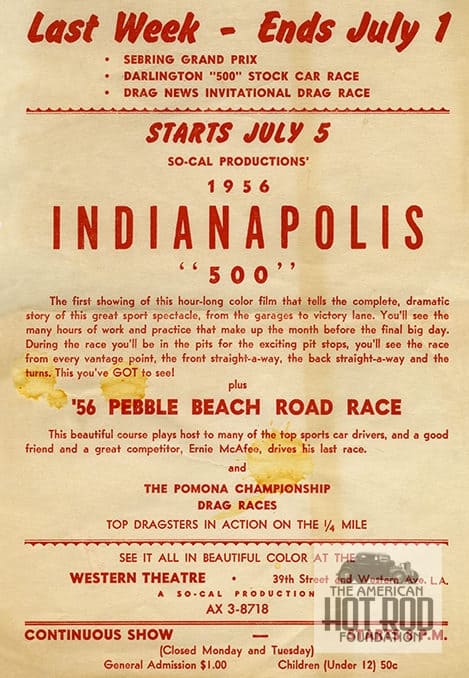 Considering Alex's incredible contribution to our beloved sport and hobby, it was a no-brainer to call on him in 2002 when it was decided by Steve and Carol Memishian that a Foundation should be put in place to save hot rod history. If anyone should be on the Advisory Board for such an endeavor, it should be Alex Xydias, and we're happy to say that he continues to be an active member. To be able to phone up Alex for needed information on a photo, caption, or story that only he can help with is simply priceless. It is always a thrill, and we always walk away knowing more than we bargained for. Of course, all of this is always made even better by his endless enthusiasm for all things hot rodding. To hear Alex's 99-year-old voice light up to the point of sounding like a teenager because he can't wait to answer your question regarding something that he got to experience, first-hand, is enough to make our week! But, mostly, the great delight is being able to call him a friend. A friend to the AHRF and to everyone in the hot rod and racing community. A friend who has given his time and energy to this project and to anyone who cares about it. He and his work are gifts that keep on giving, and we cannot begin to thank him enough for it all.
Thank you again, Alex Xydias, for being on board with us and for your continued support of The American Hot Rod Foundation.