Congratulations to the winner of the American Hot Rod Foundation Hot Rod of the Month contest for August 2021!
This month's winning entry, a 1932 Ford Roadster was submitted by Robert Di Pietro…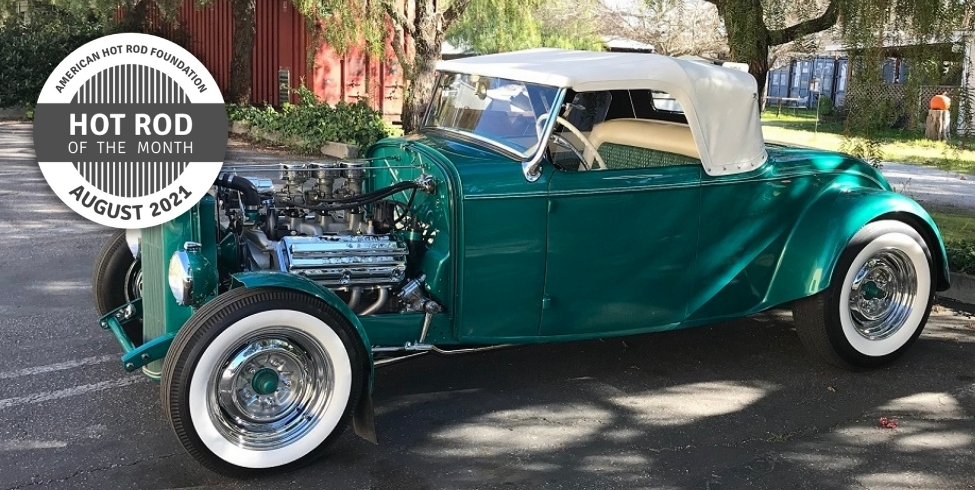 Additional Details
Originally built in 1958. Taken apart and stored in '61. Got it in 2014 and spent 4+ years in the rebuild. All original Henry parts. Windshield, custom made in 1954 using '50 Olds front glass…from the Bosio Roadster, winner of the AMBR in 1956. '37 NashLafayette steering box, '56 Lincoln steering wheel, Paint color 50's Chrysler Parade Green modified using pearl instead of metallics. Custom hand-made top using the old white material and fitted to the Bosio curved windshield. Interior uses cloth from 50'sImperial.
About the AHRF Hot Rod of the Month Contest
The Hot Rod of the Month Contest is a special opportunity available only to Foundation Members. Active Members have a two-week period EACH MONTH in which to enter a car they own by providing photos and a description of their car. During the following two-week period, all Members, whether they have entered a car or not, can individually vote for their favorite car.
The car with the most Member votes at the end of each month will be the AHRF Hot Rod of the Month and will be featured on the AHRF website and on social networks.
At the end of each calendar year, the Advisory Board of the Foundation will select one car, as the AHRF Hot Rod of the Year, from that year's Hot Rod of the Month winners. The Hot Rod of the Year will be given special publicity, and the car will be maintained in an ongoing catalog of AHRF Hot Rod of the Year winners.