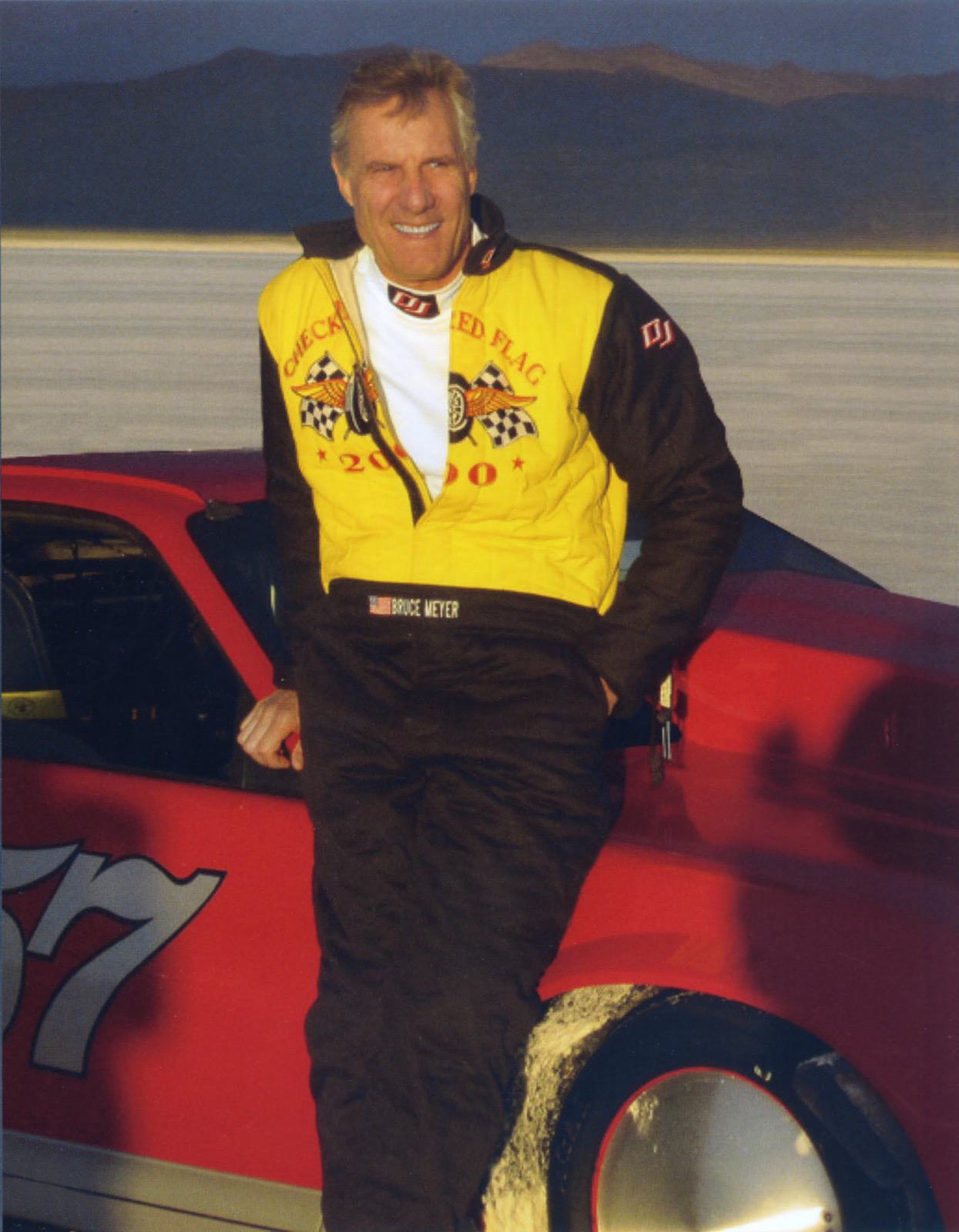 Born in Los Angeles, Bruce got the bug for cool machinery at an early age. Being a little kid in Southern California in the 1940s and '50s provided Bruce with a daily dose of some of the greatest traffic in the country, all viewed from the inside of his parent's car or from his front yard. Sportscars, motorcycles, customs, European exotics, and hot rods were everywhere, and young and impressionable Bruce Meyer was crazy about them all. Still years away from having a driver's license, Bruce would hop on his bicycle and scour his Hollywood neighborhood looking for cool cars. On one of these outings, he spotted a particularly interesting car in an LA driveway just around the corner from his home. It was a midget race car that was running an inline 4-cyl Henderson motorcycle engine and, incredibly, was owned by a 9-year-old kid. His name was Russel Werdin, and 8-year-old Bruce Meyer had just met his new best friend! They became inseparable and rode their bikes all over town, visiting speed shops and any place that had anything to do with cool and interesting cars. One of those places was the legendary Sparks and Bonney Automotive, where young Bruce would first meet Tommy Sparks, a person who would later in life become especially influential to Bruce as well as becoming like a second father. Bruce and Russ also learned the joys of speed together, as Bruce was Russ' pit crew as he'd run the Henderson-powered midget all around the Werdin family driveway and yard.
"My parents had no time for cars and no interest," Bruce recalls. "Even if they did, we didn't have a lot of money and spending anything beyond what basic transportation cost was out of the question. So I basically had to hide my obsession from them as best I could." He got his first job at age 13, selling newspapers at a prime Los Angeles street corner. Through this, he was able to buy his first motorized machine; a classic Doodlebug motor scooter. "Yeah, I got my Doodlebug and thought I owned the world, but pretty soon I needed something a little faster, and that would stop, so I sold that, saved some more money, and built a Whizzer motorbike piece by piece. That was pretty cool and took me right up to the time when I'd buy my first motorcycle… a 1953 BSA. Of course, every single one of these machines had to be hidden from my parents, so I kept them at friends' houses. Amazingly, my parents never knew that I ever even had motorcycles. I'm talking for 10 years. I dated my wife on my motorcycle! That's how long I kept that part of my obsession a secret."
Within a few years, Bruce and Russ were approaching that magical time when a driver's license was about to become a reality. Russ, being a year older, got his first and quickly bought a '40 Ford coupe. The price was $50. As Russ reported, "It was an immaculate car, grey with a tan interior and a stock flathead. A completely original car… but I didn't keep it that way for very long." Thanks to the fact that Russ's father was a bit of a car guy and enjoyed taking his son to the races at Gilmore Stadium, Russ had seen the name "Ansen Automotive" many times on the hoods of winning race cars and decided that this would be the shop to make his '40 Ford a real hot rod. Soon the '40 Ford had received the "Ansen treatment" and was running a unique and potent drivetrain consisting of a '57 Olds J2 with twin McCulloch superchargers feeding two four-barrel carburetors! This was backed by a 4-speed in the floor and a Pontiac rear end. As Bruce remembers, "That thing was really something. It had a sound like I'd never heard before or since. It had those twin superchargers and this big Herbert roller cam that Lou Senter installed. All of that going through lakes pipes and man, oh man, it was really something, and it was really fast. I remember that it did 112 in 12 seconds at San Fernando, and this is in the '50s! I mean, for a street car that was really fast. Once Russ had that thing going, I couldn't stop thinking about having a hot rod. It was all I thought about."
Pretty soon, Bruce had his license, but unlike his friend Russ, he didn't have a car-guy father. As Bruce remembers, "Yeah, my dad was a great dad, and I wouldn't trade him for any other dad, but he was far from being a car guy. He really hated the fact that I wasted my time thinking about cars, and he did what he could to discourage me. As bad luck would have it, my great aunt died and willed me her pea green 1950 Plymouth…but at least it was a 2-door fast back. As far from a hot rod as you could get, but I did end up getting a nice paint job on it, some pinstriping, and even dressing the engine up a bit with a two-pot intake and some Hellings chrome air cleaners."
Yes, with its inline flathead 6, it wasn't exactly a stoplight terror, but that didn't stop Bruce from sneaking the car over to the San Fernando drag strip one Sunday afternoon to see what it could do. "All of us kids in the neighborhood were inspired by a guy named Bruce Torrence. Bruce was one of these lucky guys who got a '57 Chevy Bel Air right when they came out. It had the Power-Pack engine, stick shift, and was a sensation to see around the neighborhood. Soon after getting it, he took it to the drags at San Fernando, won his class, and we were in awe. Not just because he won but because he also won this terrific trophy. That really knocked us kids out. None of us had ever known someone who received a big shiny trophy for anything, especially something as cool as racing your car. So, that was it. I had to go and try my luck at the drags." As luck would have it, Bruce's first time at drags wouldn't go quite the way he'd hoped, as a reckless driver caught the edge of the Plymouth's opened driver's door while parked in the pits, bending the door back on its hinges. Bruce and his buddies were able to fix it enough to get the door functional again, but it did put a damper on his first time out at the drags.
Of course, Bruce would go on to own and enjoy many a car that allowed him to more than forget that old Plymouth, but it would be a few years before he finally got to scratch that hot rod itch. Bruce's interest turned to sports cars in college, so it wasn't until he got out of school and started his professional life that he would begin his journey back toward hot rods when he reunited with his old friend, Tom Sparks.
Bruce remembers, "I started hanging around my pals who were doing the Monterey thing in the 1970s. The guys who started what would become the Monterey Historics. Guys like Steve Earle and Chris Cord. That was a really special and amazing time. Really serious old race cars were relatively cheap, and you could drive them from LA to Laguna Seca, race them, and then drive them home. I didn't get into the racing part of it too much back then, but I liked running around with those guys, and it got me to attend my first Pebble Beach Concours. This really piqued my interest in earlier cars, but I realized I needed some guidance from someone who'd been in it longer, and that made me think of Tommy. I knew he had changed the focus of his shop to high-level restorations and was doing Duesenbergs and other big, senior stuff for people who were showing at Pebble Beach, and I wanted to experience something like that. So, I called him, and he helped me buy my first collector car. From there, I rarely did anything without his guidance or advice. He restored some cars for me, and we traveled together and had some great adventures and a lot of fun. Over time, he did become like a second father to me. He was just the best."
The fact that Bruce found Sparks before he was of driving age and then maintained a friendship with him for decades would turn out to be one of the more fortuitous happenings for both Bruce and for the car hobby. As the 1990s approached, Bruce's hot rod itch had reached a fever pitch, and the vision he had was something far beyond just finding and purchasing a hot rod. He wanted to communicate to the world that what was once thought of as a hoodlum's pastime was, in fact, culturally and historically significant. That hot rodding positively influenced and advanced Detroit in its designs, performance, economy, safety, and, in turn, our culture. Hot rodding was not just cool, it was important and needed to be recognized as such… and not just the cars, but the now-aging pioneers who developed this pastime to such a high degree while in their teens. Pioneers such as Tommy Sparks.
Starting with Pete Chapouris restoring the iconic Pierson Brothers coupe, followed by the equally iconic So-Cal Speed Shop belly tank of Alex Xydias, Bruce set out to find and restore some of the most significant early hot rods in existence. The Doane Spencer and Bob McGee roadsters would come next, as would the tough-as-nails Doyle Gammell 3-window coupe. The itch was definitely getting scratched, and a new generation of budding hot rod enthusiasts was getting to see these timeless examples of early hot rodding being reborn and placed right in front of their eyes. In addition, the generation who originally built, owned, and raced these cars were being invited by Bruce to join in the fun and come along (literally) for the ride. Whenever possible, Bruce would have the original owner/builder consult and share in the process of the restoration, and with each car's unveiling would be a grand party for the car, its original owner, and as many of his fellow pioneers as could be assembled. It was a great time for all and an exciting time for hot rodding as Bruce continued to be at the forefront of this great hot rod revival.
But just when you thought this might be enough, Bruce decided to do the impossible and see if he could get these wonderful machines from his youth placed onto the sacred lawn of Pebble Beach. Yes, it took ten years of begging, and yes, he eventually got that done in 1997, and yes, we have the final letter of correspondence to prove it!
With that single move, the status of the American hot rod was lifted in the eyes of the general public in a way never done before. As hot rodders, we've always known that these cars are just as much a work of art and technology as anything else on four wheels. Now the rest of society was beginning to catch up.
As if this all weren't enough, Bruce pushed to have the McGee roadster placed on a U.S. postage stamp in 2014, and in 2017, the McGee roadster was inducted as part of the National Historic Vehicle Register and the U.S. Department of the Interior, Historic American Engineering Record. The roadster was even displayed on the lawn of our nation's capitol in a glass display case for all passers-by to study and admire. Yes, a hot rod. A 1940s-era hot rod roadster… honored at the highest level.
This was all because of Bruce's unstoppable passion for what he knew hot rodding deserved.
"If I've made a contribution to the car world, I would want it to be the recognition of hot rodding. I mean, Dan Gurney was a hot rodder. Phil Remington was a hot rodder. Bob Bondurant and Parnelli Jones both started in '32 Fords. Carroll Shelby's shop was started with a staff of hot rodders. If I have a mission, it is to get people to understand how important hot rodding is to automotive history. As founding chairman of the Petersen Automotive Museum, I have always been focused on maintaining a hot-rodding presence at the museum… even with all of the evolution that has taken place over the three decades that it's been up and running. If you go to the second floor of the museum today in the Ross & Beth Myers Gallery, you'll see some of the greatest and most important hot rods and custom cars in the world. The Hirohata Merc, The Doane Spencer, and Bob McGee roadsters (just to name a few) are on display, along with a wonderful tribute to our founder, Robert E. Petersen. A guy who started his career with the publishing of Hot Rod Magazine."
When the American Hot Rod Foundation launched its Membership Program in January 2020, Bruce signed up as a supporting member within minutes of the program going live. Because of this show of enthusiasm, we felt compelled to phone him up and thank him for his support. As he put it to us on the phone that day, "Hey, it's hot rodding, and you know I'm always gonna do whatever I can to support that. The fact that someone out there cares enough to be documenting its history, as you guys are, puts a huge smile on my face. I couldn't wait to sign up and help this cause. It's hot rodding … and you know there's nothing better than hot rodding."
We couldn't have said it better, ourselves!
And Bruce's support of our work did not stop there. In fact, it wasn't long after the release of AHRF Advisory Board Member Ken Gross's latest book, "Deuce!" (1932 Ford Hot Rods from the Bruce Meyer collection), that Bruce contacted us and asked about offering the book for sale in our AHRF online store. His only request? … that 50% of all sales be donated to the AHRF.
Again, we thank Bruce Meyer for everything he has done and continues to do for this cause and for being such a great friend to the AHRF and to hot rodders everywhere!