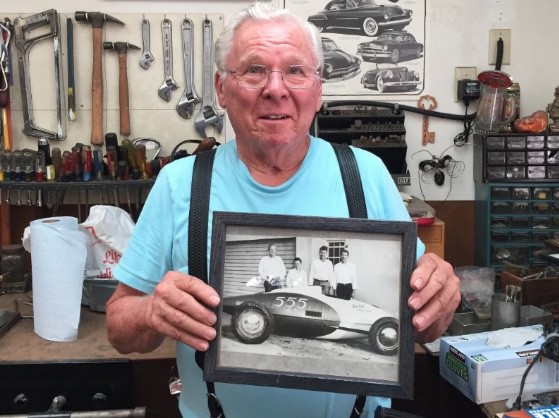 Congratulations to Richard French on being our AHRF Member of the Month for June of '20.
Some of you keen hot rod historians will know Richard as "The Kid" who joined up with the original So-Cal Speed Shop Team and stowed away on their first trip to Bonneville in 1949. Yup, that's right… Richard French was part of one of the "Original 49ers" teams at the inaugural Bonneville, and this puts him in a rare and special group. Growing up in Burbank, California, the young Richard French was positively obsessed with cool cars, especially the ones that were just for racing.
As early as age 12 and using his only form of transportation (his bicycle), he would regularly visit the shops of such legends as Rex Mays and Manny Ayulo. Although he got to see some cool stuff, these guys never warmed up to the idea of a 12-year-old kid hanging around their shops. It wasn't until little "Richie" French came upon a newly opened, pre-fab garage on Victory Blvd that he would finally be welcomed inside by that shop's owner, Alex Xydias.
Alex had just moved his recently opened So-Cal Speed Shop from its original location of 1806 North Olive Ave in Burbank to one on Victory blvd that was only a few blocks from Richard's home. This would make it easy to frequent the shop and watch in amazement as hot rods and race cars would come in for modification or repair. Soon "The Kid" would be holding brackets in place with his eyes tightly shut while they were welded into position and going on parts runs with Doane Spencer in his soon-to-be-famous '32 roadster.
But the biggest day that Richard would get to experience with his new friends would happen when a formal document of permission was signed by both of his parents so that he could join the rest of the So-Cal team at the very first Bonneville Speedweek in 1949. By that time little Richie was 15 years old, but still unable to cross state lines without his parents' permission. We can only imagine what an experience that must have been for a young boy who was already speed crazy.
Richard French grew up and learned a whole lot as the youngest apprentice to ever work at So-Cal Speed Shop and has gone on to do high level restorations of many an old Ford along with some equally cool Ford 9N tractors that he fits with 100hp flathead V8s!
We want to thank Richard French for signing up as a supporting member of The American Hot Rod Foundation. It is an honor to know that someone with Richard's history in hot rodding see's the value in our work and wants to be a part of the effort.
Thank you, Richard French! We couldn't be happier to have a member from the group of "Original 49'ers" on board!