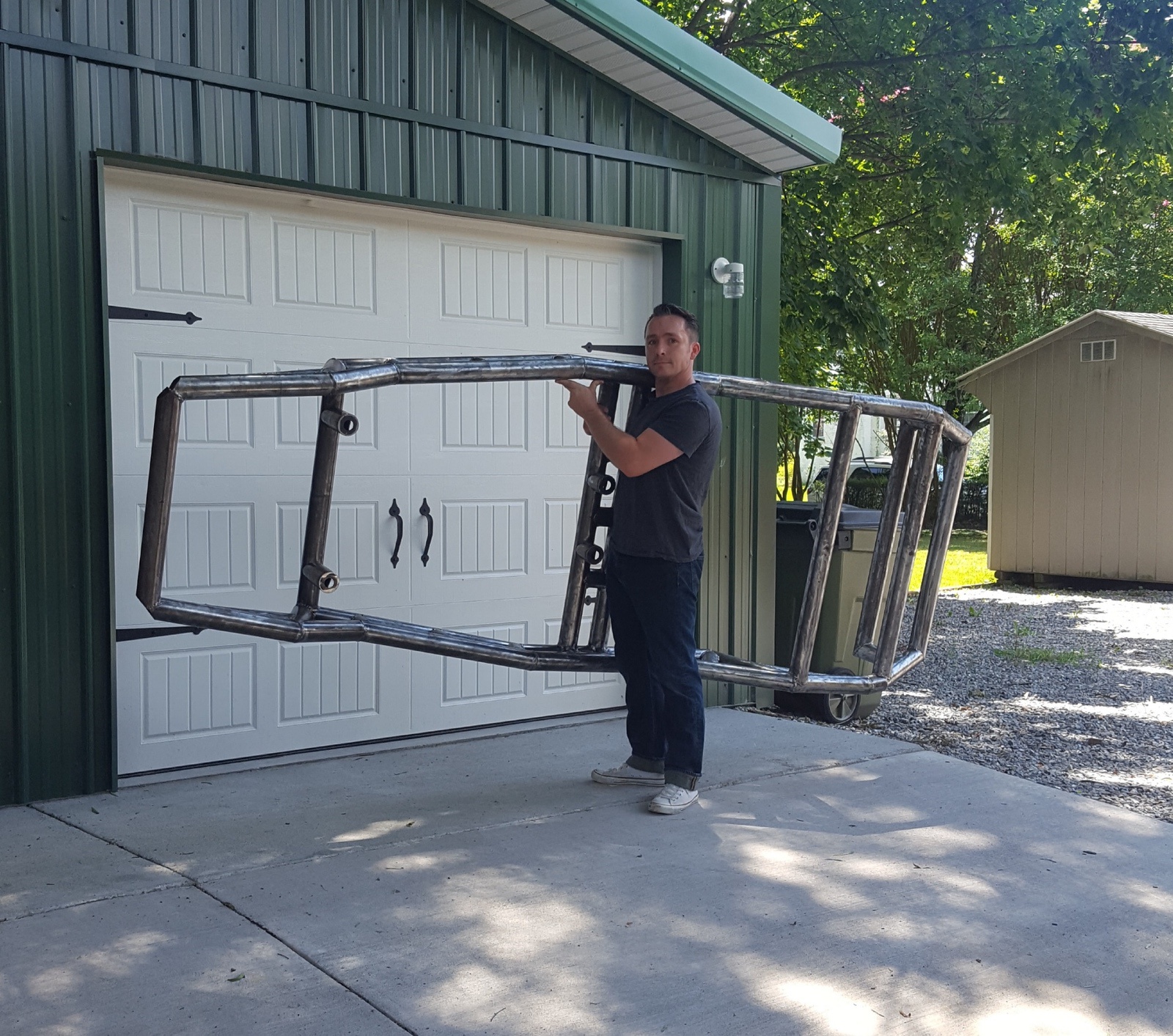 Congratulations to Richmond, Virginia's Joel Driskill on being our October Member of the Month. At age 42, Joel is not only a serious and very hands-on car guy, he is also one of our favorite younger historians who has been locating and preserving early American auto racing photos and film for nearly two decades.
Born in Joplin, Missouri, Joel's career-military father would have the family moving as many as 20 times before Joel graduated high school… with one of those excursions being a road trip up I95 from Ft Benning, Georgia to Cherry Hill, New Jersey in his dad's '39 Ford. Joel's dad would rebuild that Ford's original flathead right in the Driskill family home where young Joel could get a good look at the inner workings of Henry's little jewel, while also commuting around in a '63 Chevrolet Corvair. A car that Joel still owns to this day. Although Joel's father had a distinguished career in the military (he was awarded the Bronze Star during his years as an Army Ranger), would go to work for the FBI, attend law school and begin a law practice that he still tends to today, Joel's path would be slightly different.
By the time his high school years rolled around, his exposure to interesting cars led Joel to fall in with a couple of street racers who successfully campaigned a hopped-up GLH Dodge Omni. Not the most obvious choice for a street racer, but after some development by this team of friends, the little Dodge became known around its area as a real-deal 5.0 killer. An important moment came when the father of Joel's Omni-owning buddy took him aside and asked if he'd be interested in joining them to go and see some "real" cars race on an actual race track. Joel was all in and, as luck would have it, the event was a gathering of vintage racers at nearby Summit Point Raceway, complete with such legends as Brian Redman and Hurley Haywood walking the paddock. This was a shot to the arm for Driskill and soon he was studying all of the great race cars that competed on road circuits around America during the previous few decades, with a focus on immediate post-war sports car racing in America and pre-war ARCA racing. As he entered engineering school at V.C.U., Joel had built his vocabulary and knowledge on the subject enough to feel confident about approaching a shop in his area that seemed to always have something interesting sitting out front. Namely, a full-race Alfa GTV that he had to ask about. Thanks to his knowledge and enthusiasm regarding any and all of the race cars seen inside this shop, Driskill was hired within minutes by the shop owner. That shop was Sportscar Workshops and Driskill would work there while attending college during the years 2000-2004.
Before graduating college and moving on to crew with an SCCA Pro Rally team (with a left turn that found him studying engineering in England at Oxford Brookes with the hope of one day crewing on a Formula One team), another important moment would happen through the guidance of an older car guy when his boss at Sportscar Workshops advised him to, "Check out some of the post-war American sports specials that were made during the late '40s and early 1950s. You have an interest in things off the beaten path, building and engineering things from scratch, and I think that movement might be of interest to you." His boss handed him a book on the subject and, as far as Joel's trajectory in the car hobby is concerned … the rest is history.
Within the pages of that book on American sports specials, Joel spotted a machine built by a one-time Douglas Aircraft engineer named Chuck Manning. It was bitchin'. It was made up of mostly hot rod parts, running a hopped-up Ford flathead V8 backed by a '39 Ford trans, wide five Ford wheels and brakes, and a Ford banjo rear end at the rear. Basically, a hot rod roadster that was built on a Manning-designed tube chassis and wrapped in a homemade fiberglass body. It was a little awkward appearing but as someone who had just gone to engineering school, studying the same principles and proven theories as Manning had, Driskill could see the thinking in the layout of the car. It was low-slung, had a nearly center-positioned V8 engine, and when Joel read more about the car he realized that it had been very competitive in its day. In fact, the car had shown its taillights to some of the most expensive and exotic sports racers of its era. Digging a little deeper, it was found that Manning not only wasn't secretive about his design secrets, he welcomed any enthusiast to recreate his car for their own use and had gone as far as publishing blueprints on the car's construction in Road and Track magazine. Manning even sold sets of the blueprints to anyone who was interested, for a modest fee.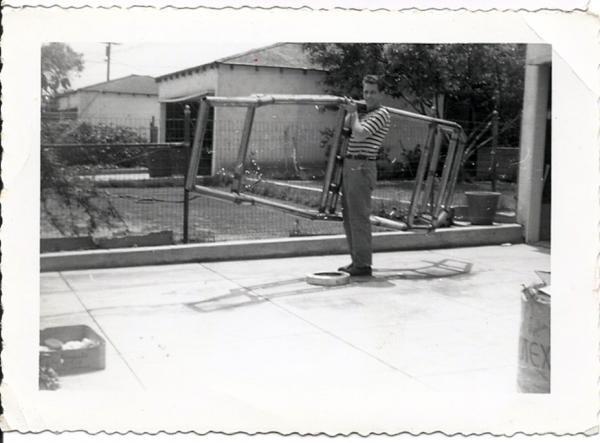 At this point, the planets were truly aligning for Driskill. Although he had still been dabbling in many aspects of the racing world (SCCA Solo, SCCA Pro Rally), he was now setting his sights on what would become and what still is his career today; a stress analyst for Boeing Aircraft. If he wasn't already interested enough in the work that Chuck Manning had done to produce his own sports car, he was now a bit of a kindred spirit to the late Manning, as they studied the same theories and principles in their professional lives and would actually work for the same company (Boeing eventually bought Douglas) … albeit, a few decades apart.
It could be said that Joel's focus on learning everything that he could about the late Chuck Manning is what made him the enthusiast that he is today. His search for knowledge on "all things Manning" led him down a tunnel that would include the purchase of original photographs of the under-construction sports racer, the car's appearances at its many post-war CalClub and early SCCA outings, and even film footage of these events. Joel was also able to locate and contact family members of Manning and learn about him as a person and racer, which helped to put some personality to an almost mythical figure. As the materials and information on Manning continued to be collected, Driskill soon realized that the last remaining piece of the puzzle was to finally walk where few besides Manning had … to construct his own Manning Sports Special. Of course, as with everything, Joel's approach is simple; accuracy. Using his now particularly-invaluable collection of rare photographs, Driskill has been able to make great headway in recreating Mannings car down to details from the remote shifter linkage to the very rare Palm Springs badge that Manning had mounted on his dashboard. Of course, the most impressive feature of the car is also the largest; Driskill's self-constructed chassis made off of the original blueprints, using the same backyard/garage techniques that Manning did. In other words, there was not going to be any mandrel bending on this project! This was cutting and welding as was done with the original car and we're happy to share the photos of its progress within this story.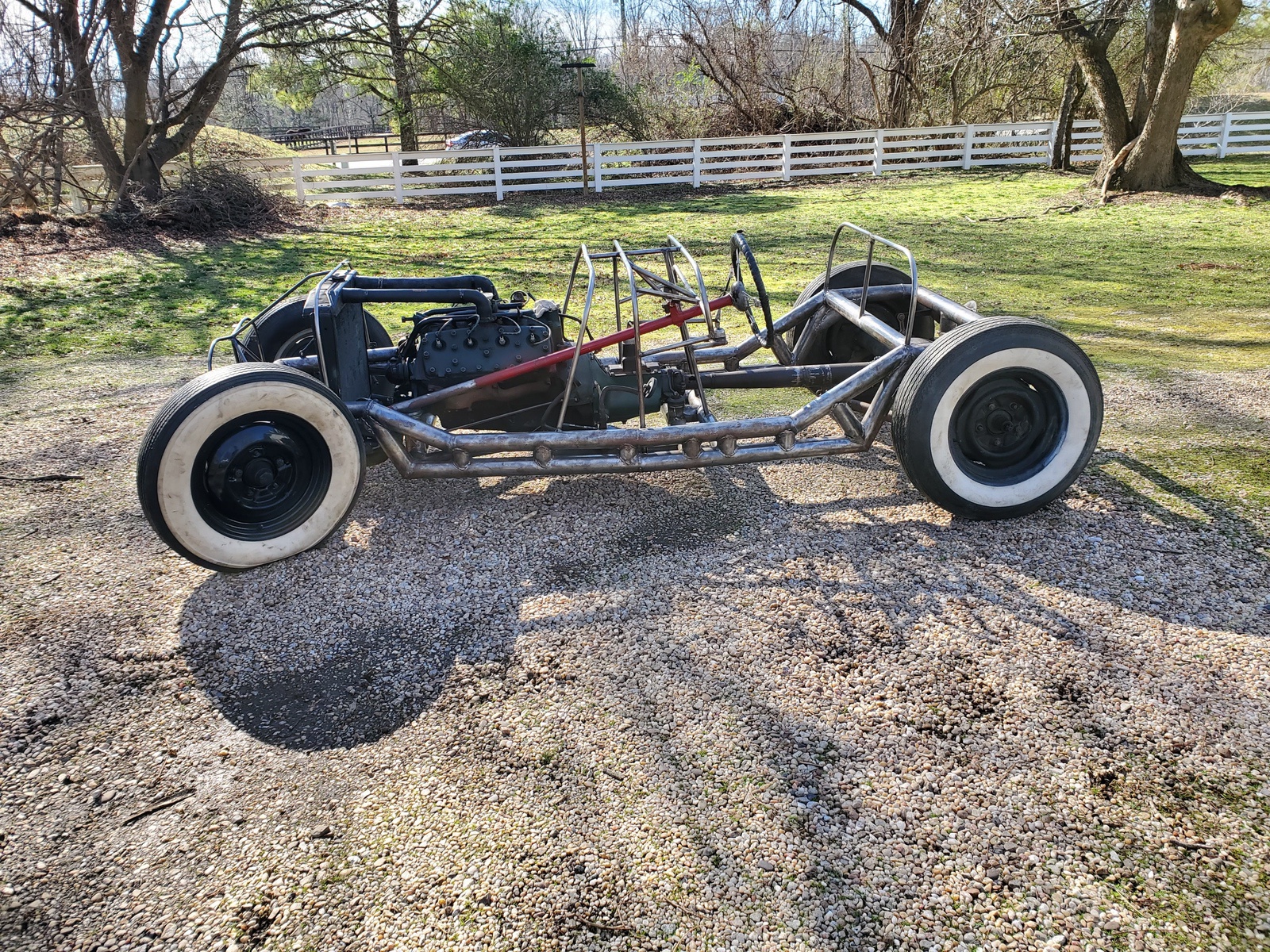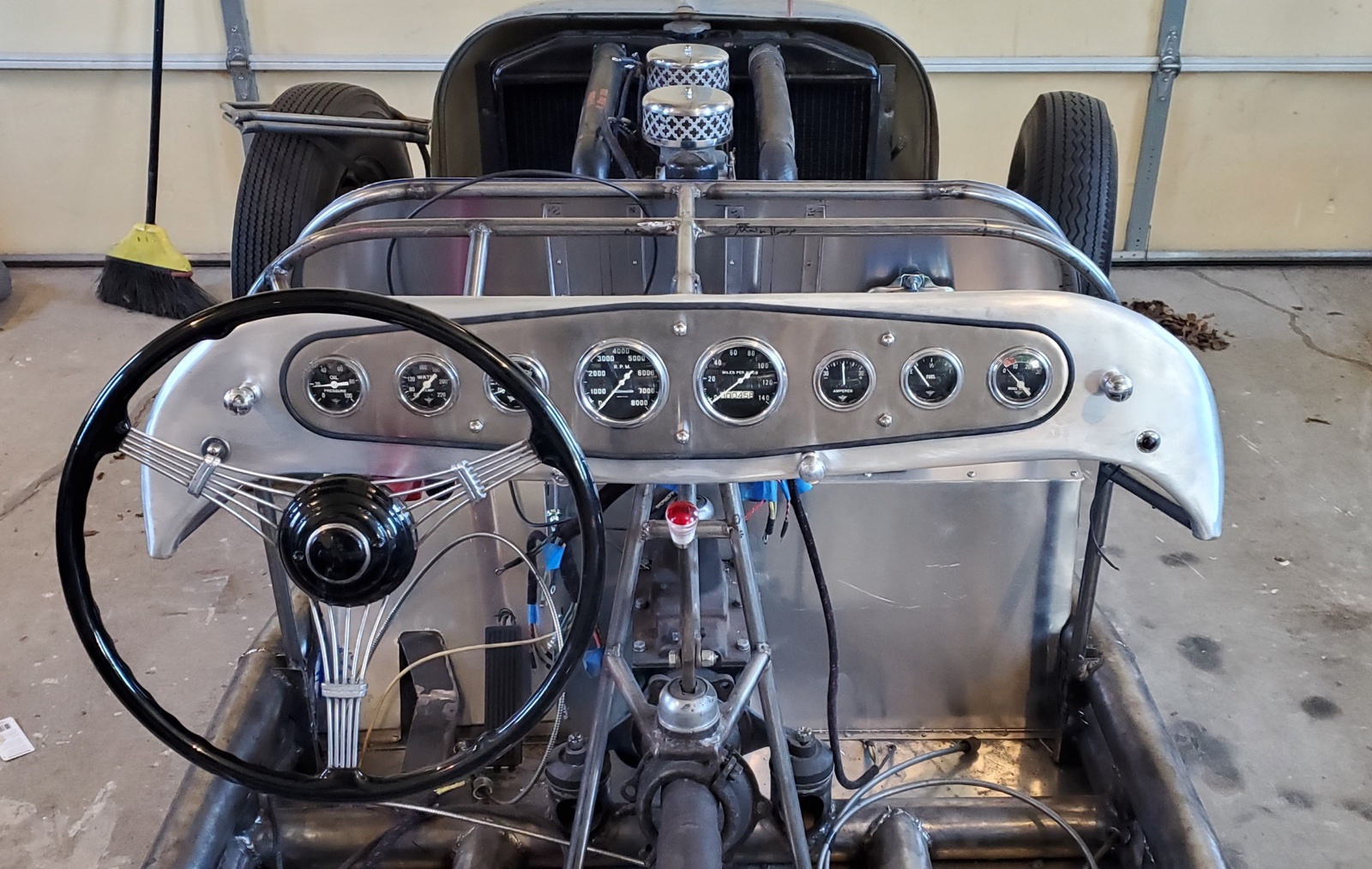 Fifteen years of dedicated research and hard work has not only helped to produce this wonderful recreation but it has supplied our entire historic motorsports world with a plethora of rare and wonderful materials, as Joel Driskill has a singular attitude that mirror's that of his hero Manning and his philosophy behind the sharing of those blueprints all those decades ago and that is to share the knowledge. Whether it be historic photos ( over 800 and counting ) , his hours and hours of film footage , or the knowledge he's acquired through the journey of this car's recreation, it is all to be passed around and passed on. This can be seen by the followers of the AHRF in the many images credited to Joel that are on our website, social media feed, and, even more impressive, Joel's YouTube channel "The Esoterics", where he shares so many of his wonderful historic films. We highly recommend you subscribe to Joel's channel and take in all of these great films and the ones he's yet to upload.
To put it at its mildest, Joel is our kind of guy. A 42-year-old automotive enthusiast who sees the value in our sport and hobby's history and wants to do his part to preserve it for future generations. Not too shabby.
From all of us at The American Hot Rod Foundation, we want to say thanks to Joel Driskill for his hard work, dedication, and generosity, and for being one of our earliest supporting members. We can only hope that this type of spirit catches on more and more throughout the hobby.