Congratulations to the winner of the American Hot Rod Foundation Hot Rod of the Month contest for January 2022!
This month's winning entry, a McCulloch-supercharged inline-six 1931 DeSoto was submitted by Peter Hendrickson…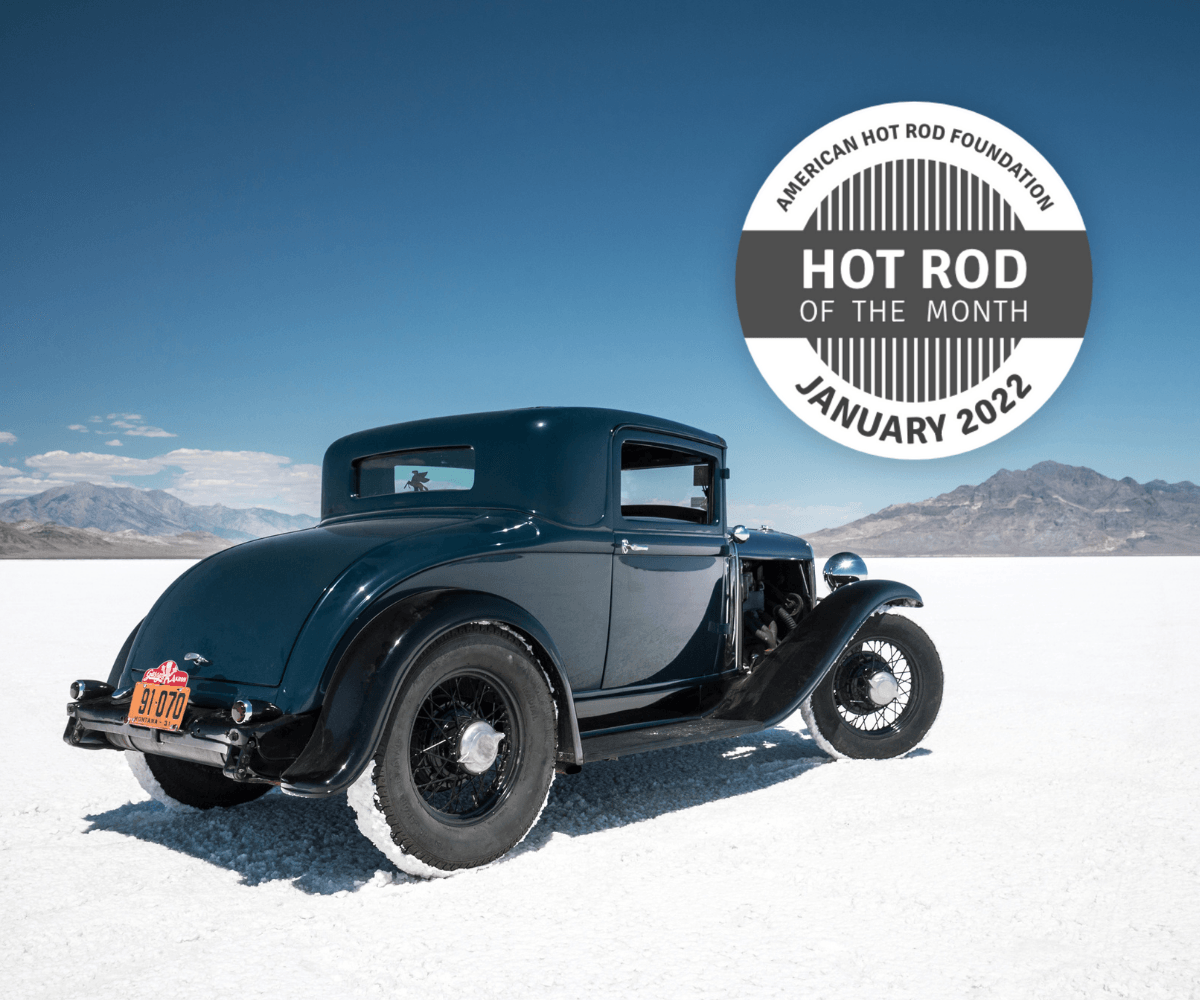 Additional Details
I tried to buy this car for four years. It kept popping up on Craigslist in Kalispell, Montana, and then would suddenly disappear. I would email the seller an offer but never heard back. One day my phone rang, and it was the seller asking if my offer was still valid. I said, sure, when can I drive up? Well, I leave in the morning for the Salmon season so it would need to be today. Sooooo, I hooked up the trailer and made the six-hour drive in just over four-and-a-half.
It was a very solid pile of parts, last titled in California in 1999, and had apparently passed between no less than four guys who never got around to doing anything with it. The last owner was going to put a Chrysler hemi in it, but couldn't bring himself to cut up such a solid car.
As usually happens with my builds, I had the right engine looking for a car to put it in. In 1999 "EDGY" Edgerton cast three F-heads for Mopar flathead sixes, initially planning to use one to run at Bonneville in his 1931 Chrysler coupe. Having crewed for Earl on the Salt, I happened to have one in my possession. The other two are now in Earl's '33 Dodge coupe and Chris King's '35 Dodge pickup that we use as a push truck for our 1928 Dodge "FastFour Special" land speed roadster (World's fastest vintage flathead four-cylinder roadster @ 150.141 MPH 08/2017)
The block required significant modification to accept the head. The intake valve seats are machined out and cast iron "pucks" are pressed their places. This is required because a portion of the original flathead valve area is now in the combustion chamber. These pucks are then drilled for the pushrods for the intake valves, now relocated to the head. The block is then drilled to bring oil from the center cam bearing to the valve galley, where oil passes through a set of manifolds, to the intake lifters, and through the pushrods to feed the overhead intake roller rockers. It returns via gravity to the galley.
Feeling the need to out-do my buddies with the other two EDGY F-heads, I decided to supercharge it as well. The year I finally built the car, 2010, was the same year we switched to the "blown" classes in our Bonneville roadster, and I had a bad case of the forced induction bug. A vintage McCulloch VS-57 (Kaiser labeled) was sourced, I fabricated my own pulleys and tensioning system, and spent months modifying three Stromberg 97s to "work" and leakless in a blow-through application.
All of the parts for the build were sourced from fellow Montana Dodge Boy, Chris King's private mostly-early-Mopar boneyard in eastern Montana; 1935Dodge pedal assembly, '37 transmission, '53 overdrive, a spare front axle I had dropped 1.5″, spare spindles to machine for Ford hubs in order to use big 12×2 Zephyr brakes, etc.
The top was chopped 2.5″, but I only took an inch out of the rear window and recentered it to avoid the mailslot look. My goal was to leave folks guessing If it is chopped or not. The body was rust-free and pretty straight, and I mixed up a color that started with Ford Washington blue but ended up quite a bit darker. I call it Federal blue, and like it so much I'm going to paint my Kurtis-Kraft 500S the same color.
The original wood-grained dash has a lovely patina, so I made an engine-turned insert for Stewart Warner Wings gauges. The seat is upholstered, but I still haven't gotten around to the rest of the interior.
I finally got the car on the road in 2012 and have put about 23,000 miles on it, including two trips from Montana to Bonneville and back, and one to California and back. I currently live in Paso Robles, CA, and drive it almost daily.
As with most hot rods, it's a work in progress and continues to evolve. I had to repair some blisters at a couple of seams where Bonneville salt had snuck in. I eventually gave up on trying to make Strombergs not leak in a blow-through application and went to a Holley Sniper EFI (best call ever) camouflaged and rewired to look like a vintage carb. I modified the overdrive to electrically split all forward gears. Added a '41 Plymouth steering wheel, '36 Chevytaillights, and a vintage turn signal switch. Because it was tough to build boost in such a low revving engine (even with a 9″ crank pulley), this Spring I upgraded the supercharger to a McCulloch that had been hot-rodded by Paxton in the 1990s for an experimental aircraft that turned up on eBay. They eliminated the variable speed pulley, installed a blueprinted impeller, and upgraded the bearings. This doubled boost to about 4 PSI which is more than sufficient for the torquey six.
It's dead-nuts dependable, cruises nicely at 70 MPH, gets almost 20 MPG, and really turns heads when it passes you on the highway.
About the AHRF Hot Rod of the Month Contest
The Hot Rod of the Month Contest is a special opportunity available only to Foundation Members. Active Members have a two-week period EACH MONTH in which to enter a car they own by providing photos and a description of their car. During the following two-week period, all Members, whether they have entered a car or not, can individually vote for their favorite car.
The car with the most Member votes at the end of each month will be the AHRF Hot Rod of the Month and will be featured on the AHRF website and on social networks.
At the end of each calendar year, the Advisory Board of the Foundation will select one car, as the AHRF Hot Rod of the Year, from that year's Hot Rod of the Month winners. The Hot Rod of the Year will be given special publicity, and the car will be maintained in an ongoing catalog of AHRF Hot Rod of the Year winners.