Congratulations to the winner of the American Hot Rod Foundation Hot Rod of the Month contest for September 2021,
AND 2021 HOT ROD OF THE YEAR

!
This top-winning entry, a 1934 Ford Coupe Model 40, was submitted by Scott Wren…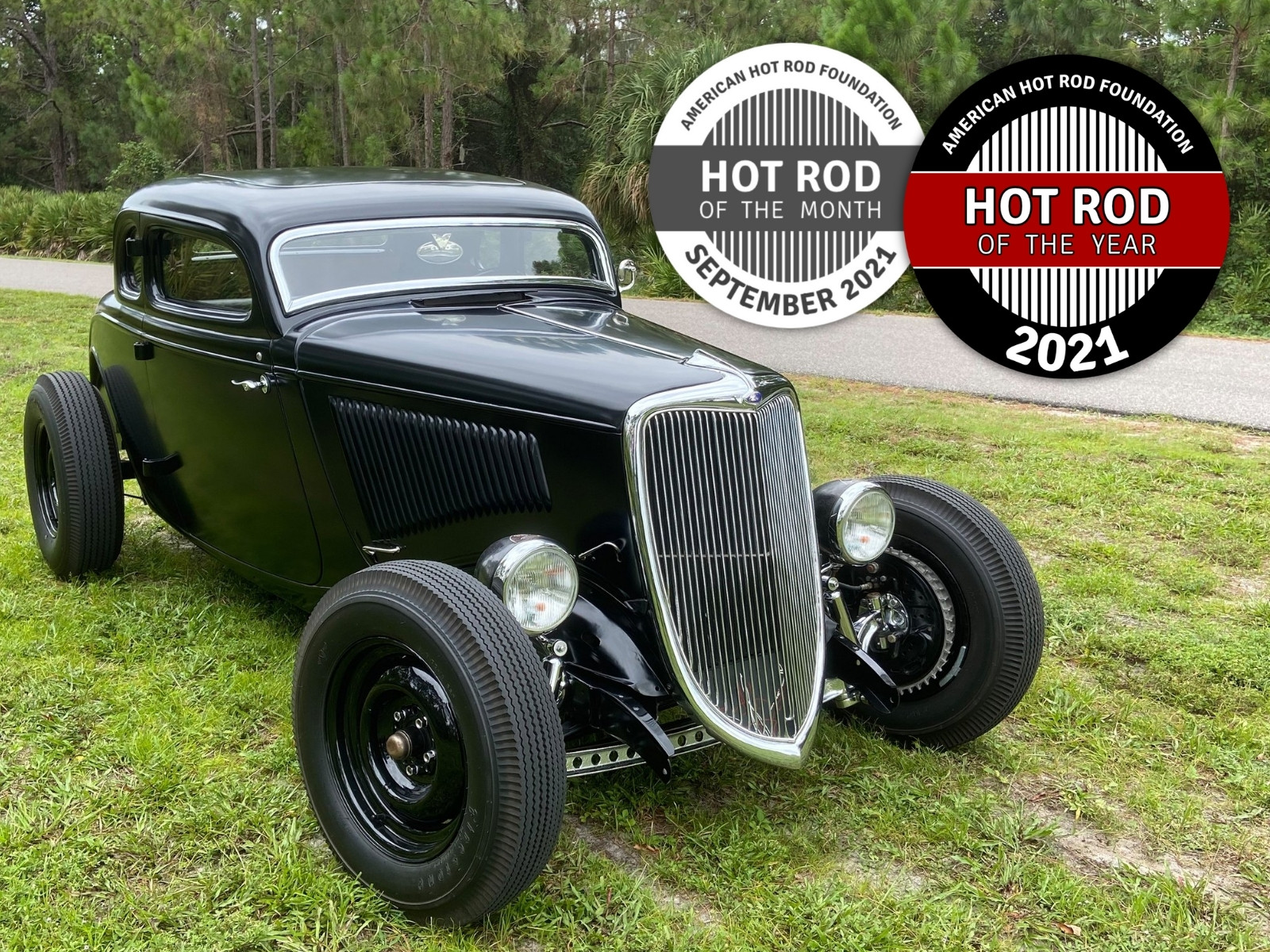 Everyone here at the AHRF is extremely excited to be presenting our first annual Hot Rod of the Year Award. This award is presented to the AHRF supporting member whose car not only won a Hot Rod of the Month award but went on to compete against all of those monthly winners for the title of Best of the Best for 2021. Our esteemed AHRF Advisory Board is solely responsible for deciding this overall winner and we hope that each year's car owner will take pride in receiving a thumbs up from these pioneers and legends of the industry.
Once again, we congratulate Scott Wren on such a great build and for winning this award. We hope you enjoy reading the back story behind the Wren Coupe written by the owner and builder himself, Scott Wren.
My path to building this 1934 Ford comes from the desire to create great design through modification. I cut my teeth in the mid 80's and early 90's building show trucks, with the ultimate dream of applying some of those techniques to a hot rod, specifically a 32-34 Ford. As with many, life happens and a newborn put a few of those dreams on temporary hold. Years later, returning to the idea of building that Ford, I purchased and rebuilt a glass 1932 Ford. I figured this would be the "test" car, continuing to learn as much as I could along the way. Although that particular car introduced me to new friends and great times, it lacked a deeper sense of classic design. I was looking for more character and soul; something with history that I could build upon.
As a professional designer, specializing in theme park and resort design, it is necessary to devote time into the research of time periods and what makes them special. Whether it's the mid-century Populuxe culture or turn of the century main street, it all requires a deep knowledge and understanding of that moment in time in order to give the Guest the richest experience possible. That attention to detail is what I wanted in my next hot rod. For the next 3 years, I searched countless websites and classified ads looking for that special "canvas", finally finding my 1934 Ford five window. Although the previous owner(s) had completed some modifications, I felt this was the perfect car to turn into my vision of the ultimate hot rod. Wanting to get those details correct as best I could, I began researching vintage photos, books and hot rod magazines from which to pull reference imagery and ideas from. With the help of my wife, friends and the local hot rod shop, I finally achieved the desired look I dreamt of all those years ago.
I feel I have brought out even more of the character and soul that was already embedded in my hot rod. Something I know my son will appreciate when I hand the keys to him, someday in the future.
A heartfelt thanks to the American Hot Rod Foundation for the opportunity to showcase builders and their amazing hot rods from the past and present.
– Scott Wren
Additional Details
EXTERIOR – Chop – 4-3/4" at the "A" pillars and 4" at the "B" pillars. "A" pillars leaned back. Walden roof insert (removable), So-Cal shocks, original 1947 Ford Split Wishbones (drilled), "bobbed" and "C" notched rear frame rails, Chassis Engineering Inc. cross-member, original Guide 682-J Headlights, 1937 Ford Taillights, hand fabricated rear spreader bar (chromed), P&J rear ladder bars, PPG Satin paint, original model "A" front cross-member.
ENGINE – Walker radiator, original Buick valve covers, valley pan, and spark plug wire covers.
INTERIOR – SW gauges, Guide bench seat wrapped in leather, Limeworks Forty wheel and Hot Rod steering column, Johnson's Hot Rod shifter, hand fabricated "fi rewall" between trunk and cab, hand fabricated under dash switch panel.
About the AHRF Hot Rod of the Month Contest
The Hot Rod of the Month Contest is a special opportunity available only to Foundation Members. Active Members have a two-week period EACH MONTH in which to enter a car they own by providing photos and a description of their car. During the following two-week period, all Members, whether they have entered a car or not, can individually vote for their favorite car.
The car with the most Member votes at the end of each month will be the AHRF Hot Rod of the Month and will be featured on the AHRF website and on social networks.
At the end of each calendar year, the Advisory Board of the Foundation will select one car, as the AHRF Hot Rod of the Year, from that year's Hot Rod of the Month winners. The Hot Rod of the Year will be given special publicity, and the car will be maintained in an ongoing catalog of AHRF Hot Rod of the Year winners.